"You get what you pay for," they say. And when it comes to our skin, we're definitely sticklers for quality — yes, even if we have to pay a hefty amount to get just what we are promised. Sometimes, we find that we were treated to what exactly we wanted. Other times, we're left unsatisfied.
Enter Sunday Riley, a skincare brand, named after its cosmetic chemist and product formulator founder, that has garnered a cult-like following for the high-quality actives in their products. Many have said they work leagues better than what you get at the drugstore. And for the price tag, while aptly warranted, we sure wanted to know. So we took a few of their highly raved products for a spin. Are they worthy skincare investments? Here's what we think.
Good Genes Lactic Acid Treatment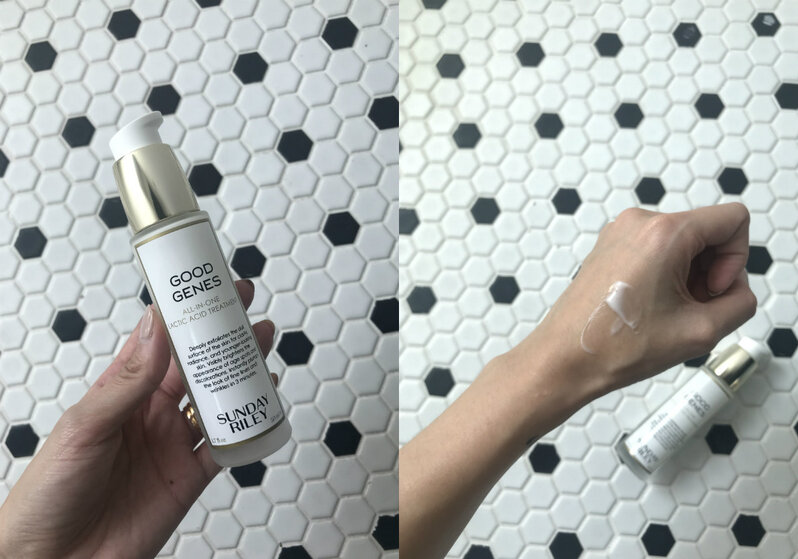 SGD148
Is Good Genes going to trick my skin into thinking I have good (skin) genes? This was a poll from an Instagram story I uploaded when I brought the Sunday Riley Good Genes home one evening. The results were almost 50-50, but four beauty journalists voted for 'yes', and that made me feel good enough to think that we've already got a winner.
This exfoliating treatment can be used as a serum (before moisturiser) or a mask (leave on for five to 10 minutes) and contains one of the most popular AHAs in skincare today: lactic acid. Known for reducing acne breakouts, minimising appearances of fine lines and wrinkles, and refining the skin's texture over time, this is an active product that may not be suitable for sensitive skin types.
I don't consider my skin type as sensitive, but I do tend to be on the safe side when it comes to testing skincare products so I was a little apprehensive. But on top of the poll, one beauty journalist raved to me with such conviction about how Good Genes saved her dry skin. And since I was at my wit's end from some stubborn, post-facial dry patches around my lip area, I thought I'd take the plunge and give it a go.
So did it work? It did! The lactic acid was definitely working on my uneven skin texture and eliminated my skin woes in two days. There was slight tingling, but it's probably just the active ingredients working their magic. Besides lactic acid, the product also contains the brand's patented NV-5 Ageless Complex for enhanced anti-ageing power. Other than healing my dry patches, I also noticed that my pores are minimised and my skin feels smoother to the touch.
With a milky, white texture, Good Genes has a citrusy herbal scent that takes some getting used to. But since it's not for daily use — I use it three times a week in the evening — it didn't bother me as much. Note that this product may cause sun sensitivity to your skin, so make sure you wear ample sun protection — as always anyway — in the day. —
Becks, Editor
Luna Sleeping Night Oil
SGD148
If there is a magic potion that you apply at night, go to sleep and wake up beautiful, hordes of women will be beating down the purveyor's door, wrestling for a bottle with me leading the pack. Unfortunately, most skincare products need some time to work but this latest offering called Luna Sleeping Night Oil sounds promising.
The ingredients list excites me already! The ingenious combination of Retinol, proven to be able to reverse the signs of ageing, and cold-pressed avocado, chia and grapeseed to deeply hydrate and nourish skin makes me love it already. Luna gets its colour from blue tansy oil, which is known to have anti-inflammatory properties to balance the formulation and soothe the skin.
Luna claims to work throughout the night to deliver more visibly youthful, luminous, even-toned skin in the morning, and over time visibly improve the signs of premature ageing, including fine lines, uneven texture, age spots, dryness and dullness.
The star ingredient in Luna is Trans-retinoic acid ester (in the form of Dimethyl Isosorbide and Hydroxypinacolone Retinoate), a new generation of retinol which supposedly has all the anti-ageing benefits of Retinol without the undesirable side effects of skin redness, irritation and flaky skin.
To assess the product more accurately, I stopped using my equally expensive anti-ageing facial oil and also forwent my monthly RF (Radio Frequency) Facials and weekly deep cleansing and whitening regimen.
Luna claims that the day after the first use, my skin will appear more hydrated and brighter. Yes, it did. My face also felt smoother and softer. The blue oil has a fragrance that is neither pleasant nor unpleasant so fragrance is not a strong point here. The oil needs to be massaged into the skin, with the blue colour turning translucent when the oil is fully absorbed. I like to give myself a mini facial massage every night so this oil works well for me and I like how hydrated and comfortable my skin felt already, even without my night cream.
I have been using Luna nightly for almost three weeks with my usual night-time skincare regimen and love the results. My skin feels calm, hydrated and smooth. I only need foundation, not highlighter nor concealer for my face to appear radiant and flawless. I felt so happy when a total stranger interrupted her own sales spiel on the benefits of her red dates tea midway to compliment my complexion.
Will I continue using Luna? It's a definite yes. Although its performance is the same as my regular anti-ageing oil and I don't see much improvement on the fine lines on my forehead and the deeper lines on my neck, I am confident that, over time, I will see visible results. It had taken decades of neglect and the natural process of ageing for lines and wrinkles to form, so likewise, it will take some time for a product to reverse them.
Another reason why I'll continue to use the product is that I like that the brand's philosophy is creating formulas that only include high-quality actives with the founder personally testing their efficacy before releasing it to market. —
Katherine, Human Resource Manager
CEO Rapid Flash Brightening Serum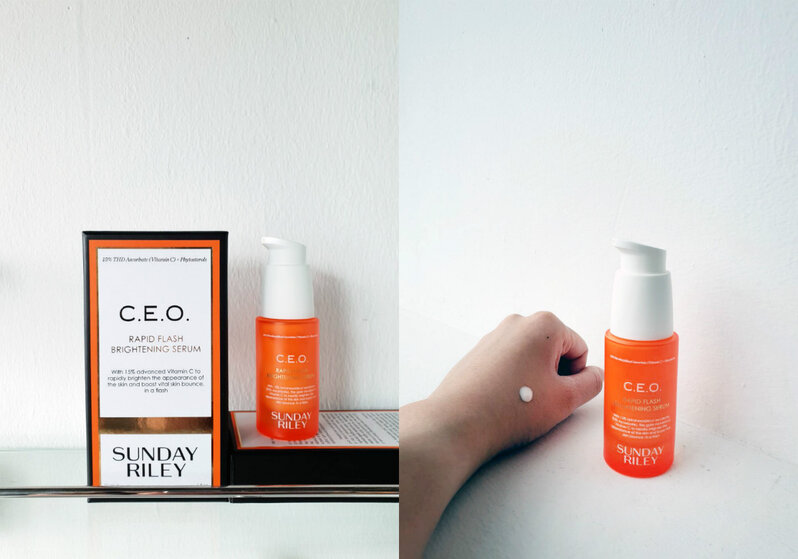 SGD120
I have been hearing great things about Sunday Riley's Good Genes and Ceramic Slip, and so the CEO Rapid Flash Brightening Serum has been on my radar. I've been using the latter for almost a week now and I can feel my skin is smoother and brighter around my cheeks.
With just one to two pumps every morning and at night before bed, which is just enough to spread around my face area, I can feel the product being absorbed into my skin quickly, without feeling greasy. The texture is creamy yet light and its tangy scent — thanks to Vitamin C — is quite addictive!
As someone with freckles, brightening and spot-correcting products are always on my list, so I would say that this product is a great addition. —
Sabrina, Content and Community Executive
Brightening Enzyme Water Cream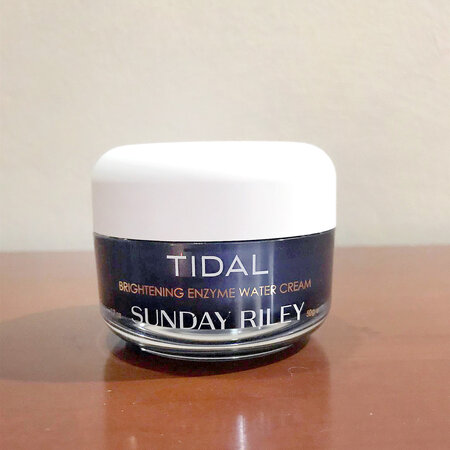 SGD92
Like a tidal wave of moisture, the Tidal Brightening Enzyme Water Cream has a gel-cream texture that pulls water into my skin for a plump and hydrating effect. The texture feels a lot creamier than a typical gel moisturiser, and the one thing I love about this moisturiser is that it is incredibly light and doesn't feel too heavy when applied on.
When used in the morning, it helps to prep my skin for the day ahead with maximum hydration and minimum grease. I have to admit though that I'm not a big fan of the scent; it smells like a mix of cucumbers and fresh herbs. It's not particularly a blend that I enjoy but I would assume some might find this combination to be refreshing and soothing. On the plus side, the smell is not particularly strong and does dissipate fairly quickly when applied on. This pot of magic is worth investing in if you're after #skingoals and want to bring your hydration game to the next level. — Jenifer, Campaign Manager
Auto Correct Brightening and Depuffing Eye Contour Cream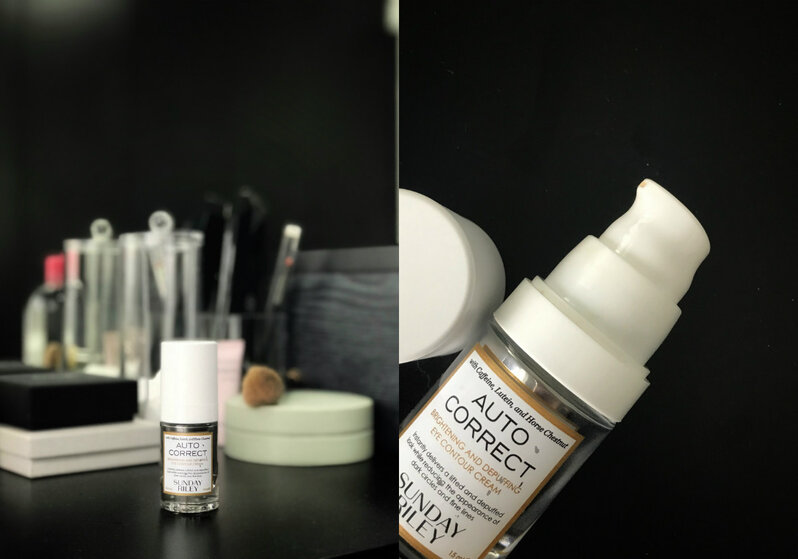 SGD92
I tried the new Sunday Riley Autocorrect Brightening and Depuffing Eye Contour Cream for about two weeks, but I must confess: it didn't impress me. Maybe it's the promises listed on the packaging, such as "instantly delivers a lifted and depuffed look to the eye area while reducing the appearance of dark circles and fine lines," that set my expectation way too high, so I was expecting magic to happen.
When I first tried this product, the not-so-pleasant chemical smell of the product was what I immediately noticed. As I tapped the product around my eye area, it had a nice cooling feel, but beyond that, it didn't hydrate or lift or depuff. I continued to try it morning and night for another 10 days and still, nothing happened. Overall, maybe the product works for younger skin or my late-night-sleep-deprived-eye is just a bit hard for this product to handle.
— Cheryl, Business Director
Get your hands on SUNDAY RILEY products at Sephora Singapore.
Comments, questions or feedback? Email us at [email protected].