I first heard of Pyunkang Yul Essence Toner from my niece who rated it a game-changer. Then I started seeing the brand popping up on my YouTube feed. But fear of missing out (FOMO) kicked in when I saw the toner on my son's bathroom shelf. I finally tried it and this review comes one month after finishing one bottle and making serious inroads on the second.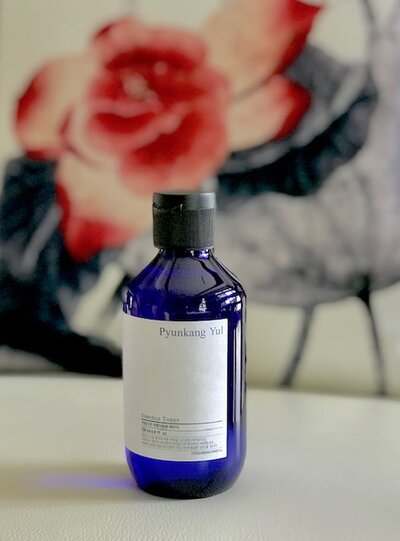 The raved-about Pyunkang Yul Essence Toner
About the brand
Produced by Pyunkang Oriental Medicine Clinic in Korea, a renowned eastern medical centre known for treating lung ailments and atopic skin ailments, this line was developed as a result of their patients' demand for skincare that may treat atopic dermatitis.
This caught my interest as I am intrigued by Traditional Chinese Medicine (TCM) ingredients in skincare and this company uses Eastern, medicinal ingredients to teach skin to function better on its own. They believe in using a minimum number of ingredients — as few as five — leaving out bad stuff like alcohol, parabens, fragrance and mineral oil and focusing on one or two main ingredients to create products that achieve a balance between oils and hydration.
Pyunkang Yul Hydration line
Packaging and Price
I love the brand's simple apothecary-style packaging. All the products in the hydration line are in distinctive simple, fuss-free blue containers. They are also reasonably priced; I got my 200ml bottle of Essence Toner from Lazada at SGD18.90.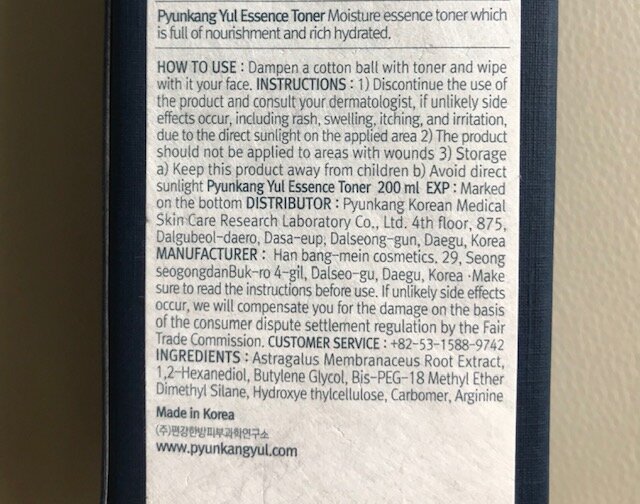 The ingredients list of the Pyunkang Yul Essence Toner
Ingredients
On most skincare ingredients list, purified water is typically listed as the first ingredient but not for this toner. There is no water in the formulation. Instead, it contains only seven ingredients, of which 91.3 per cent is Astragalus Membranaceus Root extract. Like Ginseng, this herb is commonly used in TCM to boost the body's immune system when taken orally. Applied topically, some researches have revealed that it has general tonic and skin reinforcing properties, as well as anti-inflammatory and antioxidant benefits.
Is this toner a holy grail?
The answer is yes and no. No, because there are no actives in this toner so other than soothing and hydrating the skin, it does not do anything else in the short term. TCM works, but slowly, so the promise of strengthening the skin will take some time for effects to show. Yes, because it does not have any actives, making it a perfect toner for boosting hydration using the
7-skin method
, where you don't want to put on layer after layer of actives like acids or ingredients that are bad for skin like alcohol or silicones.
This toner is also perfect for forming a soothing barrier and increasing hydration when using strong actives like Vitamin C, Acids or Retinols. For me, I use the toner after Vitamin C and before Alpha Arbutin daily. I also use the toner and moisture serum to strengthen my skin for a month before introducing Retinol once a week into my evening routine to avoid the dreaded side effects of flaky and irritated skin.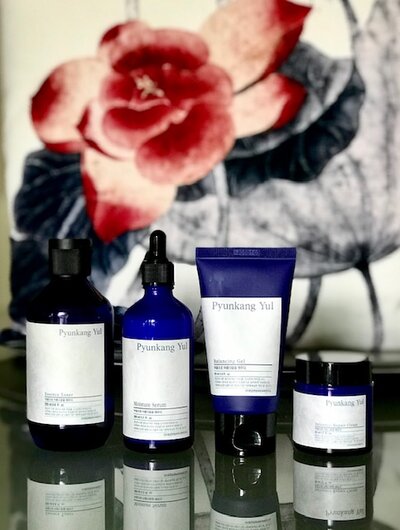 The Pyunkang Yul range
With a 100 per cent low risk for sensitive rating from the
EWG
Health Ratings and a 10/10 rating by
Beauty Within
, plus, the affordable price, what is there not to like about this essence toner? For this beauty junkie, nothing. I've become a convert to the brand. Besides the essence toner, I also tested the
Moisture Serum
and
Moisture Cream
and found them to be the perfect range for younger, oilier skin like my son.
I have since stopped using his products and purchased products better suited for my drier skin. Besides the essence toner, I am currently using — and loving — the
Moisture Serum
,
Intensive Repair Cream
and
Balancing Gel
.
*The product was purchased by the reviewer. The views and the opinion of the reviewer are independent and purely editorial.

(Cover photo from: @pyunkangyul)
Check out other hyped products we've road-tested here.
Comments, questions or feedback? Email us at [email protected].