Almost a year ago, I decided to give the very popular Pixi Glow Tonic a try. You can read about my full review here, but in a nutshell, this exfoliant slash toner lived up to the hype. It took only a few days for me to see the results, which is nothing short of a skincare miracle! After finishing a small bottle, my skin was noticeably smoother and brighter. That's why when I heard about Pixi Beauty's sheet mask version of this product, I knew I had to try it. Not to mention that it's been getting rave reviews on various beauty websites. Keep reading to find out if the Pixi Glow Glycolic Boost is as good as they say.
Formulation, claims and usage
The ingredients of the Glow Glycolic Boost is very similar to those of the Pixi Glow Tonic. All of the essences and actives are still there such as aloe leaf juice, glycolic acid, witch hazel and ginseng extracts. But other plant-based ingredients were also added like Camellia Sinensis leaf and Japonica Root extracts. All in all, it's basically a sheet mask dipped in a less concentrated (in terms of glycolic acid) formula of the toner variety.
On Pixi Beauty's website, they claim that this product will help you give a more luminous complexion and keep the skin in good health. Unlike the Pixi Glow Tonic, this one isn't marketed to help with hyperpigmentation or skin texture but it does promise a dose of hydration. Interesting!
As for usage, there really are no instructions on how frequent you should use these sheet masks to get results. With that, I just carried on with my usual weekly skincare routine and that includes putting on a sheet mask only once a week.
Packaging and scent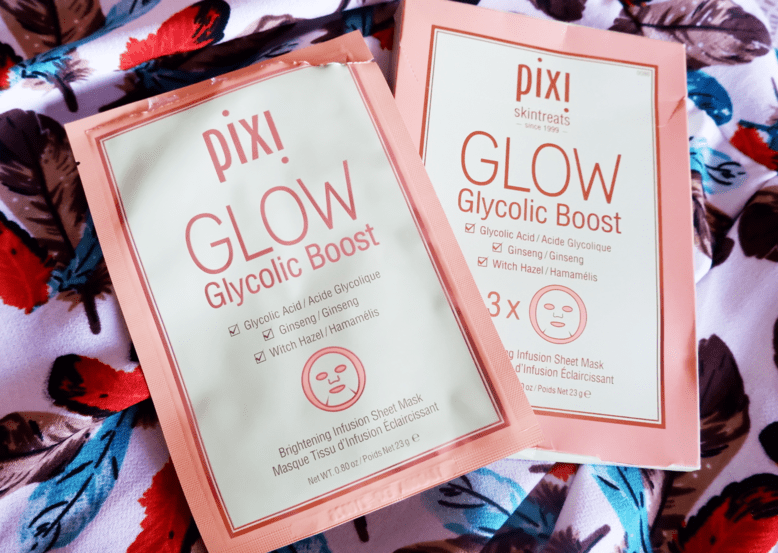 In terms of pricing, the Glow Glycolic Boost can be considered to be on the mid-range at USD10/~SGD13.69 per box (contains three sheet masks). There's nothing fancy about the packaging, just your straight-up sheet mask packed in individual packets. Moving on to the scent, it's got the same powdery smell as the Pixi Glow Tonic but it's much less prominent, so it won't upset even those who are strongly averse to fragrance.
Results: Is it worth the hype?
The Pixi Glow Glycolic Boost does deliver on the hydration. My skin is plump and bouncy the morning after. However, I didn't see any significant brightening or luminous effect. Sure, my skin became a tinge brighter but it's barely noticeable. It could be because I was only using this mask once a week and an increased frequency in usage could make a difference in the long run. However, if you want to have that instant glow, the original Pixi Glow Tonic is still the best choice, in my opinion.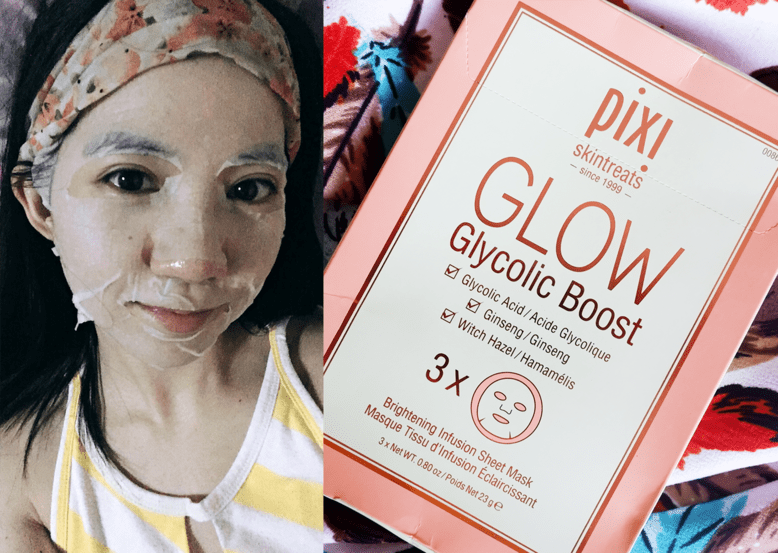 Trying on the Pixi Glow Glycolic Boost
Overall, I would say that although the Glow Glycolic Boost didn't give me that instant glow, it's still a good and affordable sheet mask that you can slap on during your relaxation sessions for a great hydration boost. And who knows? We all have different skin types so this sheet mask might do the trick for you.
Find more skincare and makeup reviews here.
Comments, questions or feedback? Email us at [email protected].