As skincare junkies, it's no secret that we love masks. Aside from their skin-enhancing properties, we just adore the relaxing and soothing feeling that comes with using them. The most popular ones are clay and sheet types, but lately, there have been new, intriguing forms of masks that have piqued our interest. One is Herbivore's Blue Tansy (SGD72/~USD52.62), which is a resurfacing clarity mask. It's a vegan skincare product with a concentrated blend of natural ingredients that can clarify acne-prone skin.
The buzz around this product may not be as big as that of products dubbed as holy grails but it's still a unique and interesting skincare item that some skincare aficionados have been raving about. So I decided to try it out and see for myself. Here's what I think about it.
Packaging, texture and scent
Herbivore's Blue Tansy comes in an elegant, minimalist glass jar packaging. The blue formula pops against the simple design, making it very photogenic. It can feel a bit heavy but I can say that it's still travel-friendly as long as you store it correctly. There's a scoop that comes with the product so you can have a more hygienic, mess-free application.
In terms of texture, it's a bit syrupy but it's not entirely viscous; there's also a watery element to it. Nevertheless, it feels lightweight and smooth upon application. As for the scent, it's got a very strong herbal-minty smell that can put off some people, but I still find it tolerable.
Formulation
As mentioned earlier, it uses only natural ingredients with no fillers. Which means it doesn't use any dyes or fragrances in its formula. Some of the notable ingredients are blue tansy essential oil, white willow bark and fruit enzymes, which are basically AHA and BHA. They're responsible for the brightening effect that you experience whenever you use resurfacing products.
Application
The application can be a little tricky with the Blue Tansy. Since the product is both watery and syrupy at the same time, it can easily spill on your lap or table while you're applying it to your face. Spreading it evenly can also be a challenge. I recommend asking a friend to apply it to your face while you lie down and relax. This is the easiest and most mess-free method of application if you ask me.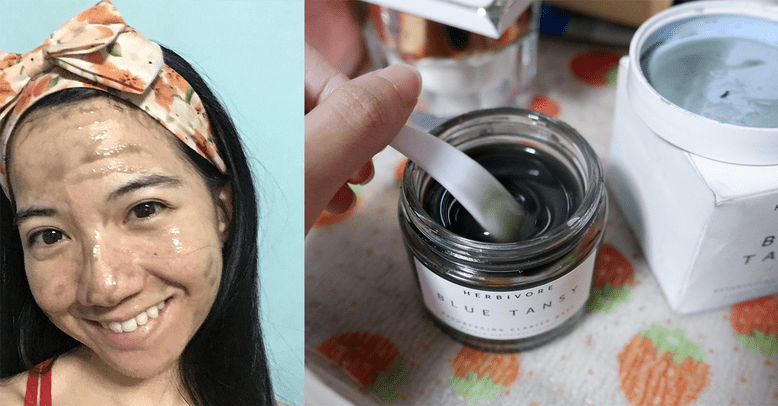 As you can see, Blue Tansy's texture is quite tricky to work with
Upon application, there's an instant cooling effect on the skin. After a few minutes, I felt a slight tingling, warm sensation but I wasn't too alarmed because it's totally normal for AHA/BHA-infused products. However, just a word of caution, when trying a new skincare product and you feel like your skin is burning you should wash it off right away as you may be sensitive to it. It's best to do a patch test first so you can see if it's compatible with your skin.
Results
It's recommended to use this every other day for the first five days and then you can switch to using it two to three times per week to maintain results. I've only been using this for two weeks and while the results are not drastic, there's still visible improvements like smoother skin especially in my chin area. Within the first use, I was already able to see a slight improvement in my skin's texture.
After the initial five days, I saw that some acne marks were already fading. With this product, it's a slow but sure process. You can't expect instant results but you can expect progress if you are diligent with applying Blue Tansy. After all, consistency is the name of the game when it comes to skincare.
So is Blue Tansy the next holy grail? I'd say yes because it fulfils two important criteria of modern skincare junkies. It delivers on its promises and comes in a packaging that looks like it's made for Instagram. Talk about beauty and functionality!
Read more of our skincare and makeup reviews here.
Comments, questions or feedback? Email us at [email protected].