While most of us don't have ambitions to become a movie star, it's fair to admit that we'd love to look like one. But short of plastic surgery and drastic skin procedures, there are only a few accessible products out there that can take us one step closer to the flawless image we see on the silver screen. Enter GlamGlow masks and their promises to deliver camera-ready, glowing skin in an instant — well, 10 minutes to be exact.
The story behind this popular mask goes like this: an actor asked if there's a skincare product that can improve skin on the spot. This kickstarted founders Glenn and Shannon Dellimore's idea to develop one exclusively for their friends in Hollywood. After the initial success within the entertainment industry, the product was made available to the public. Now, it's known on Instagram as the masks that celebrities swear by.
Of course, we'll never pass up on the opportunity to test such a promising product. We got the GlamGlow YOUTHMUD® TingleExfoliate Treatment (SGD80/USD59), the original and first product of the brand, to see if it's really as amazing as Nina Dobrev and Shay Mitchell say. Can it really give the skin an instant glow? Keep reading for our review of the GlamGlow mask.
Formulation and packaging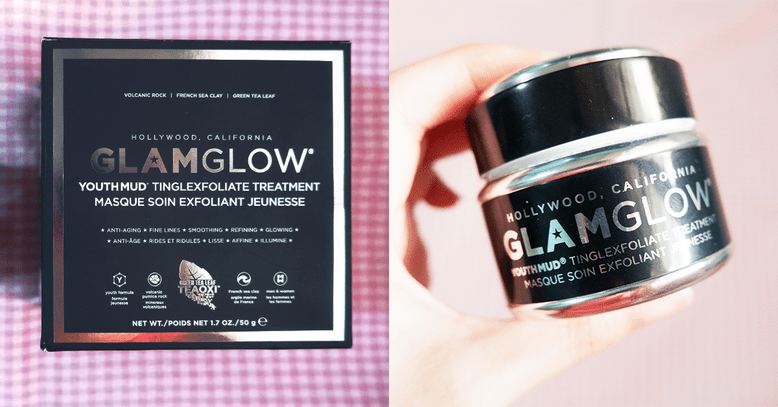 At the heart of the GlamGlow YOUTHMUD® TingleExfoliate Treatment are volcanic pumice rock and French sea clay. Both work to seep out gunk from pores and provide gentle exfoliation. It also contains nourishing extracts from Camellia sinensis leaf, cucumber and calendula. All these ingredients are tightly packed and sealed in a sleek, heavy-duty metal jar. With its compact and sturdy built, there's no doubt that it's travel-friendly.
Texture and fragrance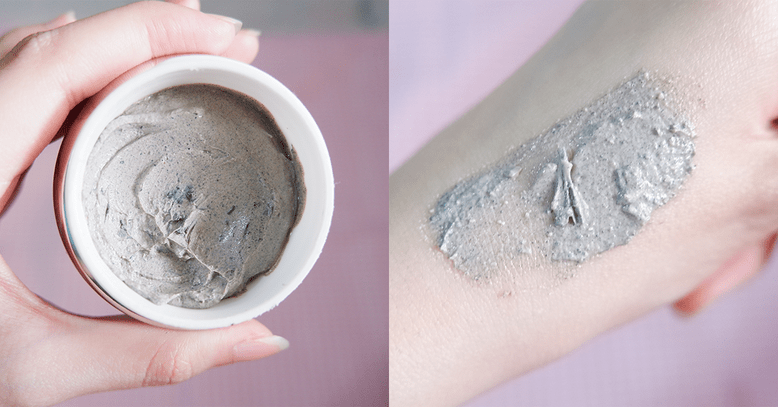 Upon opening the seal, the first thing that I noticed was its super pleasant scent that's reminiscent of the smell you'll usually encounter at spas. It's very calming and soothing, which makes it perfect as a nighttime mask. Moving on to texture, it feels very gritty and rough with some huge leaf chunks. Because of this, a mask spatula will be very helpful to evenly and thinly spread out the product onto your face.
Application and results
The first time that I applied this using my fingers, I made the mistake of applying on too much. This led to me experiencing not a tingling feeling (as implied by the product's name) but a bad, burning feeling. Nevertheless, I pushed through and luckily my skin didn't suffer any bad results. It was a lesson learned; you shouldn't apply this mask like an ordinary clay pack. It should just be a thin layer and, again, preferably to be applied with a spatula.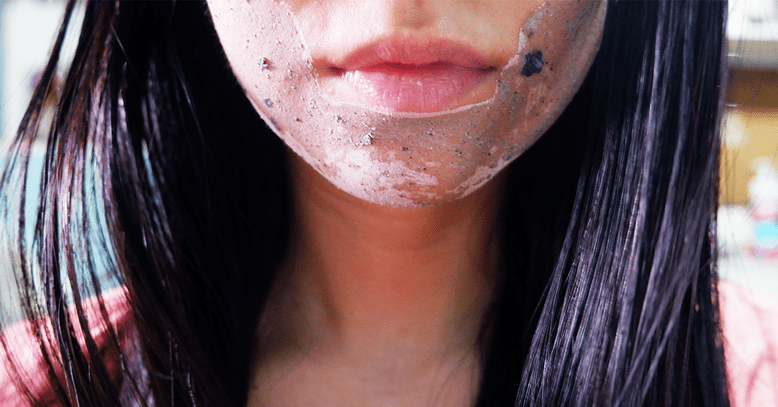 As you can see, there's this crusty texture that forms after a few minutes. It's not the most Instagrammable part of this product.
Once I started applying the right amount, it felt very comfortable with only a minimal tingling feeling. After leaving it on for 10 minutes, it will develop into a crusty mask. The instructions say to wash it off with water in circular motion, which makes sense because the gritty texture can now also serve as a physical exfoliant. You know how other mud masks are super hard to wash off? It's not the same with GlamGlow; everything is just super easy to take off.
After everything was washed off, I saw and felt the difference right away. My skin felt smooth to the touch, pore appearance was visibly reduced and, as advertised, it did give my skin a nice, subtle glow. And the best thing is that it doesn't leave the skin very tight, which is always a plus in my book. Overall, I'm happy to report that the GlamGlow YOUTHMUD® TingleExfoliate Treatment does fulfil its promises.
Is it worth it?
Well, it works and delivers on its promises. However, as someone who has tried numerous masks, I can say that there are more budget-friendly options out there that can give more or less the same effect. A few alternative options are L'Oreal Paris Pure Clay Anti-Pores, Innisfree Volcanic Pore Clay and the Origins Original Skin Retexturizing Rose Clay.
The edge of the GlamGlow YOUTHMUD® TingleExfoliate Treatment is that it never leaves the skin tight so it all boils down to preference. If you suffer from dehydrated or dry skin, your best bet will be the one from GlamGlow. Otherwise, it's best to explore other options before indulging in this luxury celebrity-hyped mask.
Read more of our skincare and makeup reviews here.
Comments, questions or feedback? Email us at [email protected].