Great makeup starts with great skincare. But while many brands would recommend multiple products to achieve the look of healthy, glowing skin, I appreciate the few who attempt to innovate a single, multi-use item to get the effect.
Drunk Elephant
is one such brand. Hailed as a vegan skincare favourite, my ears perked up when I first heard they've released a bronzer. So, I tried the
Drunk Elephant
D-Bronzi™ Anti-Pollution Sunshine Drops
to see if it's worth the hype. Read on to find out.
Packaging and texture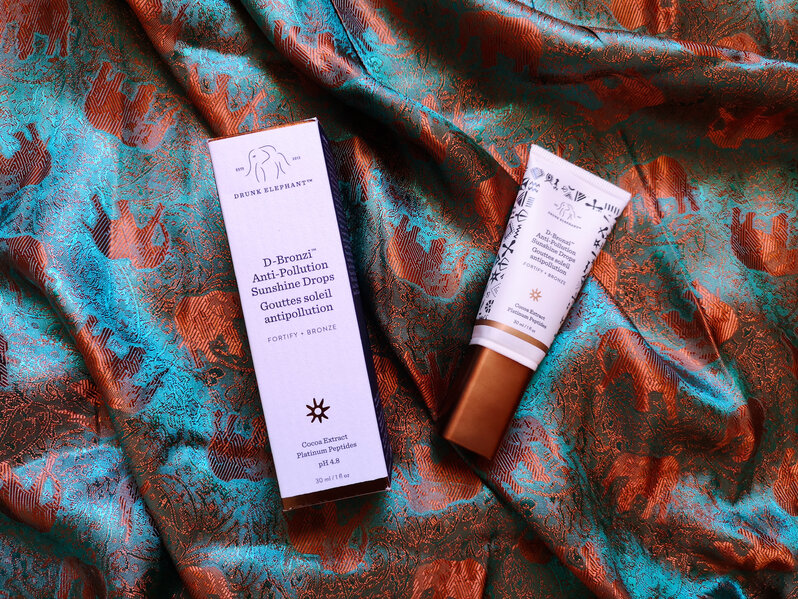 Good packaging is really one of Drunk Elephant's strengths and the D-Bronzi™ Anti-Pollution Sunshine Drops holds its own among the brand's other brightly coloured products. The bronzer comes in a hygienic soft tube decorated with little ancient script-like symbols. I love how the tube is built with its own pump, which ensures the right amount of product dispensation making it fuss-free to use. I also like how the cap perfectly matches the shade and finish of the bronzer formula.
Texture-wise, the formula is somewhat similar to a tinted moisturiser or lightweight foundation. It goes on a bit tacky but is easily absorbed into the skin, leaving behind a semi-matte finish. There's a faint but not unpleasant scent of chocolate, which may be credited to the cocoa extract included in the formulation.
Application and wearability
The Drunk Elephant D-Bronzi™ Anti-Pollution Sunshine Drops is something in between a bronzer concentrate and a serum. The idea behind it, according to the founder, Tiffany Masterson, is "sunshine in a bottle without the damage." It's designed to be mixed in with other skincare products like serums, daily moisturisers, facial oils, even sunscreens to add a healthy boost of colour to the complexion. A little goes a long way with this product so I've decided to mix a single pump of the bronzer with two drops of rosehip oil.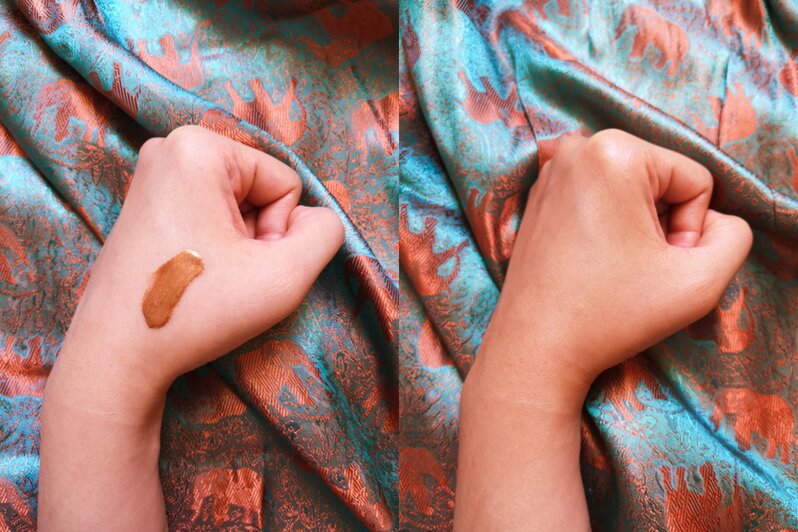 The result once blended out is an even, natural-looking bronzed glow to the skin — nothing too tanned or muddy. It doesn't show any signs of patchiness, which is a problem with most self-tanning products, nor does it look overtly noticeable. For someone with pale skin, it just looks as if you've been regularly stepping out of the house for a bit of sun. That being said, the subtle colouring might not be as noticeable when it comes to medium and dark skin tones so hopefully, Drunk Elephant can have more options for its shade range.

Overall thoughts on Drunk Elephant D-Bronzi
While many seek a sun-kissed glow, sun damage is also a very real thing and I like how the Drunk Elephant D-Bronzi™ Anti-Pollution Sunshine Drops makes the former accessible without the consequences. The brand's Suspicious 6-Free formula is always a plus, but what I really love is the skincare aspect. The chronopeptide in the formula mirrors the benefits of actual vitamin D while platinum peptides reduce fine lines and wrinkles. Meanwhile, the blend of virgin marula, blackcurrant seed oil, and fatty acids help strengthen the skin barrier. Plus, it also protects against pollution damage so it's really hard not to like. All in all, I think it is a great seasonal essential for when you need that extra boost.
Drunk Elephant D-Bronzi Anti-Pollution Sunshine Drops is available at the Sephora SG store. Read our other skincare and makeup reviews here.
Comments, questions or feedback? Email us at [email protected].