Having been telecommuting since March due to COVID-19, I had the preconceived notion that my skin would look healthier than before, as I would be staying at home much more often and not be subjected to the harmful effects of city pollution. To my dismay, I soon realised that indoor pollution, along with other factors such as UV rays, can still cause serious damage to my skin. Couple that with my frequent usage of digital devices, I found myself — and my skin — requiring a little help to combat these external stressors.
Fortunately, I quickly learnt of Korean beauty brand HERA's Youth Activating Cell Serum and its functions, and decided to put it to the test. Read on as I reveal my honest thoughts on this anti-ageing skincare product below.
First impressions, claims and packaging
Sleek. Elegant. Modern. These were some of the words that popped into my mind when I first saw the serum. It's also designed in a lovely lilac shade, making it a perfect addition to any stylish urbanite's beauty collection. It's also worth noting that the serum is designed to be detachable from its glass encasing, which means that you can re-use the pretty bottle, and purchase a refill from the store after you've emptied your current one. A commendable, environmentally conscious effort that helps us reduce a little waste.
On the claims front, this serum is designed to boost your skin's radiance with pyruvate, an anti-ageing ingredient with anti-oxidant properties. In addition to repairing your skin from pollution damage, it also encourages cell production to keep your skin looking plump and youthful-looking. Lots of powerful properties packed into one serum.

Usage and application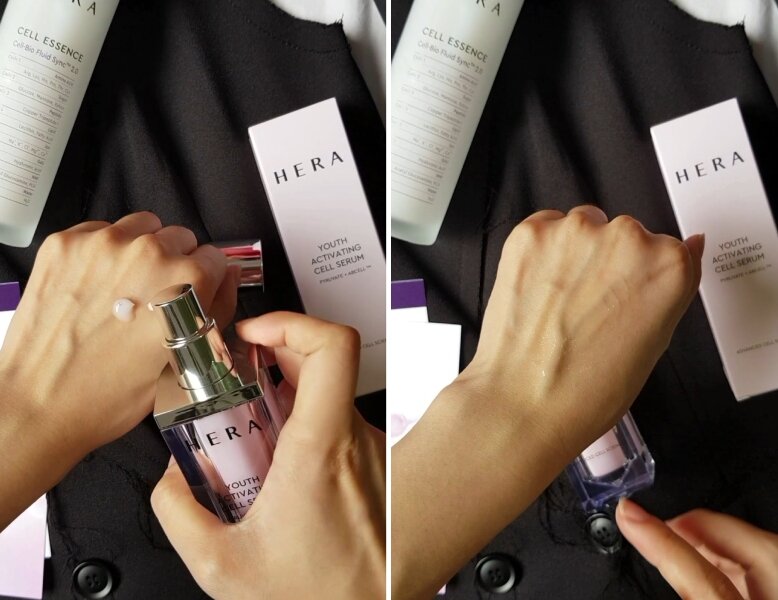 As someone with sensitive skin, I always start with a patch test before incorporating the product into my skincare routine. All was well, so I went ahead and applied it onto the entire face and neck area. I was pleasantly surprised to learn that the product had absorbed rather quickly into my skin. I also loved how it didn't leave behind any sticky residue, which is one of my main concerns when using products with a thicker consistency.

Although I did not see any obvious results immediately, I noticed that my skin had become a little softer and less patchy-looking after using it diligently for two weeks. It was easy for me to stick to the routine of using this product on a daily basis, as I always looked forward to taking in its sweet, calming scent whenever I apply it all over my face.
Final thoughts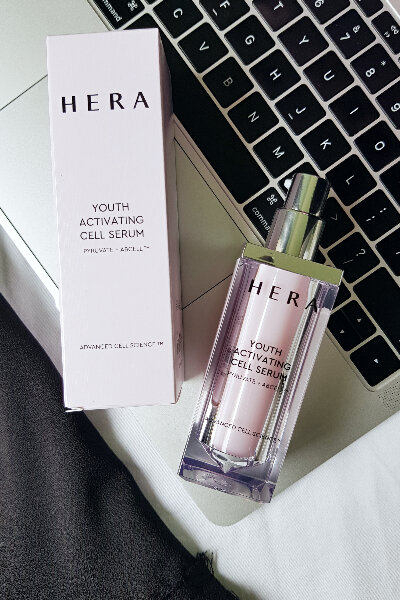 As a beauty newbie, I'm glad to share that HERA's Youth Activating Cell Serum has successfully shown me the benefits of incorporating a serum into my skincare routine. And to my fellow urbanite sisters, I'd say that this product is definitely worth a shot. It never hurts to take a little more time out of your busy schedule to protect and care for your precious skin.
The HERA Youth Activating Cell Serum is priced at SGD120/~USD87.60 for 40ml, while the refill costs SGD100/~USD73. Both items are available for purchase at Hera counters and boutiques, Heraonline.sg and on Sephora.com.
* The product was sent as a press gift. The views and opinion of the reviewer are independent and purely editorial.
Suffering from a serious case of dark eye circles and puffy peepers? Check out our review of Indie Lee's I-Waken Eye Serum to see if it deserves a spot on your skincare routine.

Comments, questions or feedback? Email us at [email protected].