The Fresh Rose Deep Hydration Oil-Infused Serum is unlike any serum I've come across before. Ever since I ventured into the world of serums at the start of the year, I've been fascinated by the sheer variety that is available on the market and how they cater to different skin types and are even able to address specific skin needs. From trying out anti-ageing serums that simultaneously combat the skin against environmental stressors to learning about the wonders of brightening Vitamin C serums from my beauty-obsessed colleagues, I thought that I had already seen it all but I was mistaken.
From its name alone, I could already tell that the Fresh Rose Deep Hydration Oil-Infused Serum was worth taking out for a spin. Having come across plenty of facial oils and light water-like serums in the past, but not both in a single product, this serum stood out to me. It boasts a bi-phase, water-meets-oil formula that's designed to deeply hydrate and nourish the skin. Plus, I was also excited to see if the brand's sensually scented products would work for my sensitive skin. Read on for my honest thoughts.
First impressions, claims and packaging
I must admit that I also had reservations about using oil-infused skincare products because I was afraid that they would make my T-zone become oilier than it already was. Thankfully, I've also read about how facial oils are actually suitable for all skin types and even for those who reside in hot and humid climates. By then, I was hoping to be a happy camper if the serum's oil phase is able to nourish and soften my skin without making it feel greasy or sticky.
Moving onto the packaging, the serum is housed in a beautiful metallic glass bottle. However, this also means that it's slightly heavier and more fragile compared to other skincare products. You'll need to be a little more careful when handling it, especially if you wish to place this in the bathroom where surfaces tend to be more slippery.

Usage and application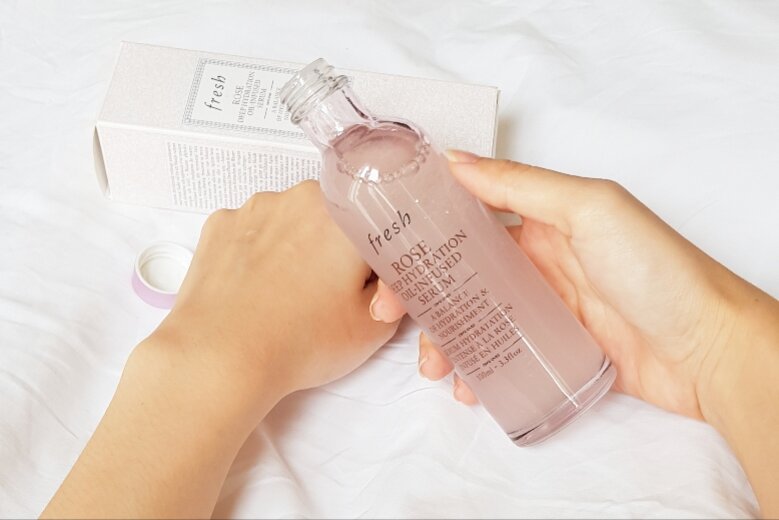 I started with a patch test to ensure that it wouldn't trigger the symptoms of my sensitive skin. I was wary of some of the ingredients included in this product, especially citronellol and rose damascena flower oil as they could potentially aggravate the skin. That said, this serum is also made with plenty of gentle and effective ingredients including rosewater (anti-inflammatory properties), squalane (moisturising) and rosehip oil. The serum's texture felt incredibly silky and smooth on my hands and face. Plus, it absorbed quickly into my skin and I loved how it did not leave behind a tacky-feeling residue. The serum did not cause any irritation to my skin as well, hence I was able to take it out for a proper spin.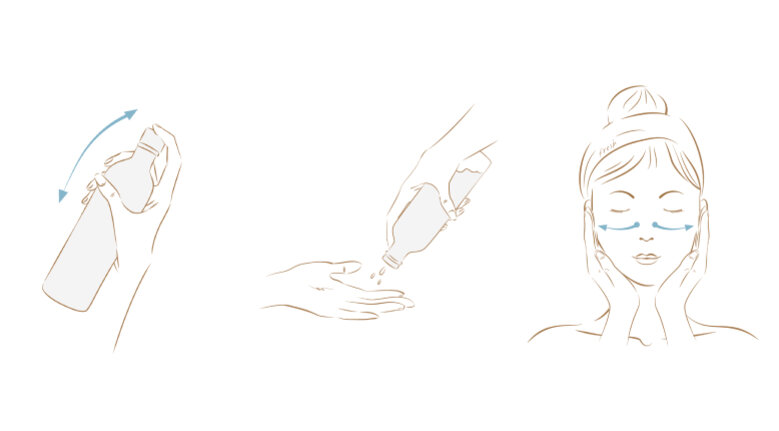 After cleansing and toning my face, I give the serum bottle a few good shakes (five times to be exact to mix the water and oil phases, as recommended by the brand for a soft, glowy finish) before I dispense a few drops of it onto my palms. I apply it all over my face using gentle, tapping motions. The serum's rose scent felt really luxurious and calming at the same time. Given how lightweight the product felt on my skin, I was able to layer it over my moisturisers and SPF products without any trouble. It didn't feel like a chore at all to include this in my skincare routine.

Final thoughts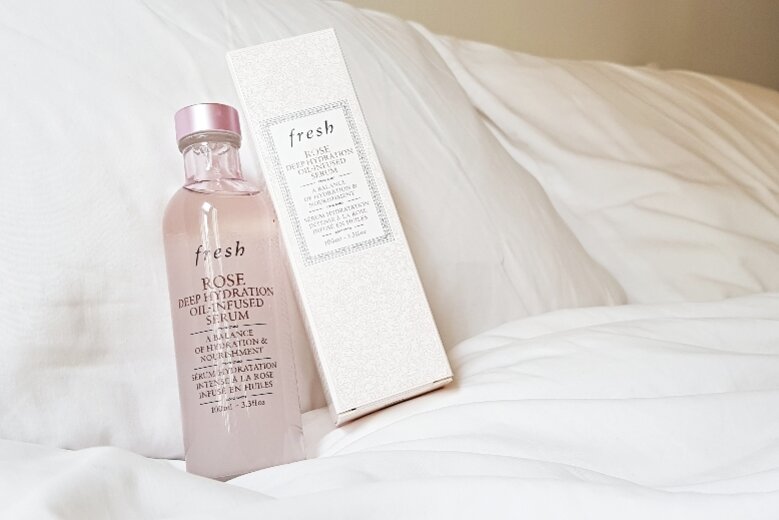 Having used the serum for over a week now, I've observed that my skin looks a little less dull and my dark under-eye circles are slightly less apparent than before. With continued use, I believe it has what it takes to properly hydrate my skin to help it look plumper, softer and silkier. Plus, given how hydrating serums have the potential to amplify the hydrating effects of our moisturisers, I'd be more than happy to add this beauty into my permanent skincare routine if it's able to prove itself further in due time.
Priced at SGD95/PHP3,760/MYR270 for 100ML, the Fresh Deep Hydration Oil-Infused Serum is more expensive than other hydrating serums in the market. That said, it's still a worthy investment if achieving supple, hydrated skin is among your top priorities, and that you're conscious of having your skincare products scents smell wonderful as well (in which case, this serum has aced both fronts). This serum is available at Sephora Singapore, Philippines and Malaysia, and at Fresh boutiques.
*The product was sent as a press gift. The views and opinion of the reviewer are independent and purely editorial.
Now, let's take a closer look at Drunk Elephant's Lala Retro™ Whipped Cream.
Comments, questions or feedback? Email us at [email protected].