As with almost anything that unapologetically bold multi-hyphenate Rihanna has brought us so far — whether it's fearless lingerie (read: Savage x Fenty) or the latest launches from her award-winning Fenty Beauty line — we're always excited to give our honest take on the ones that have impressed us, and the ones that could use a little more work.
Today, let's chat about skin and more specifically, Fenty Skin, Rihanna's debut skincare brand which launches globally at Sephora and Sephora.sg on 26 December 2020. So make yourself a cocktail; put on your favourite Rih-Rih track and read on for my review of Fenty Skin's four products: Total Cleans'r, Fat Water, Hydra Vizor and Instant Reset.
First impressions, claims and packaging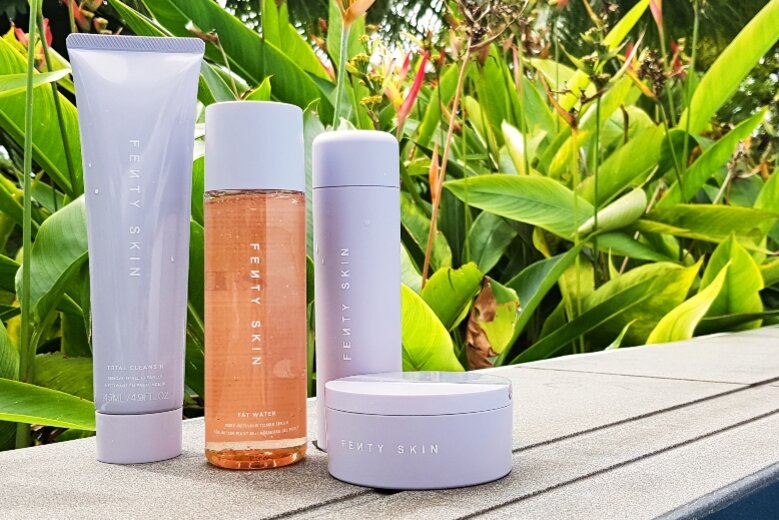 Fenty Skin prides itself in representing "The New Culture of Skincare" and aims to provide clean, uncomplicated, effective skincare for all. The brand's pledge towards "clean" skincare is evident in their use of more earth-friendly packaging and in keeping their products vegan-friendly and gluten-free too.
In terms of making skincare an "uncomplicated" affair, I believe this comes through with their time-saving, multi-tasking products that also work seamlessly with Fenty Beauty makeup. As for its effectiveness, I'll dive deeper into how each of them fared after a week's use but before that, here's a quick overview of their respective claims and functions:
The Total Cleans'r Remove-It-All Cleanser is a makeup remover and cleanser that's designed to help you to remove dirt, oil and makeup without drying out your skin. Meanwhile, the Fat Water Pore-Refining Toner Serum is a toner-serum hybrid that targets pores, improves the look of dark spots, and brightens and smoothens the skin.
Then, there's the Hydra Vizor Invisible Moisturiser Broad Spectrum SPF 30 Sunscreen, a moisturiser-meets-sunscreen product with a subtle pink hue that becomes 'invisible' on all skin tones, as well as the Instant Reset Overnight Recovery Gel-Cream, a rich moisturiser designed to hydrate your skin and reduce the look of fine lines and wrinkles.
Usage and application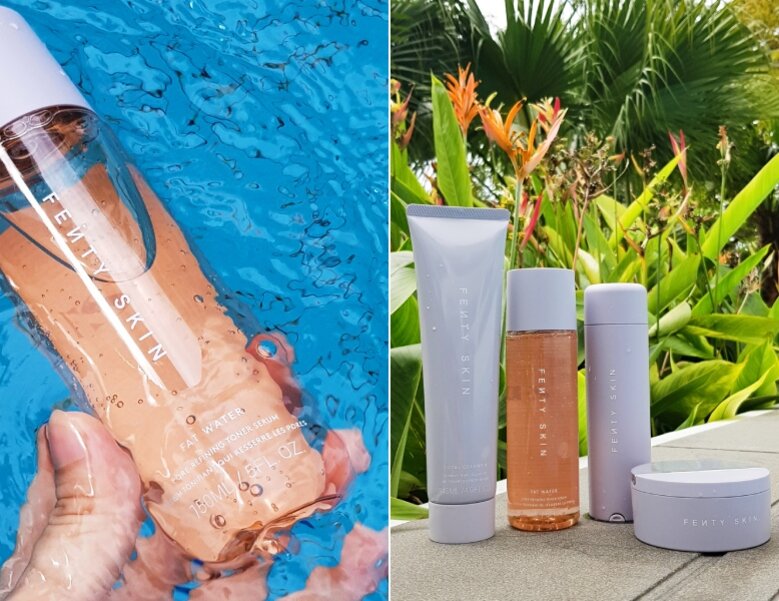 As a person with sensitive skin, I had two primary concerns: one, having to make a drastic '360-degree' switch to all things Fenty for my daily skincare routine and two, if the deliciously scented products (note: fragrance) would sit well on my skin. Fortunately, both worries were dispelled quickly after all of them successfully passed my patch test.
In the AM, I wake up to the Total Cleans'r and pat my skin dry with a face cloth before applying the Fat Water and Hydra Vizor. Before bed, I use the same products except for the Hydra Vizor and go with the Instant Reset Gel-Cream instead. The routine takes no more than five minutes, which is especially important if you're tired after a long night out and have no patience to put yourself through a 12-step routine.
Application-wise, I must admit that I took a while to figure out the proper way to dispense the product from the Total Cleans'r and the Fat Water. Both feature a 'twist and squeeze' design where the product would dispense through a small hole at the bottom. There'll also be a tiny bit of leftover product after you've snapped the twist cap shut, so don't let it go to waste before you place the products back onto the shelf.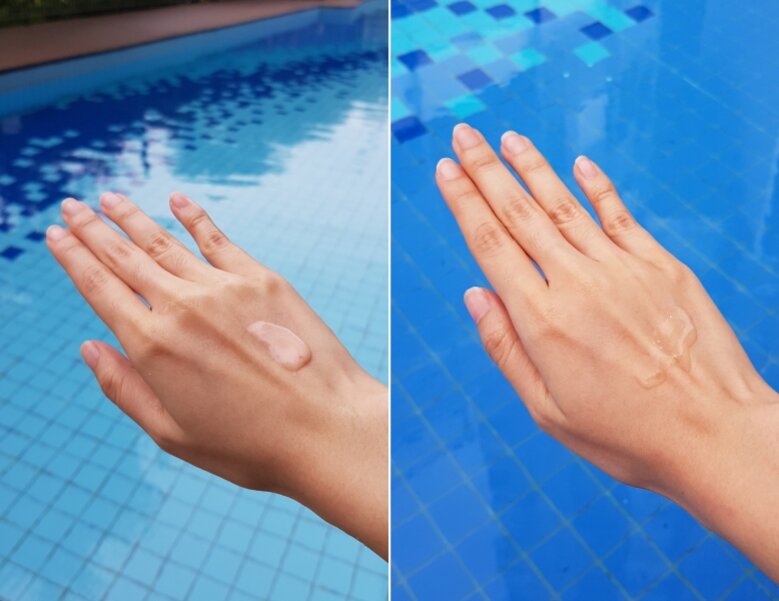 The Total Cleans'r glides onto my skin like a dream and it's safe to say that I'm slightly obsessed with its creamy texture. Made with Barbados cherry (which has more Vitamin C than a whole orange) and coconut-inspired cleansers, it's successfully kept my skin clean, fresh and happy. I also conducted a mini-experiment and found that its makeup removing properties are far superior compared to a drugstore brand's makeup-removing micellar water. With this cleanser, I can now rely less on cotton pads too. This is undoubtedly my top pick from the range.
Next, there's the Fat Water — a favourite of Queen Rih-Rih's. Unlike your regular toners, this product 'sits' in your hand as it boasts a thicker, higher viscosity. Packed with ingredients such as niacinamide and cactus flower extract, this helps to tighten pores and target dark spots. I didn't notice any dramatic difference to my skin after using this, though. Perhaps it'll take a while before the benefits start to show.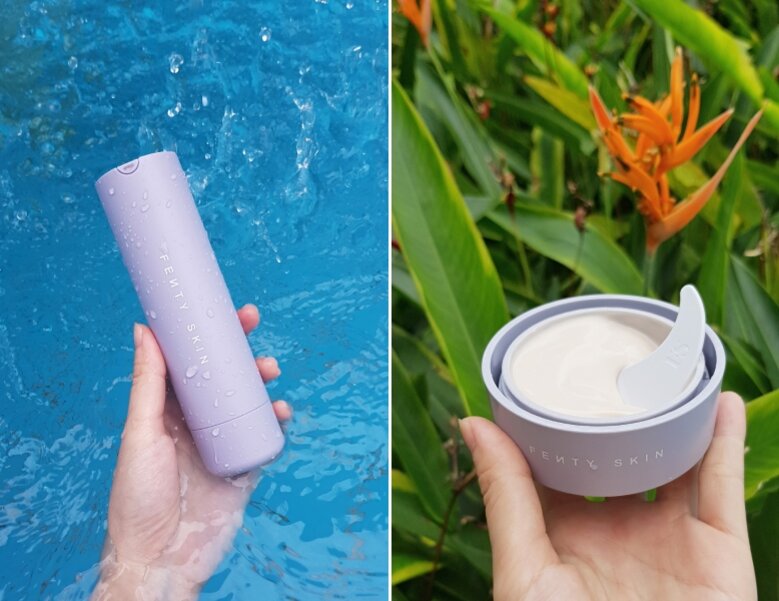 I have no problems with the Hydra Vizor and its 'twist and pump' design. The product feels relatively light and has a refreshing scent, which makes re-applying sunscreen throughout the day a joy and not a chore. It didn't leave a white cast on my skin either, hence people of all skin tones are able to use this product. Inspired by their CEO's true islander background (Rihanna grew up in Barbados), the product is coral reef-friendly too.
Finally, the Instant Reset gel-cream, which has a richer texture, is formulated with ingredients such as antioxidant and vitamin-rich kalahari melon oil, niacinamide and hyaluronic acid. It always makes my skin feel much more hydrated and supple the next morning. However, the product does take a while to absorb into the skin, hence I would suggest that you wait a while before hitting the sack. What's quite commendable about these two moisturising products is how their packaging is refillable, so there's less waste involved — an earth-conscious move by the brand that'll encourage consumers to be more mindful of their consumption.
Final thoughts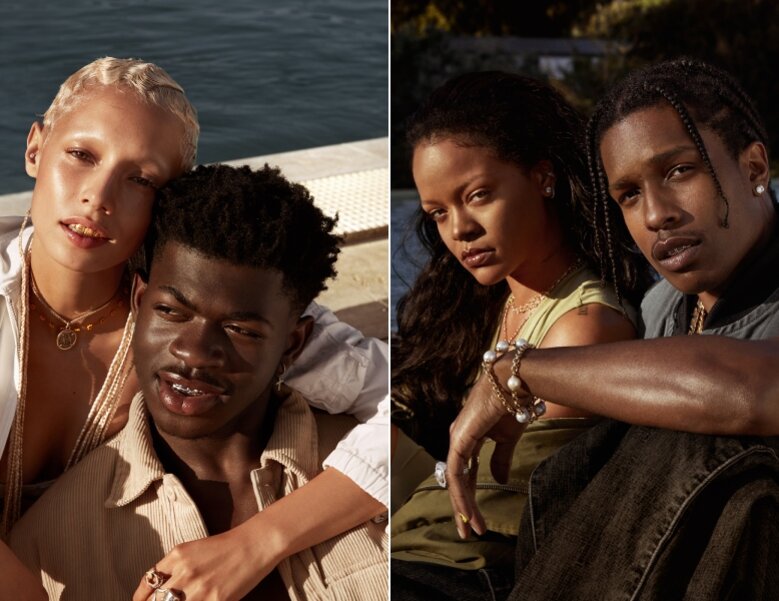 All in all, I find the Fenty Skin collection to be a great skincare starter kit. This means it covers only the basics, so you'll likely have to add other products into the mix to address specific skincare needs. However, I'm not too concerned about this as it's only a matter of time before the brand introduces more products to its line-up. ("Buff Ryder" and "Flash Nap", we're waiting for you.)
I believe that Fenty Skin has taken a fantastic first step towards representing "The New Culture of Skincare." The products are multi-tasking, cruelty-free, earth-conscious — as they should, especially in this day and age where offering sustainable, effective yet safe beauty products is no longer a 'good-to-have' and has become more of an industry 'requirement'. The brand's democratic approach to skincare further solidifies Rihanna's mission in providing effective beauty products for all too — we see men being celebrated for taking ownership and care of their skin, with male rappers ASAP Rocky and Lil Nas X fronting their campaign visuals.
The full Fenty Skin four-piece collection adds up to SGD194/~USD145, which is a tad expensive if you're a fresh college grad or the sort who usually goes for drugstore products. But not to worry, as you can start by picking up the Fenty Skin Start'r Set (SGD61/~USD45), which contains the Total Cleans'r, Fat Water and Hydra Vizor in travel-size minis for you to discover if it's worth your coin.
*The products were sent as a press gift. The views and opinion of the reviewer are independent and purely editorial.
Next, discover our honest review of Milani's Gilded Violet Eye and Face Palette.

Comments, questions or feedback? Email us at [email protected].