Residing in Southeast Asia usually means that you're spared from living through harsh winter climates. You get to bask in the warmth of the sun almost all year round. Plus, experiencing the joys of line-dried laundry is almost a daily affair for you. However, there are times when the weather gets too hot to handle and you'd end up finding yourself a frazzled, sweltering mess by noon.
Truth be told, I've always perceived facial oils to be unnecessary as I live in a perennially hot and humid climate. I thought that adding them to my skincare routine would only cause my skin to look oilier and greasier than it was before. With this preconceived notion, I decided to give Drunk Elephant's highly raved Virgin Marula Luxury Facial Oil a go anyway to see if it'd make me a facial oil convert. Read on for my honest thoughts after trying out this product.
First impression, claims and packaging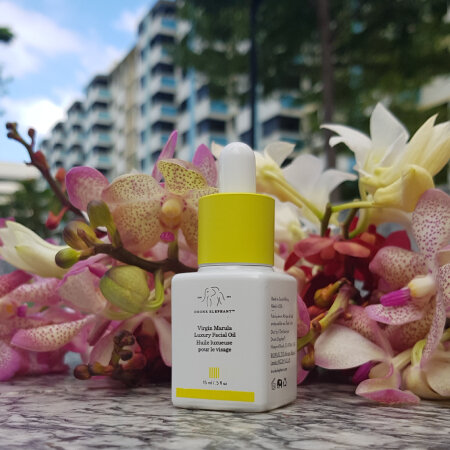 Drunk Elephant's products are a mainstay in almost every skincare enthusiast's beauty shelfie and with good reason — they are constantly applauded for their versatility, innovative formulations and use of effective ingredients. Plus, it's tough to resist their 'gram-worthy, colourfully packaged products too.
I was first introduced to the wonders of marula oil after reviewing the brand's hair and body care line and I recall being thoroughly impressed with the Wild Marula™ Tangle Spray's ability to manage my unruly hair. As such, I was keen to see if it would work on my skin as well.
The Virgin Marula Luxury Facial Oil is made of 100 per cent marula oil (otherwise known as Unrefined Sclerocarya Birrea (Marula) Kernel Oil) — which makes it completely devoid of unnecessary "nasties" such as essential oils, silicones and fragrances. Rich in critical antioxidants (which helps defend the skin against pollution and damaging environmental free radicals) along with omegas-6 and -9, this product is designed to nourish and balance the skin while restoring a youthful glow and remain in its purest form.
After learning these, it was time to put it to the test.

Usage and application
I started by applying a few drops of the facial oil onto my face, chest, cuticles and legs in the evenings as these areas of my body were most prone to dryness. Although it's used primarily as a facial oil, the brand recommends that you apply it wherever you believe requires extra nourishment. After three days, I incorporated it into my daytime skincare routine as well after getting used to its texture.
Despite the product taking a while to absorb into the skin, I didn't experience any discomfort or "ickiness" whenever I used it. Furthermore, although I've yet to notice any significant changes to my skin thus far, I was impressed by how the facial oil had done a much better job at prepping my skin for makeup than my regular primer. My foundation had always looked patchy before this, hence I was relieved to see this problem being resolved after I decided to apply the facial oil before makeup.
Final thoughts
I'll have to try Drunk Elephant's Virgin Marula Luxury Facial Oil for a few more weeks to be able to tell if it'll make any significant improvements to my skin. That said, I truly appreciated how it has done an excellent job as a pre-makeup moisturiser. Even then, it's still a little tough for me to justify purchasing this, looking at how it's priced at SGD56/MYR175/PHP2,360 for 15ML.
In all, I'd definitely still recommend this product to my fellow sensitive skin sisters who are on the hunt for a great quality facial oil because it's free of chemicals and fragrances while helping to moisturise, rejuvenate and nourish the skin. Plus, it's also definitely changed my perspective towards incorporating facial oils into my skincare routine. Keen to give Drunk Elephant's Virgin Marula Luxury Facial Oil a go as well? You can check it out on Sephora.sg.
*The product was sent as a press gift. The views and the opinion of the reviewer are independent and purely editorial.
Now, hear what makeup maven Huda Kattan has to say about the transformative power of beauty and achieving — and fortune — online.

Comments, questions or feedback? Email us at [email protected].