As a combination skin gal, finding the moisturiser that perfectly matches my skin's needs takes a lot of trial and error. Sometimes, moisturising products can make my T-zone too oily, while gel formulas tend to be insufficient for my drier areas. So I was curious to try the cult-fave and award-winning Drunk Elephant Lala Retro™ Whipped Cream to see how it will react with my combination skin. Loaded with six African oils and a plant ceramide complex, this rescue cream promises to reinforce the skin's acid mantle and defend it against the effects of everyday stressors — making it ideal for dry skin types. But on combination skin? It's up for debate. Curious to see how it went? Read on.

First impressions, claims, and packaging
The Drunk Elephant Lala Retro™ Whipped Cream served as my gateway to Drunk Elephant products. While it's not a "perfect match" for my skin, since it's more for those with dry skin, I was nevertheless intrigued by its claims. Aside from the African oil blend and ceramide complex, this cream moisturiser also has sodium hyaluronate crosspolymer (for lasting hydration from within), fermented green tea (an antioxidant and anti-ageing ingredient), and omega acids (to lock in moisture). Apparently, it was also formulated at a pH of 5.2, which Drunk Elephant claims to be the ideal pH level for skincare. This, in turn, shouldn't make the skin feel suffocated after applying the rich cream. It seems to be a hit with a lot of people, garnering 4.7-star reviews from users with different skin types on the Drunk Elephant website.
I was really intimidated by its thick whipped texture since I feared it would be too heavy for my combination skin. This was quickly eliminated by a swatch test along my jawline; it immediately sunk into my skin and didn't leave a trace or residue behind.
Packaging-wise, I appreciate the fact that the cream is dispensed through a pump. I didn't have to dig in my fingers or use an applicator, which made it very hygienic to use. It does take some getting used to since a full pump seems to be too much product for my face. I usually give it a light press to dispense a pea-sized amount, which sufficiently covers my whole face and neck.
Usage and application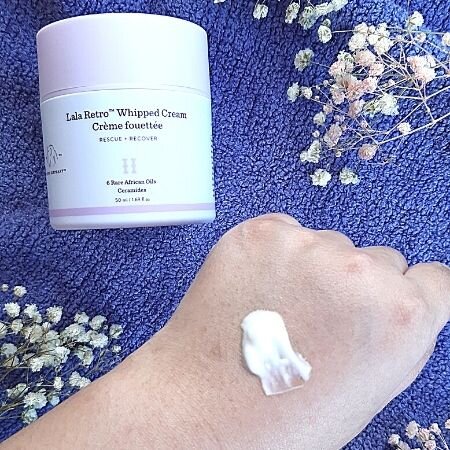 I first tried applying the Drunk Elephant Lala Retro™ Whipped Cream on its own for a week. No toners, serums, or other skincare products. The dry areas along my hairline and jaw gulped up the hydration from this moisturiser, but I did end up using a full pump to get rid of the sudden dryness that appeared on my cheeks after three days of using this product.
I then tried it with a hydrating toner and SPF. This went marginally better because I didn't notice any more dry patches of skin on my cheeks. However, my T-zone became significantly shinier by the early afternoon which I assume was primarily caused by the African oil blend. After tweaking the amount of product I used per area, lessening the amount I used on my T-zone, the shininess lessened.
Lastly, I applied it at night with a whole gamut of products — toner, serum, essence and all. This was the best way of applying this cream moisturiser, as it allowed my skin to fully absorb its moisturising goodness and lock in the other hydrating properties of my other skincare products. I could definitely see the Lala becoming handy after using physical or chemical exfoliators or when my skin needs a heavy dose of moisturisation.
I also discovered that you can use this on other parts of your body. I applied it on my arms and hands in the morning after showering, instead of body lotion. It soaked up quickly and didn't leave that cloying feeling I usually get with mainstream body lotions.
Final thoughts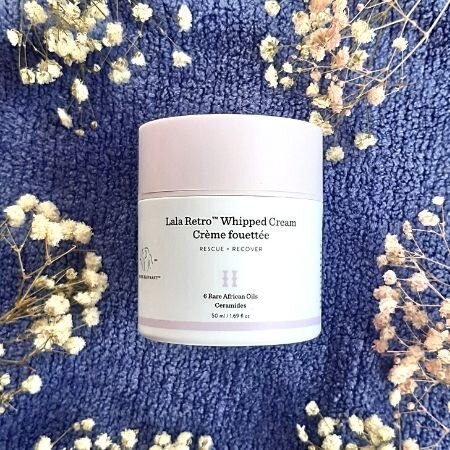 After three weeks of using the Drunk Elephant Lala Retro™ Whipped Cream, I've noticed that the subtly textured skin on the lower half of my face has slowly improved. My skin feels softer as well. It works best when used with other hydrating skincare products as it locks in all that moisture with its creamy formula.
In my opinion, this rescue cream will greatly benefit someone who has drier skin than I do. It will take less trial-and-error figuring out the proper amount of product to use. But I did enjoy the experience of using this rescue cream, even with my combination skin. All in all, it was definitely worth a try and I'd recommend it to a friend if they'd ask for my opinion on it.
The only kicker is that it comes with a hefty price tag of SGD86/PHP3,630/MYR265/ ~USD63.97. That's quite a luxurious price to pay for a moisturiser. But if you're looking to splurge, it's money well spent. You can purchase it in Sephora Singapore, Philippines, and Malaysia.
*The product was sent as a press gift. The views and opinion of the reviewer are independent and purely editorial.
Next, see if the Hollywood-famous Augustinus Bader The Cream works miracles on sensitive skin.
Comments, questions or feedback? Email us at [email protected].