We are well into Dry January, however, we've made an exception for Drunk Elephant's delightful "cocktails" and concoctions as they always remind us to have fun with skincare. Speaking of which, the brand has recently unveiled its Sweet Biome Fermented Sake Spray, a facial mist which, as its name suggests, boasts fermented sake extract amongst other skin-pampering ingredients.
Affectionately referred to by the brand as #sweetb, this newcomer is neither a mist toner nor a makeup setting spray — which may leave you feeling a tad confused (just like we were) about where it belongs in your skincare routine. If this has successfully piqued your interest, scroll on to check out our honest thoughts.
First impressions, claims and packaging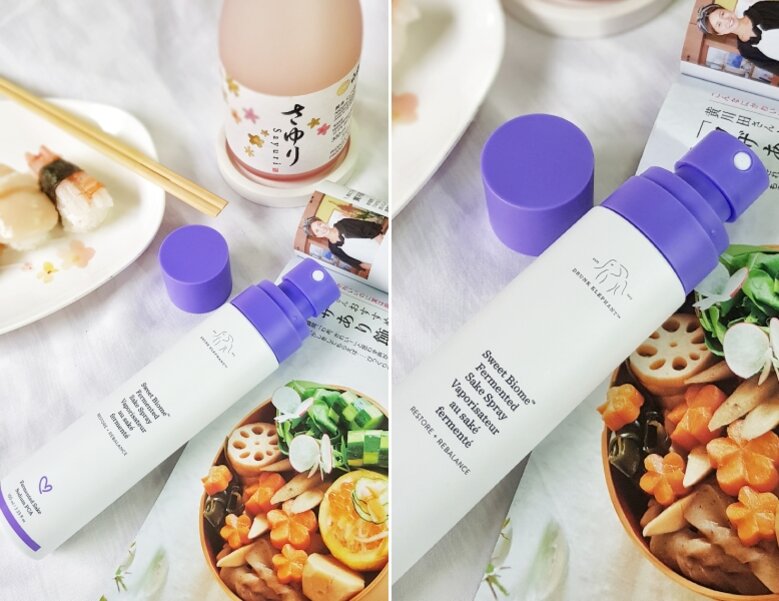 According to the brand, the Sweet Biome Fermented Sake Spray is designed to "support and supply your skin with nutrient-dense substances to restore, soothe, and contribute to a healthy, balanced skin barrier and microbiome." It also contains electrolytes such as coconut water (hydrating), along with ceramides (locks in moisture), essential amino acids and other ingredients to help the skin combat redness, dryness and environmental aggressors.
The product dispenses a super fine mist, which feels very lightweight and refreshing on the skin. This may tempt you to spray a few more times, however, take note that two or three spritzes would suffice. Any more and it will feel a little too tacky on your skin. In terms of packaging, there's no doubt that its vibrant purple shade is a mood lifter, as with all other bright-coloured products offered by Drunk Elephant.
One aspect which left me less than impressed was its nutty scent; I found it to be quite unpleasant. However, I'm more than happy to overlook this as the product is free of fragrances and essential oils, which I greatly appreciate since I have sensitive skin.
Usage and application
Now comes the golden question: When and how often should you be using this? The brand recommends that you reach for this whenever your skin craves for a generous dose of hydration. For those of you who are big on routines, you're encouraged to spritz this in the morning after you've rinsed your face with water and in the evening after cleansing. In short, it's a skin-boosting product which you can use at any time of the day.

Final thoughts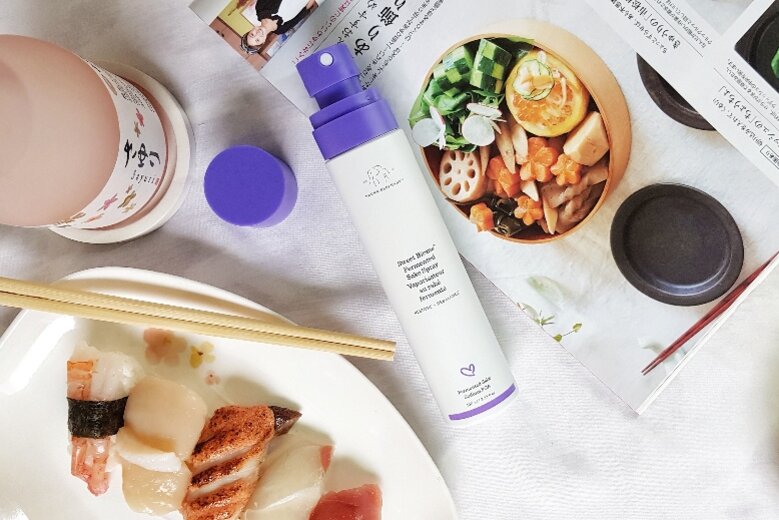 I have no qualms that this product will be a hit among facial mist enthusiasts and Drunk Elephant fans, especially since many of us are still working from home during this extended #stayhome season. Its handy spray format encourages you to keep your skin hydrated and refreshed all day without you having to leave your seat (or bed, if that's how you roll.)
Having used this product for almost two weeks now, I have yet to notice any significant changes to my skin. But as we all know, achieving healthy, supple-looking skin doesn't happen overnight. If anything, it has served as a good reminder for me to take care of my skin without requiring much effort.
The Drunk Elephant Sweet Biome Fermented Sake Spray is priced at SGD60/~USD45 for 100ML, which makes it slightly more expensive than other facial sprays in the market. However, there are also talks of the brand releasing a midi-sized version of this product in the coming months, which will be perfect for those who wish to go for something tiny enough to fit inside their mini purses. The product is now available at Sephora.sg and selected Sephora stores including Sephora ION Orchard and Sephora Tampines 1.
*The product was sent as a press gift. The views and opinion of the reviewer are independent and purely editorial.
Now that we're on the topic of new skincare finds, have you acquainted yourself with azelaic acid?

Comments, questions or feedback? Email us at [email protected].