The Caudalie Vinosource-Hydra Grape Water Gel Moisturiser is the brand's latest addition to its grape-based line of skincare products. Made for normal, oily, and sensitive skin, this moisturiser promises to soak your skin with hydration, reduce sensitivity-based redness, block free radicals, and strengthen your skin microbiome. It has a lightweight gel texture that promises to sufficiently hydrate your skin without triggering any excess sebum production or clog pores. Sounds like a good moisturiser for combination-oily skin folks, doesn't it?
Ahead, combo-skin gal, self-proclaimed beauty minimalist, and #TeamClozette Campaign Manager Xuanyi Low shares her thoughts on using this deeply hydrating prebiotic moisturiser.
*The product was sent as a press gift. The views and opinions of the reviewer are independent and purely editorial.
First impressions, claims, and packaging
"As someone with combination skin, I always prefer using more gel-like products," Xuanyi shared. "I am rather minimal when it comes to my skincare routine and I love that the Caudalie Vinosource-Hydra Grape Water Gel Moisturizer's claims have what I'm looking for."
The moisturiser contains a new ingredient called organic grape water that's naturally rich in soothing trace elements, antioxidant polyphenols and hydrating sugars. Grape water also has prebiotic action that strengthens and balances the skin microbiome.
It also has organic aloe vera to further boost any hydration and skin-repairing abilities. Aside from the skin-loving ingredients, the moisturiser also has a "pleasant" and "fresh" grape fragrance that Xuanyi really liked.
The new Vinosource-Hydra products all come in a light pink packaging. This moisturiser, in particular, is encased in a frosted pink glass jar that's completely recyclable. Aside from that, the jar is the usual open-pot design that Xuanyi finds easy to open and use. "I can also gauge how much more I have left."
Application and usage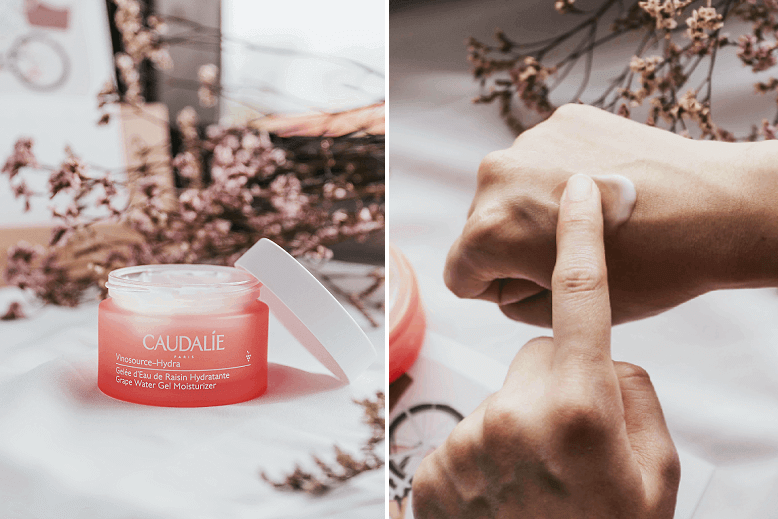 Though the brand calls it a gel moisturiser, Xuanyi thinks it has more of a hybrid texture. "It has a nice creamy texture but not too thick, kind of between a gel and a cream moisturiser." According to Xuanyi, the moisturiser feels a "little tacky" once applied but it eventually gets absorbed into the skin. Once "dry", it doesn't leave residual stickiness.
Because of its lightweight nature, you can use the moisturiser for both day and night as Xuanyi observed in her experience — yup, even if you have oily-combination skin like she does. She applies the product after cleansing and has observed a dewy — not greasy — appearance after every use. No worries if you prefer to use it solely in the daytime, too, since she also shared that the moisturiser "layers well" underneath her sunscreen.
As a skincare minimalist, Xuanyi was delighted to find that her skin feels sufficiently hydrated by applying just the moisturiser after cleansing. "I have tried applying it after my toner as well as on bare skin, but I think I prefer to apply it by itself," she said. Skipping the toner allowed the moisturiser to "absorb faster" and delivered an immediate hydrating and refreshing feeling to her skin.
Final thoughts
After using it for two weeks, Xuanyi has nothing but positive things to say about the Caudalie Vinosource-Hydra Grape Water Gel Moisturizer. "It has been perfect so far. It's gentle, calming, and my skin feels hydrated throughout the day." As a combo-skin gal, she recommends this to people with the same skin type who are also looking for intense hydrating and soothing effects from their skincare. If you're a skincare minimalist as well, you'll find this as a "good introduction" to skinimalism.
The moisturiser's subtle scent is not overpowering and didn't cause any negative reactions for Xuanyi's complexion. However, if you find that your skin is particularly reactive to scents, the Vinosource-Hydra Moisturizing Sorbet might be a better option.
She does find the price point of this one to be a bit higher compared to her usual skincare product preferences. However, the organic ingredients it contains are more than worth the investment for her. She'd consider purchasing it as a way to pamper her skin more.
Are you also looking for a deeply hydrating moisturiser that's suited for oily-combination skin and Southeast Asian humidity? The Caudalie Vinosource-Hydra Grape Water Gel Moisturizer is available in Singapore and Malaysia for ~USD40.93 through Sephora stores and its online platforms.
Comments, questions or feedback? Email us at [email protected].