Ever since bakuchiol became the It ingredient in skincare, we've been intrigued to see how it works. We know that it's a completely plant-based alternative to retinol, which minimises acne, stimulates collagen production, and reduces fine lines. Bakuchiol is also said to be a gentler option, doing away with the harsh peeling and light sensitivity that retinol usually causes. So we whipped out the BYBI Bakuchiol Booster (SGD23/~USD15.92) to see how different skin types will react to its famed ingredient. With its reported softening squalane and renewing bakuchiol combination, will this be our new skincare holy grail? In a series of chats, #TeamClozette writers share our thoughts on this minimalist skincare treat.

First Impressions and Claims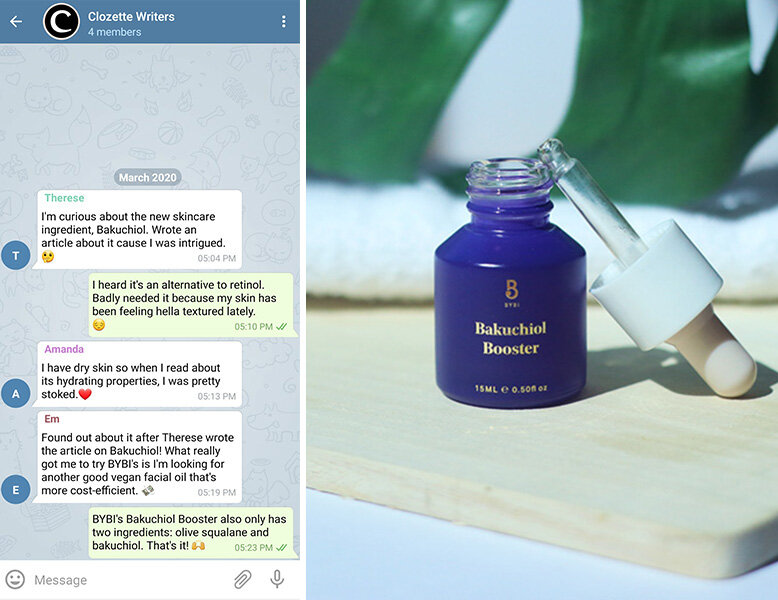 Therese, 5:04 PM
I'm curious about the new skincare ingredient, Bakuchiol. I've heard so much about it — how it's a better retinol alternative, doesn't cause photosensitivity, hydrates damaged skin like no other — and would like to try it out to see if it's worth the hype. Plus, it contains one of my favourite skincare ingredients of all time — squalane, the vegan equivalent of squalene, which is derived from olives instead of sharks. Although, I'm very hesitant to continue using any product containing Bakuchiol after learning that the plant from where it's extracted is actually endangered.
Amanda, 5:07 PM
Ever since I read our article about this, I've been curious. As someone with dry skin, my favourite skincare ingredient is also squalane. I'm really interested to see its hydrating properties in conjunction with the other claims of this product. Some that I've seen includes stimulating collagen production to help deal with pigmentation and skin firmness. Plus, hydration.
Alyana, 5:11 PM
Similar to Amanda, I found out about it through one of our articles. Since I have combination oily skin, I'm always game to try a hydrating product. After finding out that it's a gentler and less irritating option to retinol, I wanted to see if it will help me deal with my textured areas. Nothing can ruin a good makeup look than some rough patches!
Em, 5:15 PM
Found out about it after Therese wrote the article on Bakuchiol, too! But what really got me to try BYBI's is the fact that I'm looking for another good vegan facial oil that's more cost-efficient. I recently fell in love with them as they clarified my skincare misconceptions — who knew that adding oil to my combination-oily skin would actually lessen the greasiness? I also heard it can be a natural alternative to fight acne. Though my breakouts are minimal, the pimples I get tend to hurt and scar after, so I'm really counting on this one to prevent all that.
Packaging
Therese, 5:30 PM
I find this so convenient to use because of the drope I also like how durable and lightweight it is, making it perfect for travel. However, rubber droppers are — most of the time — hard to recycle. But, it's notable that aside from the dropper, everything else, from the carton and bottle to the glass pipette can be recycled. I also love the simple, elegant aesthetic of the purple bottle.
Amanda, 5:37 PM
It's great that this doesn't have a flip-cap. Love that they focus on recyclable packing. The only caveat: most places in Southeast Asia don't have facilities for dealing with the non-recyclable materials. Still, that's a conversation for another time.
Alyana, 5:40 PM
It seems like a more fun version of a medicine bottle! I like how I can control how many drops I use — I don't use an excessive amount, which can be a waste of product. For its size, it actually holds a lot of product when you use only two to three drops with every application. The purple and gold theme just calls to me since purple is my favourite colour and gold gives off a luxe vibe.
Em, 5:42 PM
Yeah, I love pipettes overall because they help me save on the product I use. Not to mention, it keeps my hands and the product clean. It's also simple yet eye-catching. Quite perfect in a shelfie, isn't it?
Appearance and scent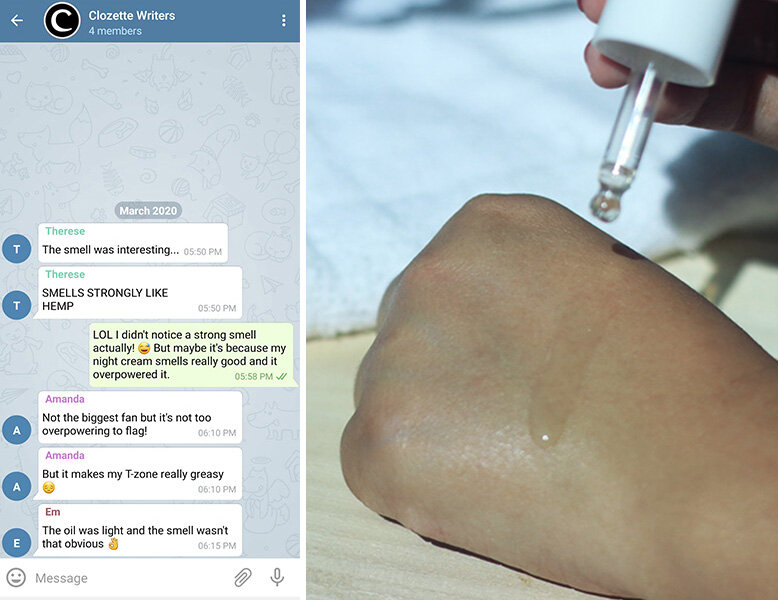 Therese, 5:50 PM
This provides a similar effect as the other popular facial oil with squalane that I've been using. My skin remained smooth and plump, especially in the morning. The good thing about the Bybi Bakuchiol Booster is that it's almost half the price of my other facial oil. But again, Psoralea corylifolia (a.k.a. bakuchiol) is endangered and used for medicinal purposes. I'm not sure if using it for skincare (when there are more sustainable alternatives) is the best move. It also smells strongly like hemp, but I don't really mind scents so that's okay with me.

Alyana, 5:58 PM
I've personally haven't tried a lot of facial oils and having oily skin, I was a little hesitant to add this to my routine. But it's really light and my skin was able to soak it up fast when I used it. I didn't mind the shine it created because it looked more glowy than greasy. I didn't notice a strong scent, actually! But since my night cream smells really good, maybe that overpowered the scent of this one.
Amanda, 6:10 PM
I'm not the biggest fan of its smell but it's not too overpowering. As for the effect, it definitely smooth and plumps the skin effect even hours after application. The downside is that the shine doesn't really fade away. This makes me incredibly greasy around my T-zone, so I'd say this is really more of a nighttime product.
Em, 6:15 PM
I'm a recent facial oil-convert and I've been incorporating one in my skincare routine for a few months now. I'm happy to say that even when I switched to BYBI Bakuchiol Booster, my skin still experienced the hydrating effect that oils give. The oil was light and the smell wasn't that obvious.
Usage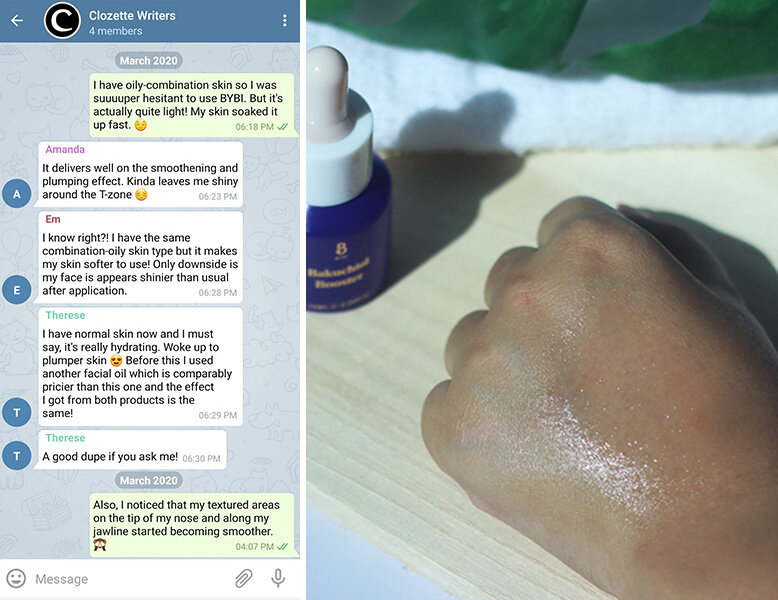 Therese, 6:18 PM
I applied two drops on the back of my hand before transferring it to my temples, cheeks and chin directly and blended. Afterwards, I sealed it with a moisturiser.
Amanda, 6:23 PM
After cleansing and using a face lotion, I use one or two drops to cover my entire face. I find that it's enough to give me the hydration I need. Shine aside, it gave me soft and supple skin. Nothing extraordinary for me, though, since other facial oils deliver the same effect.
Alyana, 6:27 PM
I used two drops and mixed it with my night moisturiser. I didn't really want to wait for it to dry down, so from the get-go, I just combined two steps into one and it worked for me! My skin was soft and didn't appear greasy — it actually looked dewy — which to be frank, I was expecting to see. I didn't see any plumping effect for the first few nights.
Em, 6:35 PM
I use this at night as the last step of my routine. It's great because one drop is enough to hydrate my whole face! It made my skin plumper the day after though it did take a while for my skin to get used to the product.
After several weeks of using the BYBI Bakuchiol Booster
Amanda, 4:00 PM
I broke out a bit after using this product but nothing too major. I guess it's just my sensitive skin reacting to something new. Perhaps my skin had trouble absorbing it?
Alyana, 4:07 PM
After several weeks of using the BYBI Bakuchiol Booster, I didn't notice any concerning reactions, aside from my T-zone getting a tad shinier. Some of my textured areas — on the tip of my nose and along the jawline — started becoming smoother. I don't use this in the morning since my skin produces enough oil throughout the day. I think that was a good decision.
Em, 4:11 PM
This broke me out, too. But other than that, nothing significant really happened. Like with Alyana, my face appeared shinier but it still felt soft to touch, which means it still delivered on what I was expecting.
Final thoughts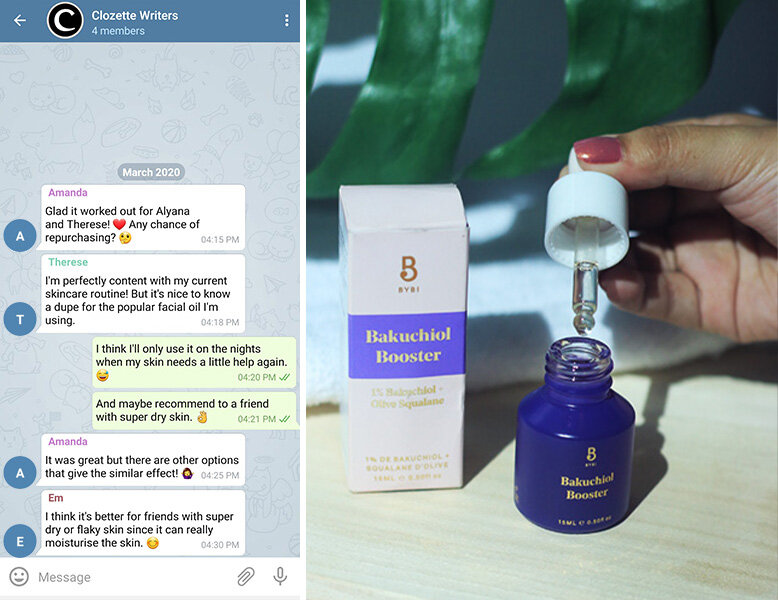 Therese, 4:18 PM
I'm actually perfectly content with my current skincare routine and am more interested in adding Vitamin C serums. However, it's nice to know a more budget-friendly "dupe" or an alternative for the popular facial oil I'm currently using. At the end of the day, though, I still can't shake off the fact that it uses endangered plants in its ingredients list.
Alyana, 4:20 PM
Honestly, I will use it but only on the nights when my skin needs a little help. If I were dealing with some texture or dry skin, I'd definitely use the BYBI Bakuchiol Booster with my night moisturiser again. That said, if a friend came up to me and they have super dry or textured skin, I'd recommend this. But based on what the others are saying, it's not the most sustainable option. So maybe only if they've exhausted all other options? It has only 1 per cent bakuchiol in a bottle, after all.

Amanda, 4:25 PM
It was great giving this a whirl but if you're looking for hydrating products, there are other products that offer similar effects as well.
Em, 4:30 PM
This has only been the second facial oil I've ever used, so I'm still keen on trying out others to compare which gives the best benefits. I think it would be better for friends with super dry and flaky skin as it can really moisturise and nourish the skin.
You can purchase the BYBI Bakuchiol Booster from Sephora stores and Sephora.sg for SGD23/~USD15.92.
*The product was sent as a press gift. The views and opinion of the reviewers are independent and purely editorial.

Next, see if the Then I Met You Cleansing Balm deserves the hype.
Comments, questions or feedback? Email us at [email protected].