Dark circles weren't really a concern for me — at least up until I started working. The days spent staring at a computer screen started to show; the skin around my eyes developed a darker hue as weeks passed by. On the late nights I've had to stay up later than usual, I noticed that my eyes tend to noticeably puff up more. I tried fixing it with full-coverage concealers and DIY hacks (used tea bags and cold cucumber slices included). Since these didn't do anything to lighten up my undereyes, I decided to take the plunge.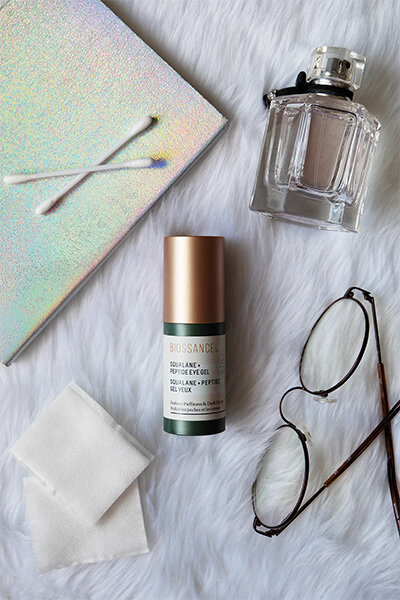 I've never tried eye gels or creams prior to the Biossance Squalane and Peptide Eye Gel, which claims to reduce puffiness and dark circles with its "weightless, ultra-hydrating gel" formula. Does it hold up to its promises? Let's find out.
Packaging and Appearance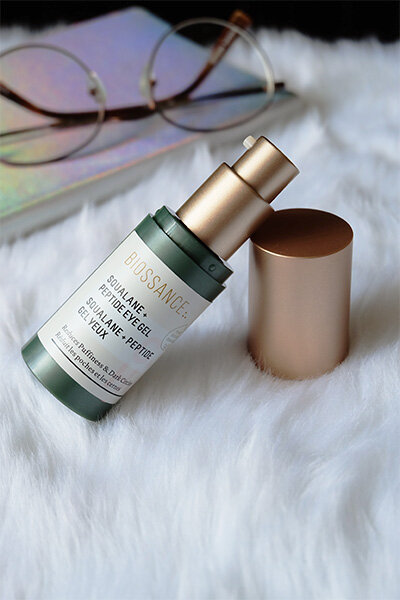 This eye gel comes in one nifty bottle and recyclable carton packaging. The gold and green aesthetic really embodies the organic, high-quality ingredients in the formula. Its ingredients list shows a lot of fruit extracts, such as Swiss apple, cucumber, Goji berry, and grape skin were used in creating this product. It also has organic aloe vera leaf juice as one of its key ingredients, appearing second on the list. Aloe vera is found to be very moisturising and helps prevent fine lines from deepening.
When it comes to value for money, you get a lot of product for SGD79/~USD57.91 per 15ml bottle. Aside from that, the cap snaps snugly into place, so it's very travel-friendly. This prevents any spillage occurring while in transit. I brought this with me during my Tokyo trip last year and it managed to survive the entire trip with nary a drop spilt. If you're a frequent traveller who deals with puffy eyes after red-eye flights, this is something to keep in mind.
Contents and Application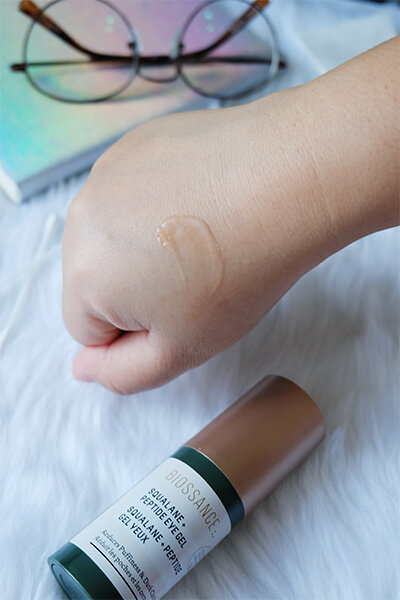 It was a pleasant surprise to see the gel's orange hue upon dispensing it for the first time. Most eye gels and creams have a white or clear colour, but Biossance's peptide variant has a light salmon-orange tint.
Applying this eye gel was very easy. A half-pump delivers enough product for both eye areas. Since I use a tiny amount of product, I was able to use it both morning and evening as recommended on the bottle. I started out using it solely before bed to see if it felt heavy on the skin (it didn't) but I eventually transitioned to applying it twice a day after noticing that my under-eye concealer tended to last longer when I apply it in the morning as well. When applied at night, my eyes were less puffy in the morning — even if I stayed up all night for an early-morning flight. The fine lines underneath my eyes have faded a bit after a month, so with continued use, I believe that this eye gel will work its magic.
Overall Thoughts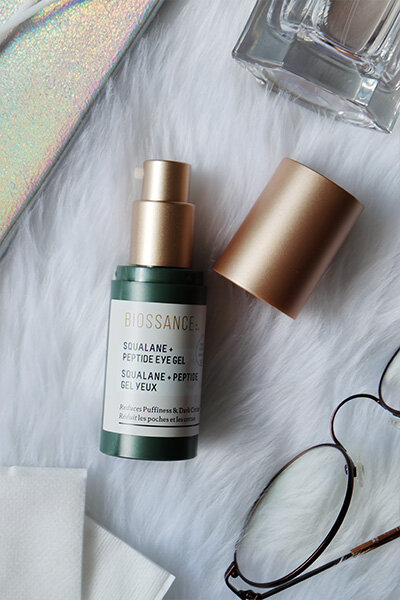 The Biossance Squalane and Peptide Eye Gel is effective in terms of reducing the puffiness of my eyes in the morning and moisturising the skin around the eyes. It also did help brighten up my eye area a little. While I don't see myself purchasing it religiously or using it day and night as I would like to explore more options, I will reserve it for days when I want my eye makeup to look perfect. It's now delegated to my special occasions skincare line-up.
If you're thinking of treating yourself to a potent high-end eye care item, do consider this one. I'm not one to splurge on premium skincare products, but it goes to show that you get what you pay for since this particular item worked to my benefit. It seems that a lot of skincare lovers agree with me, as it's currently sold out on Sephora Singapore!
*The product was sent as a press gift. The views and opinion of the reviewer are independent and purely editorial.

We also reviewed the BYBI Bakuchiol Booster to see if it's worth the buzz.
Comments, questions or feedback? Email us at [email protected].