We've all heard of hyaluronic acid. It's the hero ingredient that promises to hydrate your skin and deliver anti-ageing perks at the same time. ICYDK, one gram of hyaluronic acid (HA) can hold up to six litres of water on its own. It's like giving your skin a continuous drink of water.
There are a lot of products infused with this hydrating hero, but we're always on the hunt for the best of the best. That's why we were curious to try the newly launched range of hyaluronic acid serums from Biohyalux, which is under Bloomage Biotech, one of the world's largest manufacturers of HA. Each variant addresses a specific skin concern: the HA Brightening & Boosting Serum for dull skin, the HA Lifting & Firming Serum for sagging skin, the HA Soothing Recovery Serum for sensitive skin, and more.
Biohyalux's serums also boast an exclusive Hexagonal Hyaluronic Acid Formulation (HHAF), which contains hyaluronic acid in four molecular weights to replenish moisture to your skin from inside out. The smaller HA goes deep and hydrates the innermost layers of the skin. The larger molecules, on the other hand, hydrate the surface of the skin and protect it against external aggressors like dust and pollution. Pretty interesting!
So we tapped #TeamClozette's Co-Founder and Creative Director Kersie Koh, Editor and Head of Content Becks Ko, and Head of Community & Creators April Tan to give the Biohyalux serums a whirl and give their honest thoughts on their efficacy.
HA Lifting & Firming Serum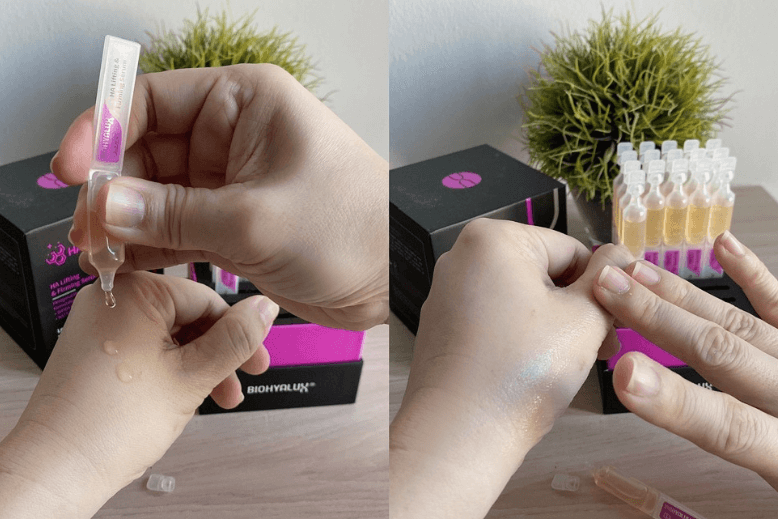 Kersie, who is in her 40s, has been on the lookout for a serum that addresses pigmentation, lack of hydration, and sagging skin. The HA Lifting & Firming Serum — which promises to reduce the appearance of wrinkles and fine lines and deliver lasting hydration for skin that looks more elastic, tighter and younger — sounded promising for her concerns.
The serum comes in individual tubes neatly arranged in a solid sturdy box that "sits nicely and neatly on my vanity desk", according to Kersie. Simply twist open the nozzle and squeeze out the serum into your palm. Though the ampoule is plastic, it's also recyclable, according to the brand.
As for the serum itself, there's a lot of product in one vial. "I double and triple applied it on my face, forehead and neck and there would still be some serum leftover," she said.
As far as the texture goes, "the consistency of the serum is not unlike most I've tried," Kersie shared. "It's a little gel-like; it's thick enough so that it doesn't flow out in a mess but yet not too thick that it feels sticky and hard to apply. It's easy to apply even on my neck."
Now, whenever you're using a new product for the first time, it's important to do a patch test first, and if you have sensitive skin, you may need to give your skin a little time to get to know the new product.
"On my first night of trying the serum, I could tell my skin was trying to get used to it. I experienced a slight itching sensation on my cheeks which I noticed has been happening to me recently whenever I try new skincare," Kersie recalled. After letting her skin rest for two days, she then started to religiously apply the serum at night before bed without any issues — and actually noticed a positive effect on her skin.
"After using it about five times, I noticed a slight improvement in the firmness in my skin. It was enough to get me excited," Kersie said.
HA Brightening & Boosting Serum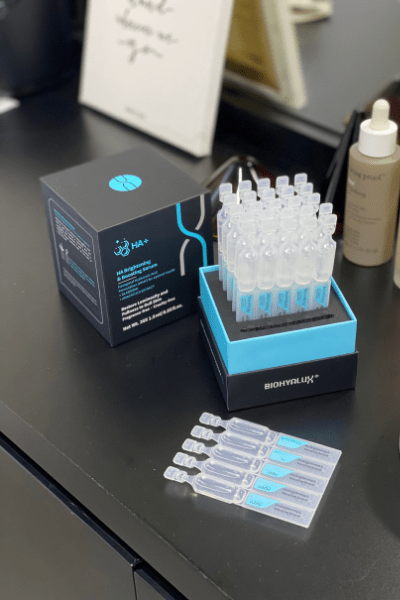 "I am quite lucky to have generally well-balanced skin, so my skin goal has largely always been to maintain its condition as I age and hopefully achieve a radiant complexion." That's why Becks turned to the HA Brightening & Boosting Serum, which claims to "restore luminosity and fullness to dull skin." Aside from hyaluronic acid, it also has glabridin (derived from licorice) and anastatica extract, which are known for their skin brightening properties.
She discovered that one ampoule is enough for a day's worth of serum — morning and at night — with excess to apply on her hands too. "No wastage there," she shared.
Since each ampoule contains a generous amount of product, Becks shared that she initially treated the serum as a "leave-on hydrating mask" before applying her moisturiser. Eventually, she reduced the amount of product per application, which you can too.

Like Kersie, Becks also noticed an immediate improvement in her skin. "I definitely noticed that after a few uses, my skin appeared dewier. I have combination skin, and the drier areas of my skin also appeared more hydrated," she observed.
As for the glow, Becks said: "The radiant complexion is likely attributed to the increase in moisture and visible glow on my skin." She added that she's still getting used to the glowy finish after having been accustomed to a more matte appearance. "That said, I am liking how my skin looks dewy and not flat."
HA Soothing Recovery Serum
For April, it was all about how the soothing powers of the HA Soothing Recovery Serum — which contains ceramides and chamomilla extract — will help her skin. "My skin is very prone to dehydration, sensitivity, irritation, and redness especially during busy work periods," she shared.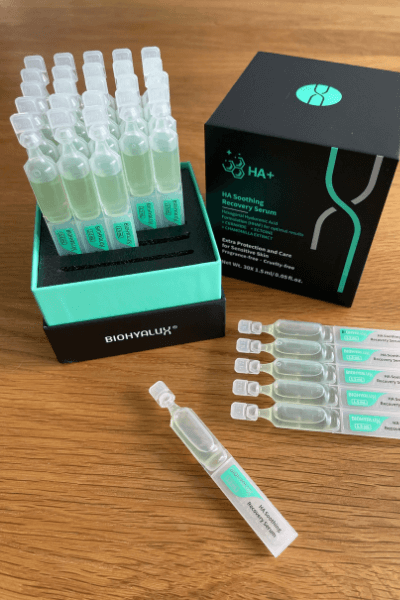 Like the other variants, the serum comes encased in single-use soft-plastic ampoules, which is great for hygiene and "minimising product exposure to air and external elements" that April really liked.
One ampoule is intended to be used in a day, but April said she was able to make one last for at least two to three uses. "The portions are actually really generous," she observed.
She added that the serum has "just enough slip so that you can spread the product around your face before it settles and absorbs into your skin".
As a little test, she started with a light moisturiser after the serum on the first night. She then added a heavier moisturising cream to lock in the hydration the following day. Both delivered sufficient skin hydration. She added that "it's more for keeping already-irritated skin from getting worse," which is good for those who want to boost the soothing effect of their other skincare products.
Final thoughts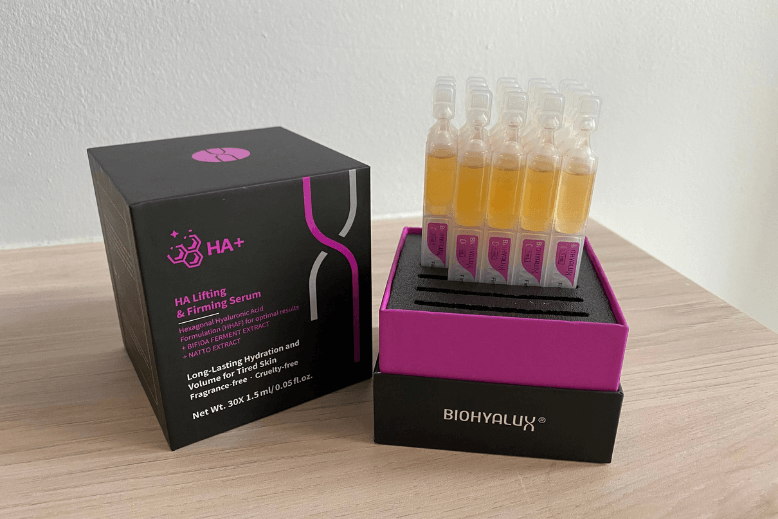 After consistent testing for two weeks, Kersie, Becks, and April are ready to share their final thoughts on the Biohyalux hyaluronic acid serums.
April enjoyed the hydration the serum delivered but she's looking to try a different variant (HA Hydro Intense Serum) next. "I think there was a slight improvement in how quickly my skin reacted to environmental stressors like dust and hot weather," she said.
Meanwhile, Kersie and Becks both enjoyed the results of using the Biohyalux HA serums because of their anti-ageing and glow-giving effects. "I feel that my skin does appear tighter and firmer after two weeks," Kersie shared. Because of this, she'd comfortably recommend this to friends and other individuals who are concerned about decreased skin elasticity.
"I would recommend it as part of a skin maintenance routine too. After all, you cannot skip on skin hydration, and I believe in over 20 decades of science-backed R&D," Becks shared. "The range is said to be great for all skin types. I'd say if your dull skin is on the drier side, their Brightening & Boosting Serum is perfect for you."
Considering that the price of one box of 30 ampoules starts at SGD74/USD57 and up, depending on the variant, it's a steal. If you're looking to add an intensely moisturising serum to your daily rotation that doesn't break the bank, you should definitely consider what Biohyalux has to offer. You can shop the range in Singapore through Lazada and Shopee.
*The product was sent as a press gift. The views and the opinions of the reviewers are independent and purely editorial.
Don't forget to double-cleanse at the end of the day. Here's our verdict on the Glow Recipe Papaya Sorbet Enzyme Cleansing Balm.
Comments, questions or feedback? Email us at [email protected].