Augustinus Bader The Cream has landed on Singapore's sunny shores. What's a beauty enthusiast got to do with this development? You eagerly put the bestseller to the test, of course, and hope for the very best. After all, the brand's range of skincare products has been touted as "life-changing" and "miraculous" by industry experts. Plus, fans of the brand include Naomi Campbell, Victoria Beckham, Dakota Johnson and other popular Hollywood celebrities. But how did it fare on me? Read on as I reveal my honest thoughts after trying it out in this review.
First impressions, claims, packaging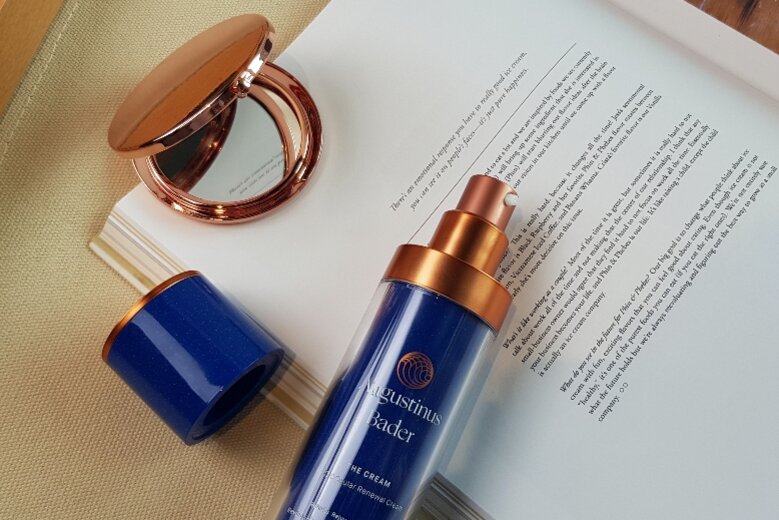 The bottle packaging of Augustinus Bader The Cream looks quite futuristic and sleek indeed — befitting the brand's tagline of "The Future of Skincare is Here." It features a copper and cobalt blue shade and comes with a magnetic cap closure. In terms of product claims, The Cream is said to be a "light, refreshing, yet deeply hydrating cream that stimulates the skin's natural process of rejuvenation to dramatically improve the complexion's appearance."
Moving on to the product's ingredients list, it's formulated with plenty of skin-loving ingredients such as capric triglyceride (helps resist moisture loss), shea butter, aloe vera and medical-grade vitamins. As a person with sensitive skin, I was pleased to learn that it's fragrance-free too. There's also the brand's proprietary TFC8® technology, which was developed by stem cell and biomedical scientist Dr. Augustinus Bader to leave the skin looking regenerated, restored and renewed. With its impressive formulation and its long list of Hollywood clientele, how did it fare on my sensitive skin?

Usage and application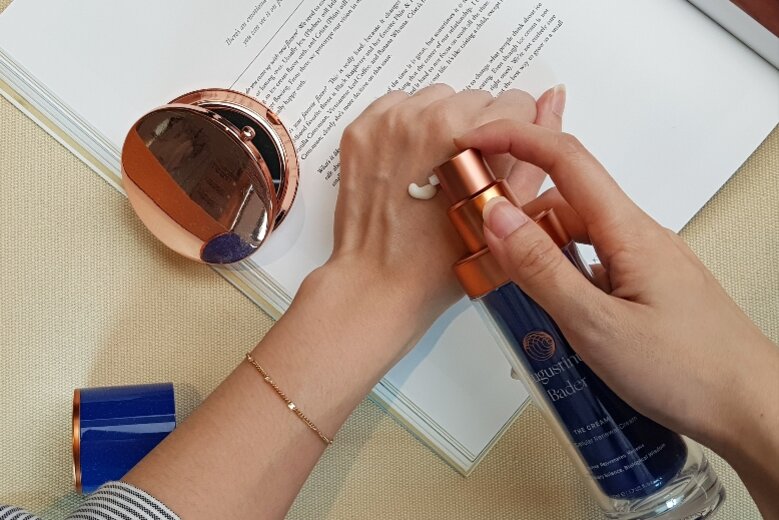 At first pump, the Augustinus Bader The Cream felt relatively thick on my skin, while its coconut-y scent smelt surprisingly delightful. Taking into account how most of us reside in hot and humid climates, it might take a while for us to adjust to the product's richer, creamy texture. Fortunately, the upside to this cream lies in how it's designed to be an 'all-in-one' product, so you can do without using a serum or an eye cream and streamline your skincare routine. All you need to do is cleanse, apply The Cream and your go-to sunscreen and you're all set.
If you're concerned about when you ought to be exfoliating after incorporating the cream into your skincare routine, the brand confirmed in a report that it's worth considering retiring your acid exfoliators as your skin is typically capable of shedding dead skin cells on its own over 27 days.
With this in mind, I proceeded to apply the product onto my face and neck twice a day as recommended after it successfully 'aced' my sensitive skin patch test. The most dramatic difference I observed for my skin was the morning after I applied it for the first time in the evening. All my concerns of it being too 'rich' and 'heavy' were immediately cast aside after I noticed how my skin had seemed to 'drink up' all of the cream's goodness in just one night. I was relieved that my skin did not have any adverse reaction to the product and instead, had felt softer and plumper.
Final thoughts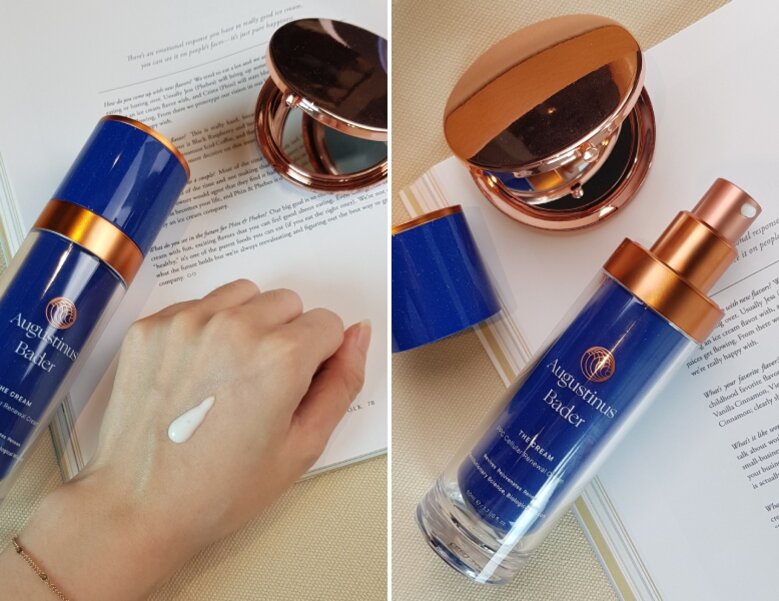 Fast forward to a week and a half later, I have yet to notice any significant differences in my skin since then and would need to continue using it for a few more weeks to be able to track the product's effectiveness on my skin in the long term. I'm hoping that with the introduction of this 'miracle' cream and a newly simplified skincare routine, my skin will be less prone to redness and emerge stronger and healthier.
In terms of affordability, there's no denying that celebrity cult favourites don't come without their celebrity-level price tags; Augustinus Bader's 'The Cream' retails for SGD405/~USD300 for 50ml, which makes its pricing on par with other renowned luxury skincare brands such as La Mer and La Prairie.
Although Augustinus Bader's products are not the most accessible amongst millennials and women in their mid-20s such as myself, it's still a covetable brand that many of us can aspire to incorporate into our beauty routines later on in life. Check out Augustinus Bader's 'The Cream' here if you're ready to indulge yourself in a luxe skincare gem.
*The product was sent as a press gift. The views and opinion of the reviewer are independent and purely editorial.
Now, check out our review of Korean skincare brand su:m37's antioxidant-rich Secret Essence.

Comments, questions or feedback? Email us at [email protected].