You're all set to celebrate a fresh season by switching up your look, but should you go for a bob cut or a longer hairstyle? There's a new TikTok trend in town to help you decide — the 2.25 Hair Length Filter.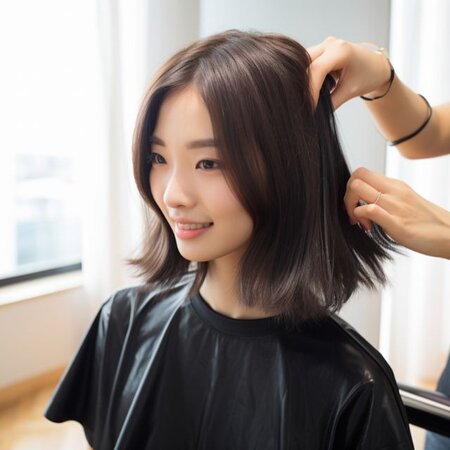 How does the TikTok hair length filter work?
How does the filter work? After fitting your face inside a dotted white circle, you'll see two red lines on your screen. You'll find the shorter line is situated across your nose area while the longer one is located right under your chin. A number will appear, and if it's less than 2.25, it means that short hair looks good on you. And if you get a higher number, it means longer hair suits you best.
You can try it out for yourself right here.


Is the TikTok hair length filter accurate?
You might be wondering, out of all the numbers, why pick 2.25?
Some professionals in the hair industry
use it to measure the distance between your ear and chin to find out a person's ideal hair length. The basis seems pretty solid, but like all TikTok filters, this filter's suggestion should also be taken with a grain of salt.
TikTok filters can be fun, easy to use, and can give you interesting suggestions for your next look. But at the end of the day, deciding on your hair length should also go with your personal preferences and lifestyle. It should also fit your face shape. If you have a round face, we've rounded up some celebrity hairstyles from TWICE's Jihyo, MAMAMOO's Hwasa, and more which you can check out right
here
. And if you have a square face, get some inspo from stars like Zendaya and Sandra Bullock
here
.
Comments, questions or feedback? Email us at [email protected].