This article was first published 10 October 2022.
Thinking of trying a bold hair colour but still want to keep it subtle in case you feel like going for a more subdued look? The peekaboo hair allows you to get the best of both worlds.


What is peekaboo hair?
Ppeekaboo hair means coloured strands or highlights hidden under the top layer of your hair that may still be in your natural hair colour or dyed in a natural-looking colour like brown or black. People will only 'get a peek' of the hidden layer when you sweep your hair to tuck the top layer or if you style your hair in an updo. The desired effect is a surprising, unexpected look underneath what looks like an ordinary hairstyle.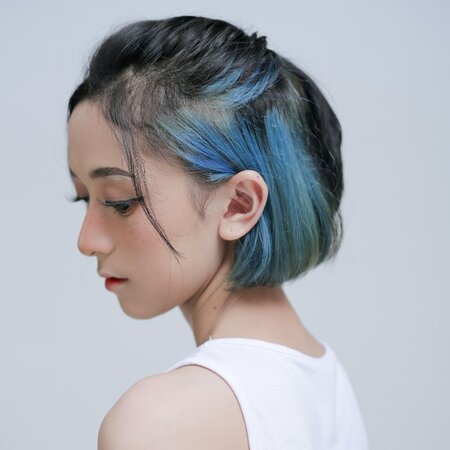 Peekaboo hair is also a lot easier to maintain, since you don't need root touch-ups as often as when your entire crown is dyed in a bold colour.
Got you giddy to try this look? Book your peekaboo hair appointment at one of these 10 Singapore salons.


1. Shunji Matsuo Hair Salon
Shunji Matsuo's hair experts will guide you through your peekaboo hair journey from start to finish. They offer looks that cover more subtle peekaboo hair highlights like blondes or greys, as well as bold shades like reds, purples, and all hair colours imaginable to fit your taste. Their strategic locations scattered around Singapore will also make your makeover experience a lot more convenient.
Address: 391 Orchard Road, #03-13A Tower B, Ngee Ann City, Singapore 238872
Book an appointment via this form or via +65-6238-1522 and +65-6258-1514


2. Chez Vous Hideaway
Chez Vous is one of the most reputable salons on Orchard Road for its experienced and expertly trained staff and outstanding customer service. Hideaway, its newest branch, does not only ensure that you'll get the hair service you want but also that every visit will feel rejuvenating with its spa-like complimentary services like opening and closing massages, heated shoulder pads, and more.
Address: 391B Orchard Road, #14-04 Tower B Ngee Ann City, Singapore 238874
Book an appointment via +65-6219-3558.
3. Walking On Sunshine
Even if Walking On Sunshine is located at the heart of Singapore's busy streets, you'll still have a relaxing hair session in its garden-themed salon. Its hair directors and senior stylists will help you get your desired peekaboo hair look with ease, too. P.S. Did we mention it has an in-house cafe too?
Address: 181 Orchard Rd, #03-07 Orchard Central, Singapore 238896
Book an appointment via +65-8877-8800.


4. Dan Hair Design
If you're still unsure about the right shade to get or how hassle-free the entire experience will be, Dan Hair Design offers free consultation and packaged bleaching and colouring services for your convenience. Just sit back, relax, and talk the stylist through your desired look and after a couple of hours, you'll be ready to enjoy your new look.
Address: 231 Bain St, #02-81, Complex, Singapore 180231
Book an appointment here.
5. Picasso Hair Studio
Inspired by the artist that the salon was named after, Picasso Hair Studio will help transform your look into a work of art. The salon has a variety of hair packages that will allow you to maximise your budget to match your hair makeover dreams.
Address: Various locations.


6. Royal Hair Studio
Royal Hair Studio will help you achieve your wildest hair dreams with its highly trained salon experts. They also have packages that allow you to get peekaboo hair with a matching treatment to lessen hair damage.
Address: 2 Kovan Road, #01-02 Simon Plaza, Singapore 548008
Book an appointment via +65-6909-9301.
7. Salon Vim
Salon Vim is the go-to for making your coloured-hair dreams into a reality. Its salon experts are skilled in creating the most vibrant pastel or bold hair colour transformations, including peekaboo hair.
Address: 435 Orchard Rd, #02-01B, Singapore 238877
Book an appointment via +65-6734-6404.


8. Black Hair Salon
Contrary to the salon's name, this hair studio isn't just great for maintaining black hair but also for creating some of the most amazing peakaboo hair transformations. From soft pinks and greys to vivid purples and reds, you request it, they'll do it.
Address: Capitol Singapore, 13 Stamford Road, #B2-44, Singapore 178905
Book an appointment via +65-6835-9976 (Call) or +65-8893-9593 (WhatsApp).
9. Harts Salon
This salon is known for its transformative colouring services, including peekaboo hair. They also offer non-bleach options for the less adventurous but still want to add a pop of colour to their look. These options are also less hard to maintain.
Address: 9 Tan Quee Lan St, #02-05 Tan Quee Lan Suites, Singapore 188098
Book your appointment here.
10. Aube Singapore
Home to a number of experienced Japanese stylists, Aube Singapore offers a ton of high-quality hair services that will ensure you get the results you want. Their friendly team will help you work out your dream hair without compromising on quality or your hair's health.
Address: Various locations.
Comments, questions or feedback? Email us at [email protected].