Just like skincare, our haircare routines are informed by our needs and preferences. For curly girls, there's the Curly Girl Method. For those who love their locks long and sleek, there are specific haircare methods for long hair, too. Meanwhile, for Muslim women, products that fit halal standards are the priority.
What makes a product halal?
Halal is an Arabic term that pertains to what's 'allowed' or 'lawful' following the rules of the Q'uran. When it comes to halal beauty products, it's not just a matter of being cruelty-free, this also means it shouldn't
contain animal-derived ingredients
at all. Plus, water permeability is also important because of
wudhu
, which means ablution. This is part of a
purification process
done by Muslims prior to their prayers, which includes washing the hair. This is why it's important that hair dye products are also wudhu-compliant and not just halal.
Still, you don't have to be a Muslim to use halal-certified products. You might even be using some now. But while there's an abundance of halal makeup and skincare products, halal hair dye products aren't as well-known. Curious to know which brands offer these? Here are some.


1. Revlon
In case you didn't know,
Revlon's Colorsilk
hair dye range (USD4.99) is also halal-certified. These products boast a 3D Colour Gel Technology™ that prevents the dye from giving the hair a flat appearance that looks fake and unnatural. With 41 shades to choose from, you'll be able to find your perfect match (or makeover look) from this line. This is great for those who want something easily accessible everywhere and have a wide variety of shades to choose from.
2. Garnier
Garnier's Colour Naturals Cream Hair Colour
(MYR14.93/~USD4) is also halal-certified. The product is enriched with fruit extracts, vitamins, and avocado, olive, and almond oil for complete hair nourishment. It also promises intense coverage that lasts up to eight weeks, all while making the hair shiny and healthy. Did we mention it smells good, too?
3. Iba Halal
Iba is an Indian brand that carries many halal-certified products, from makeup to skincare and more. Their
hair colour range
(INR150/~USD2), which comes in two colours (Coal Black and Dark Brown) is henna-based. It's also sulfate-free, paraben-free, and contains no alcohol. One of Iba's key ingredients is soy protein, which is best known for hair growth and strength benefits. This makes it a good choice for those who need a root touch-up often because it's safe for frequent use.

4. Indus Valley
If you want something with a little more variety,
Indus Valley's extensive range of hair colour products
(INR145 to INR799/~USD2.35 to 10.74) is the one to browse through. Aside from offering halal-friendly products, they also have vegan options, organic variants, and even ones specially created for moustaches and sideburns (something for your S.O.s perhaps?).
5. Gumash
Gumash's hair dyes
(MYR49.90/~USD12) are also wudhu-compliant and halal-certified. Each hair dye also includes a hair treatment mask to ensure healthy hair maintenance. It comes in various natural-looking shades, from deep black and dark brown to burgundy and copper.
6. Shurah Hair Colour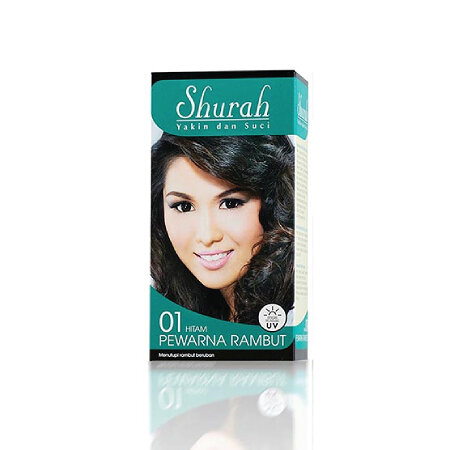 This Malaysian hair dye (SGD10.50) is both halal-certified and wudhu-compliant. Its range of hair colours is close to natural Asian hair colours, such as black and varying shades of brown. There are also two types of red hair dye if you're feeling adventurous.
Inclusive and diverse beauty products are growing in number. We don't necessarily have to subscribe to a religion or be of a certain race to appreciate this growth in the industry. Supporting these products tells brands that such steps in inclusion do matter.
(Cover photo from: Ifrah Ahkter via Unsplash)

Next, mindful beauty and skincare picks spotted here!
Comments, questions or feedback? Email us at [email protected].