This article was first published on 9 May 2022.
Take a look at your friend group and do a quick survey to see just how many of them are rocking lash extensions. While microblading was all the rage the year before, eyelash extensions are all the rage now, especially since the past couple years of mandatory mask wearing has made us want to doll up our eyes even more.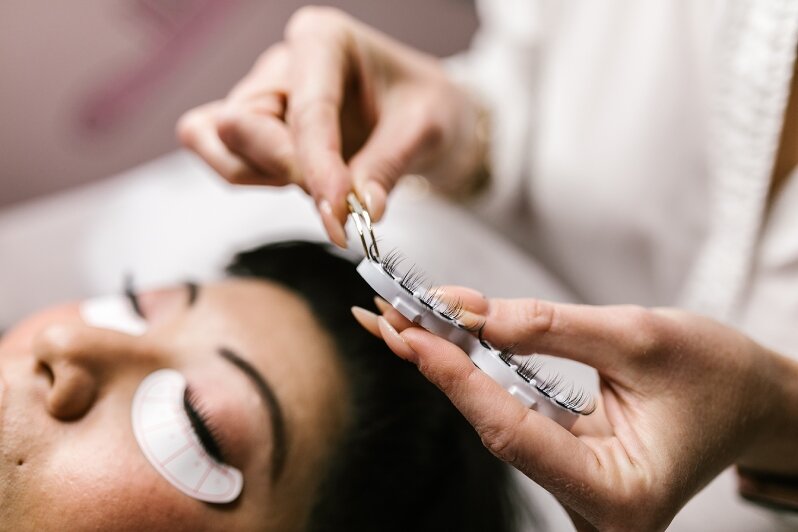 Besides, what's not to love? With the best lash technology from Korea and Japan, not only are you able to (easily) achieve amazing, curled lashes from the second you wake up, think of how much time you'll save from your makeup routine!
From popular establishments that you see all over your Instagram, to new up-and-coming salons that only the most discerning know about, here are the best eyelash extension salons in Singapore that you can try.
1. Dr Lash
Want eyelashes reminiscent of a Kardashian sister? Then you'll want to try Dr Lash. Regarded as one of the best lash salons in Singapore, your lashes will be in good hands with one of their expert lash technicians. The salon only uses cruelty-free, premium faux mink lashes that mimic the quality and fineness of real mink lashes. They are also lightweight and natural looking, ensuring they won't feel heavy on your lids. The lash styles are also customisable according to length, curl strength and eye shape.
It's located at 181 Orchard Road, #04-20/21 Orchard Central Singapore 238896.
2. Lash Koncept
Looking for a natural look when it comes to your lashes? Lash Koncept offers natural looking lashes at an affordable price. Their 2D eyelash extensions are light and comfortable, and help to brighten your eyes immediately. It's great for women who want a fuss-free, everyday look when it comes to their eyelashes. The salon also offers other services such as manicure and pedicures, so you can book out a whole session of top-to-toe pampering if you're keen on that!
You can find them at 402 Orchard Road #04-03 Delfi Orchard, Singapore, Singapore 238876.
3. MyLash™ Singapore
A pioneer in the eyelash industry, MyLash™ has been around in Singapore for 15 years. Their eyelash artists are IEDA certified and professionally trained, and pre-Covid, the team would fly to Korea frequently for workshops to update themselves with the latest techniques, styles and products. While the biggest concern for most when it comes to lash extension is the loss of their own natural lashes, MyLash uses a unique MyLash™ Touch technique specially designed to ensure the health of your original eyelashes, give you long lasting effect and to protect your natural lashes.
They're located at Star of Kovan, 988 Upper Serangoon Road #01-18, Singapore 534733.
4. Smitten Beauty Studio
If your own style reads more Huda Kattan than Kendall Jenner, and you prefer your lashes extra voluminous, Smitten Beauty Studio might be just what you're looking for. Some of their most popular styles are the Hollywood Flutters, a glamorous look that brings attention to your eyes and an eyeliner effect as well as The Foxx, a lifted look that is recommended for those with single or heavier eyelids and looks great when worn with a flick of eyeliner for a cat-eye look.
They're located at 55 Tiong Bahru Road, #01-53, Singapore 160055.
5. Browhaus
They might be known for their brow services, but did you know homegrown beauty brand also offer lash extension services? Lash In Bloom is a lash extension service by BROWHAUS that gives you beautiful lashes that frame your eyes to make them appear larger and darker. It is a quick and effective way to emphasise your eyes, giving you a groomed and polished appearance. You'll be able to choose from options such as cluster lashes to create an eyeliner effect, or single lashes applied individually to your eyelashes for that oh-so-natural look.
Browhaus outlets are located all over Singapore, you can find the list of locations here.
6. Highbrow
A brow and lash specialist, Highbrow provides semi-permanent lashes that are hand glued to your natural eyelash to enhance and bring out the focus of your eyes. Depending on the shape of your eyes, a specialist will discuss with you the lash design that best suits your requirements best. Choose from their basic Lash-by-Lash service, to the Russian Volume Lash Extension for a super bold and dramatic look.
You can find Highbrow at The Star Vista, 1 Vista Exchange Green, #B1-25, Singapore 138617.
7. Flutters
Calling themselves "three pint-sized sirens in search to beautify the Asian almond-shaped eyes", Flutters aspire to be the best lash beautifiers in the business. They offer both individual lash extensions, as well as volume lash extensions and are known for the So-fine Souffle, an extremely light and fluffy criss-cross lash extension technique that is suitable for ladies who have no love for overly dramatic lashes. They've also just dropped the Fairy Lash, an eyelash extension look that creates the illusion of fuller lashes with its long-spiky eyelashes, made achievable by using wide hand-fanned extensions that sit on the first layer of your natural eyelashes.
Flutters is located at 1 Raffles Place, #04-21, One Raffles Place, Singapore 048616.
8. J.Lashes
What started out as a home-based salon has now grown into a popular salon with three boutiques in Singapore. Best known for their signature TuTu Volume technique, this technique creates a multi-layered volume effect by applying 6 lashes onto each natural lash. This unique technique provides an "eyeliner effect" on the eyes to make them look naturally enhanced, and is more long-lasting than other existing methods in the market.
J.Lashes is located at 2 Handy Road, The Cathay, Singapore 229233.
9. Isabella Aesthetics
Maybe you're already an expert when it comes to lashes, frequently changing up your look every couple of months. Well, if you REALLY want to try something different with your lashes, and change up your aesthetic, especially now that nightlife has resumed, Isabella Aesthetics also offers coloured lash extensions that will allow you to customise looks such as two-toned coloured lashes, rainbow lashes, diamante lashes, as well as glitter lashes!
It's located at Scotts Square #B1-24, Singapore 228209.
10. Dreamlash Korea
If you've always wanted to emulate the beauty looks of your favourite Korean celebrity, then Dreamlash Korea is the one for you. Dreamlash Korea pride itself to be the leading eyelash studio in Singapore to provide premium Korean eyelash extension services to their clients. Not only are all their products imported from Korea, their lash technicians are all professionally certified by the Korean Eyelash Association and International Eyelash Designer's Association.
It's located at Citylink Mall 1 Raffles Link, #B1-09A, Singapore 039393.
11. Blink Bar Lash Parlour
Have a lash emergency? Head over to Blink Bar in Holland Village, an eyelash extension salon that's open daily and ready to address your lash needs. If you're looking for natural yet voluminous lashes, ask for their 2D Airy Fairy Set.
You can find Blink Bar Lash Parlour at 271 Holland Avenue, Singapore 278991.
12. The Lash Chapter
The Lash Chapter is a celeb- and influencer-approved lash extension salon also offers different semi-permanent beauty services such as lash lifts and tinting, brow microblading, lamination, and lip blushing. It also has a wide variety of lashes in different thicknesses, lengths, curls and colours so you can have a unique and customised look.
The Lash Chapter is located at 9 King Albert Park, #01-46 KAP Mall, Singapore 598332.
13. KIRAME
KIRAME is a Japanese-inspired premium lash salon that exclusively uses top-quality products sourced directly from Japan and Korea. In addition to their eye-opening lash extension services, they also offer lash regrowth treatments and eyebrow embroidery.
KIRAME has two outlets located in Bugis Junction #04-01, Singapore 188021 and [email protected] B3-07, Singapore 238895.
About the author
Noemi Lange is an individual made up of coffee, crystals and anxiety. She spends way too much on designer clothes and believes that everyone should make time for therapy (both retail and the regular kind). In her free time, she likes listening to fictional rock bands, actual rock bands and taking long walks in the Prada store.
Comments, questions or feedback? Email us at [email protected].