A lot of brow services promise to make your eyebrows look clean and full, one of which is brow lamination, a relatively new service that people are exploring. The so-called "perm for your brows" is said to achieve those lifted, feathery brows. Since it became popular on social media last year, a lot of people have been trying to find affordable options like store-bought kits and other DIY options. It's already made its way to Singapore and hopefully will reach other parts of the region soon. We give you the lowdown on this new lifting brow service.
What is brow lamination?
"Brow lamination is a brow perm that lifts, sets and styles the brows to hide small gaps in-between brow hairs to achieve a fuller, thicker appearance," explained Elisabeth Raman, the Head of Learning & Development of Spa Esprit Group, the folks behind Browhaus Singapore.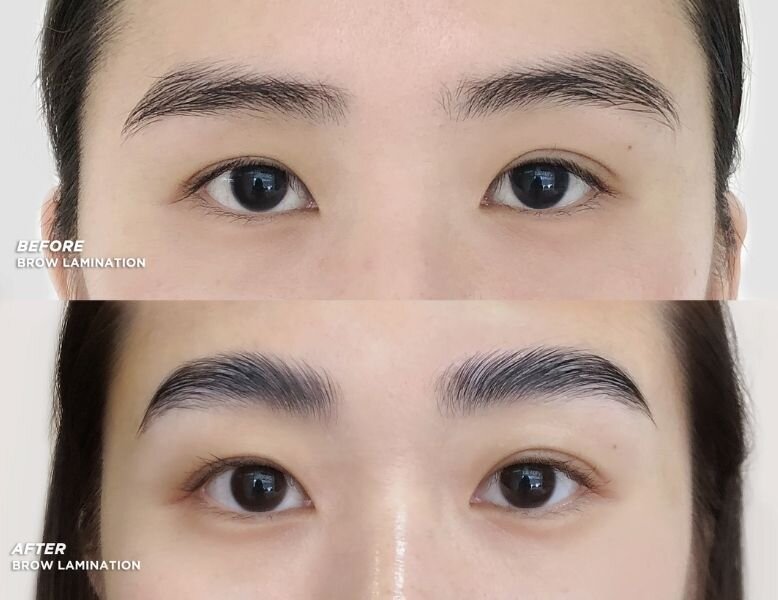 You'll have a consultation prior to the procedure to determine if the service will suit your needs and desired results. You should also expect a little redness, itchiness, or mild swelling during or after the treatment. These will usually dissipate after a few hours. All in all, a brow lamination would take up an hour of your time.
To start with, the brow therapist will apply a perming cream that Elisabeth said will "soften the brows and allow them to be brushed and styled to the desired shape." A soft tool will be used to lift and straighten the individual brow hairs, filling in the small gaps you may have. The perming cream will have a slight tingling sensation that varies depending on the sensitivity of your skin.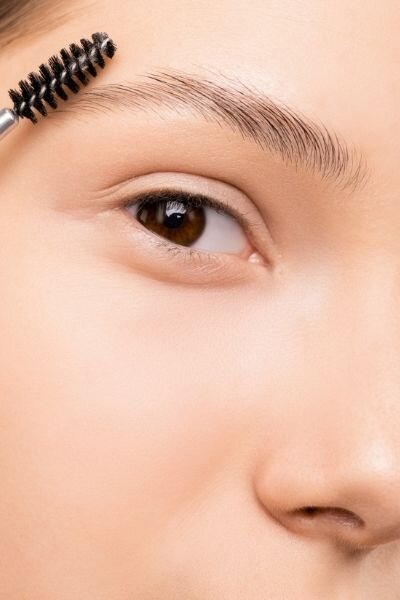 After the perming cream and arrangement, a neutralising cream is applied to set the brow hairs in place. At Browhaus, this will be followed by the Browhaus Undercoat Lash & Brow Conditioner to nourish the brow hairs. The therapist may also tweeze some stray hairs to further polish the shape. By the following day, all you'll need to style your brows is a spoolie — pomades, pencils, or powders are optional.
Signs you need to try it
Since brow lamination works with the brows you have, here are some things to consider before you book this service. "[It works] best for those who have small gaps in their brows," Elisabeth shared. Men and women struggling with unruly brows can also benefit from the uniformity this brow service offers since the three-step process arranges and sets your brow hairs in a uniform upward direction.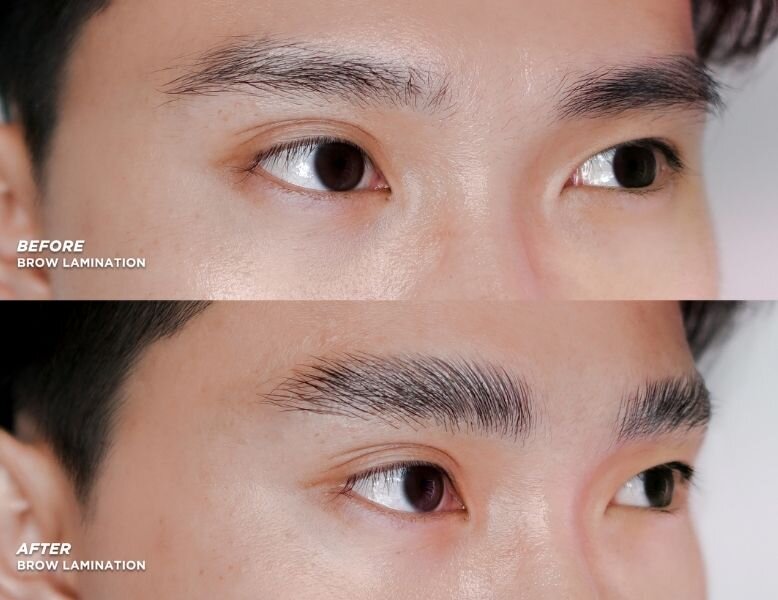 A word of warning
However, there are several things you need to be aware of if you hope to avail of this service. As Elisabeth warned, "People with extremely sensitive skin or have any chronic skin conditions such as eczema or dermatitis should avoid brow lamination" since the perming cream may not agree with them.
If you have very sparse brows with big gaps, it may be hard to achieve the desired bushy results. Instead, it's best to look at other semi-permanent options such as eyebrow embroidery that will create hair-like strokes to create the fuller brows you want.
And before you think about going the DIY route, a brow perm is a very finicky process to execute. "As the brows are close to the eyelid skin, the thinnest and most delicate part of our face, and is more prone to irritation and injuries, we should take special care to use products that are safe," Elisabeth explained.
Aside from that, it also requires leaving the treatment on for a specific amount of time. "[You'll] find it difficult to gauge the optimum time for the creams to be left on their brows, and may leave it on for too long, causing damage to the brow hairs." Some results may include brittle hairs and skin irritation. Because of this, it's best to leave brow lamination to the professionals.
How to make it last
Now that you know what to expect, you may be wondering how long your brows would look brushed up and feathery. Well, a typical brow lamination should last you up to four weeks. But there are some aftercare tips that help make it go beyond that. "Customers should expect to wait 24 hours before they can exercise intensively, put on brow makeup, go swimming, or get their brows in contact with water," Elisabeth enumerated. Aside from that, a lash conditioner could help make the procedure's effects last longer.
Now that you know more about brow lamination, would you try it for yourself?
If you love all things J-beauty, these J-beauty Instagram accounts are the ones to follow.
Comments, questions or feedback? Email us at [email protected].