There are a lot of hair removal methods available to us. Waxing, threading, and plucking are effective in removing hairs but their regrowth is inevitable — sometimes, even thicker and darker than before. Hence a lot of folks turn to hair removal methods such as Intense Pulsed Light a.k.a IPL. But did you know IPL has more beauty benefits than just hair removal?
To know more about the ins and outs of IPL, we chatted with Mint Gooi, the Beauty Treatment Trainer at Japan IPL Express. With over 18 years of beauty industry experience, she knows more than a thing or two about the treatment — so get ready to learn lots!
The different uses and benefits of IPL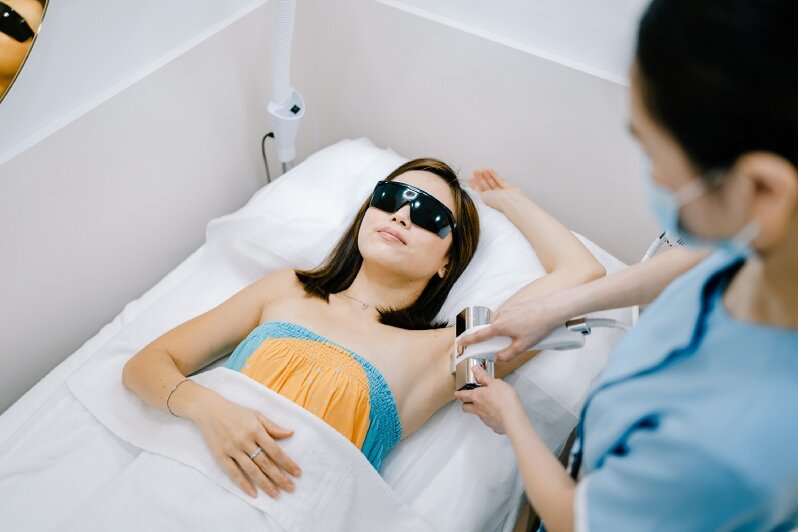 While IPL is more known for its use in hair removal, it's also used to treat a wide range of skin concerns such as acne, uneven skin and varicose veins (the thin, raised purple veins usually found on the feet and legs).
"Unlike laser treatments, IPL is non-invasive, fast, and suitable for a wide range of skin and hair removal concerns," Mint explained. "Most importantly, IPL is painless!"
But how does it work? Well, IPL hair removal essentially destroys the hair follicles to prevent regrowth. "Should one see hair growth, they are new hair follicles and this is uncontrollable as it depends on the individual's hormones, hair and skin condition."
For skincare-targeting IPL, it depends on the skin condition you're addressing. "For example, acne is a skin condition which stems from hair follicles being blocked, and bacteria accumulation," Mint said. "The light emitted during the treatment is able to effectively target and destroy the skin bacteria responsible for acne, oil control and also help to prevent future outbreaks on the face, chest or back."
A regular IPL hair removal session will take around 30 minutes to complete depending on the areas you're targeting. "It is also fairly low maintenance as you will only need to return roughly once a month for your treatment," Mint explained. "After several sessions, you will start to see a visible reduction in hair." Results vary depending on the clients' hormones, and skin and hair conditions, but most IPL customers will see visible changes after eight to 12 sessions.
After around 12 sessions, a client would need to visit only once every two to three months for maintenance sessions to control hair growth.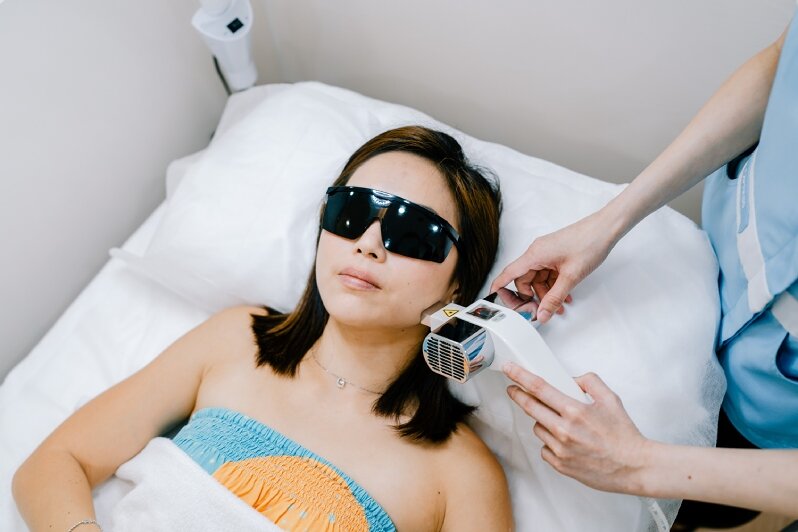 Preparing for an IPL treatment
The pre-treatment preparation is important in boosting the IPL's effects. Mint recommends avoiding exfoliating the area leading up to the day of the treatment. You should stop using physical face scrubs at least three days before and stop getting chemical peels for at least one to three weeks before getting IPL.
She also recommends stopping sun tanning sessions two weeks before your treatment since it can potentially cause burns.
You should also ditch any other hair removal methods such as plucking, waxing, or epilating at least two weeks before IPL. "IPL requires the hair roots to be intact for the treatment to be effective," Mint explained. "If you want to give unwanted hair a trim, I suggest using a clean, sharp shaver — always shave in the direction your hair grows to avoid ingrown hairs and razor bumps." Better to let the hair grow out and let the IPL therapist shave it instead.
Certain medications and supplements also need to be stopped before IPL. "As a safety precaution, I usually advise clients who are currently on certain medications such as steroids to not continue with treatment until they are off these products."
What to expect during an IPL consultation
Some people may be worried about the pain or discomfort they may experience with IPL. "It depends on their individual skin condition," Mint said. "We would first assess their condition by doing a patch test on a small area to be sure before we can continue the rest of the treatment."
During the consultation period, the therapist will also consider the body hair and skin condition in the treatment area. She says people with lighter hair might observe slower results or need more consistent sessions because lighter hair doesn't have enough pigment to attract the heat.
Some folks may be turned away from getting IPL. For safety precautions, those with severe health conditions such as kidney disease, liver disease, diabetes, suffer from epilepsy or seizures, or take oral medication for acne, (just to name a few) may not be allowed to get IPL. If you fall under any of these descriptions, seek a therapist's consultation before getting IPL treatment.
Pregnant women within the 16th to 31st weeks can get IPL but are recommended to stop after the 31st week and only resume when they've stopped breastfeeding. "Due to hormonal fluctuations during pregnancy, pigment on the treatment area may or may not turn darker; skin whitening and hair removal results and progression may therefore vary."
What to expect during IPL
IPL requires a special machine that emits high-intensity pulses of visible light that penetrate deep into the skin and targets the hair follicles and problematic areas of the skin.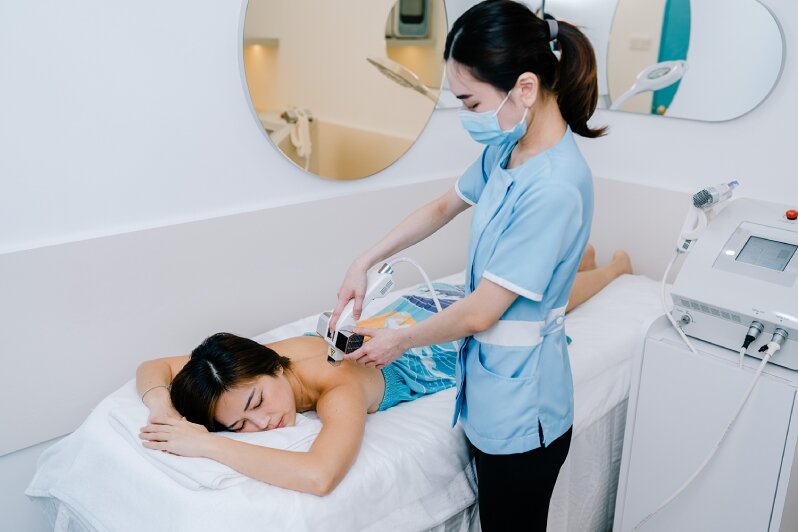 You'll feel a slightly warm sensation during the treatment. "Should customers find the IPL handpiece warm, that is normal. To provide more comfort for all customers' sessions, we will apply skinbooster™, our own brand of body lotion to the treatment area. For intimate areas, we will apply aloe gel."
The do's and don'ts of IPL aftercare
IPL aftercare will take up to 24 to 72 hours post-treatment. Mint recommends keeping the surface of your skin cool. "Stay away from hot showers, saunas, and steam rooms, and refrain from suntanning and participating in heavy exercises. Excessive sweating could aggravate the skin and lead to discomfort but possibly even increased chances of rashes."
Avoid using any scented beauty products such as perfume, cologne, makeup or deodorant on the treated areas since these items might irritate the skin.
It goes without saying that you should avoid any other hair removal methods too. "Since IPL treatments target hair roots, these methods might disrupt the hair growth cycle and prevent you from achieving the best possible results — just allow the hair to fall out naturally."
Japan IPL Express has various locations in Singapore. Find the complete list of their outlets here.
Here are some places in Singapore you can go to for laser hair removal.
Comments, questions or feedback? Email us at [email protected].