This article was first published on 9 June 2022.
Dealing with dry skin is tough. You feel refreshed and moisturised while in the shower and two seconds out of it and your skin already feels tight. It's also hard to flaunt some skin when you're always worrying about visible flaking on your arms, legs, and other body parts.


What causes dry skin?
There are many factors that cause dry skin, from natural to external. Natural factors include genetics and normal skin ageing. Meanwhile, heat, humidity, overbathing, and using harsh skin products are external factors that contribute to one's skin condition. Medications for certain illnesses can also leave the skin looking rough and flaky.
Having dry skin is generally harmless. However, one must seek professional help should your skin develop painful fissures or rashes. This is why preventing your skin from getting overly parched is key in making sure that this won't happen.
Curious how to remedy dry skin at home? These 10 body lotions you can easily get in Singapore are just what you need.


1. Dermal Therapy Very Dry Skin Lotion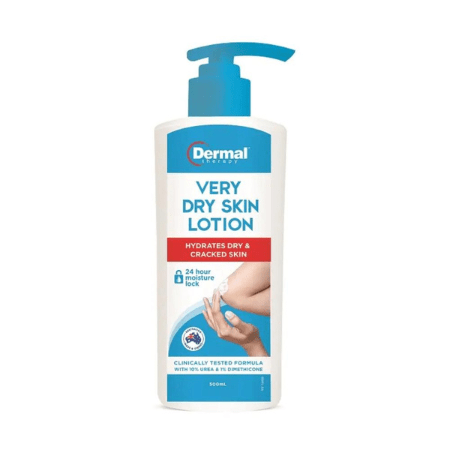 This body lotion combines 10% urea, 1% dimethicone, and vitamin E to create a powerful blend of emollients that deeply moisturise the skin. It also has skin-repairing and soothing properties that prevent any more signs of skin damage.
Another reason to love it: The product also promotes healthy cell turnover to help shed dead skin cells, revealing brighter and more radiant-looking skin.
Get it at Watsons for SGD27.50 per 500ML.


2. Rosken Dry Skin Lotion Enriched With Vitamin E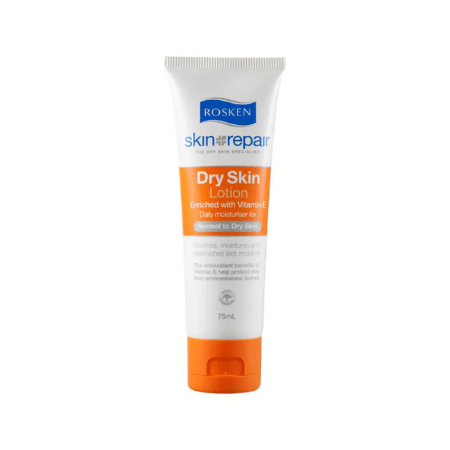 This lotion is powered by vitamin E that helps give back the skin's natural moisture and health. The formula also creates a protective layer over the skin that prevents external damaging factors to penetrate deep into the skin's surface.
Another reason to love it: This body lotion also helps relieve itch and common rash associated with dry and sensitive skin.
Get it at Watsons for SGD7.90 per 75ML.
3. Vaseline Intensive Aloe Soothe Body Lotion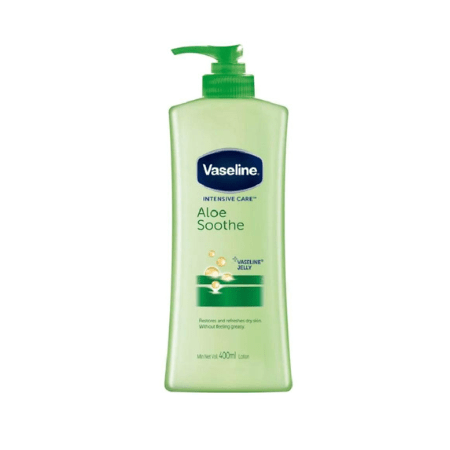 Deeply heal your skin with this body lotion from Vaseline. The brand combined micro-droplets of Vaseline Jelly with aloe vera to create a refreshing and skin-calming formula that deals with irritation and inflammation while keeping your skin hydrated.
Another reason to love it: The product also has a slight cooling effect and a fresh scent that gives extra comfort to your skin and senses against hot and prickly weather.
Get it at Watsons for SGD9.50 per 400ML.


4. NIVEA Naturally Good Organic Oat & Nourishment Body Lotion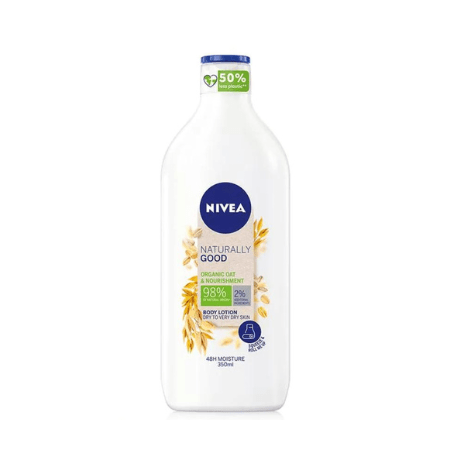 This product uses 100% naturally sourced oat to moisturise your skin and retain skin hydration for up to 48 hours. It also effectively protects the skin from irritants and stressors, preventing bumps and rashes from occurring.
Another reason to love it: The product's packaging is made with 50% less plastic compared to other NIVEA products, making it lighter and more environmentally friendly.
Get it at Watsons for SGD11.40 per 350ML.
5. Aveeno Daily Moisturising Body Lotion Sheer Hydration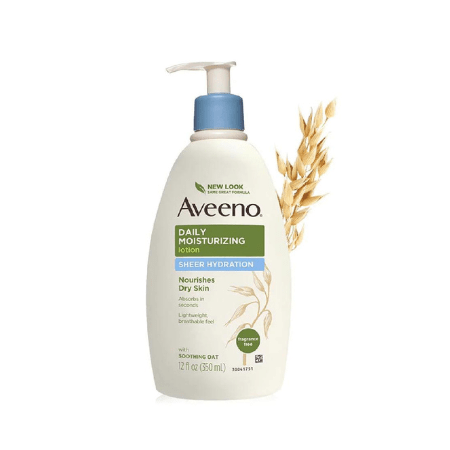 This fast-absorbing body lotion leaves the skin feeling soft, supple, and extra-hydrated just seconds after application. It also makes the skin feel velvety to the touch for up to 24 hours.
Another reason to love it: The product is also gentle, fragrance-free, and non-comedogenic which makes it perfectly safe for those who are extra sensitive and prone to body acne.
Get it at Watsons for SGD21.50 per 350ML.


6. Fresh Milk Body Lotion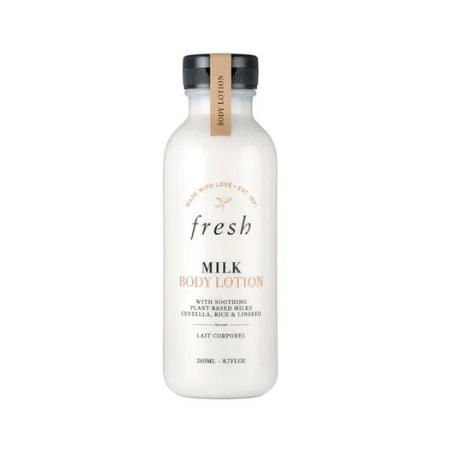 It looks like a refreshing beverage but don't drink this! This body lotion combines plant-based milks, centella, and rice extract, as well as avocado and linseed oils, which are all known for their moisturising and skin-soothing properties. These ingredients also help strengthen the skin's barrier against impurities and irritants.
Another reason to love it: This product also has a nice soft fragrance.
Get it at Sephora for SGD58 per 260ML.

7. Kora Organics By Miranda Kerr Enriched Body Lotion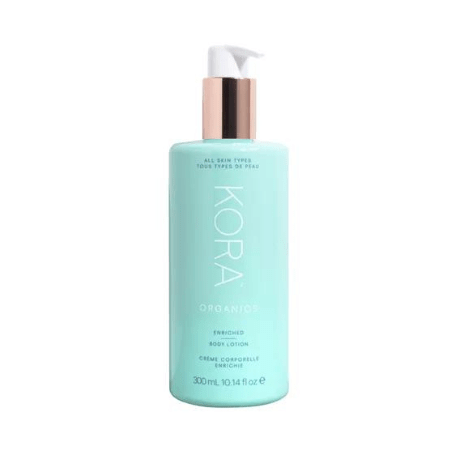 This body lotion combines organic jojoba, macadamia, and rosehip oils with cocoa butter and Australian sandalwood extract to feed the skin with essential fatty acids needed to bring back moisture and hydration.
Another reason to love it: This concoction also protects the skin from harmful free radicals to lessen the appearance of fine lines and dark spots.
Get it at Sephora for SGD77 per 300ML.


8. Doers Of London Fight For Every Inch Body Lotion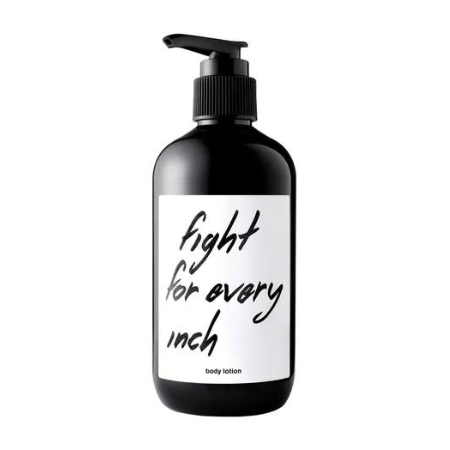 Calendula, lemon balm extract, cocoa butter, cacao — this body lotion has all these antioxidant-rich ingredients to help with collagen reproduction and restore the skin's natural health. This product also has skin-calming properties that seep deep into the skin to keep it looking glowing and blemish-free.
Another reason to love it: This product also contains bergamot, cedar, and cinnamon that y gives it an amazing fragrance and antibacterial properties that protect the skin from impurities and irritants.
Get it at Sephora for SGD40 per 300ML.
9. Frank Body Smoothing AHA Body Lotion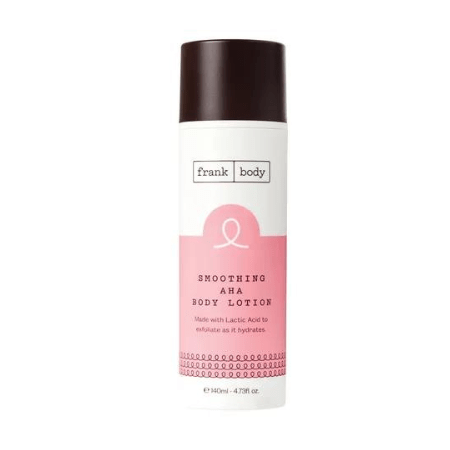 This
body lotion
contains vitamins A and C that give the skin a glowing boost. It also has macadamia oil and mango seed butter that help soothe irritated skin and help deal with visible flakes.
Another reason to love it: It also contains glycolic and lactic acids that gently help the skin naturally exfoliate, revealing healthier skin underneath.
Get it at Sephora for SGD20 per 140ML.


10. Drunk Elephant T.L.C. Glycolic Body Lotion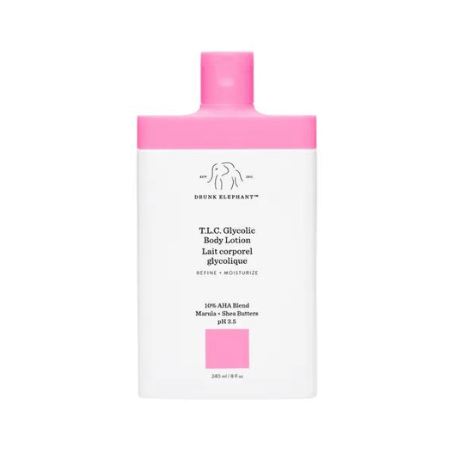 Supercharge your skin's moisture with this on your beauty routine. This product is rich in niacinamide, squalane, and plant oils and butters that leave the skin fresh and bouncy. It's also infused with glycolic acid that refines skin texture and evens out skin tone.
Another reason to love it: This body lotion also balances the skin's PH, strengthening the skin's protective barrier against environmental stressors.
Get it at Sephora for SGD35 per 240ML.


11. Jill Stuart Crystal Bloom Perfumed Body Lotion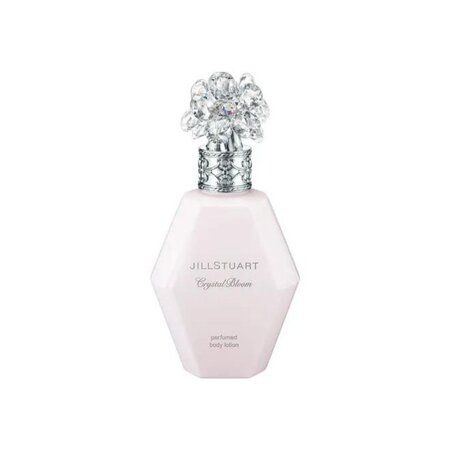 This lotion combines beauty essences extracted from flowers like Edelweiss and Damascus rose, leaving the skin hydrated, soft, and supple throughout the day. It's also creamy and absorbs quickly onto the skin.
Another reason to love it: This lotion smells divine and can double as your daily perfume. Plus, the bottle? A great addition to your vanity!
Get it at Sephora for SGD57 per 200ML here.
12. Eucerin pH 5 Lotion F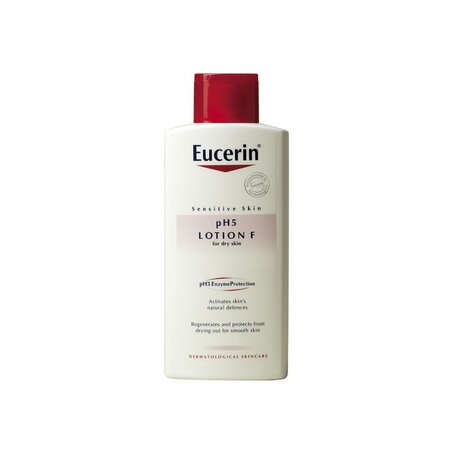 This lotion uses pH5 Enzyme Protection formula which helps activate the skin's own protective enzymes to further stimulate the regeneration process.
Another reason to love it: This product also contains dexpanthenol, a medication used for rashes, skin burns and more.
Get it at Guardian for SGD26.25 per 400ML here.
13. La Roche-Posay Lipikar Baume AP+M Body Balm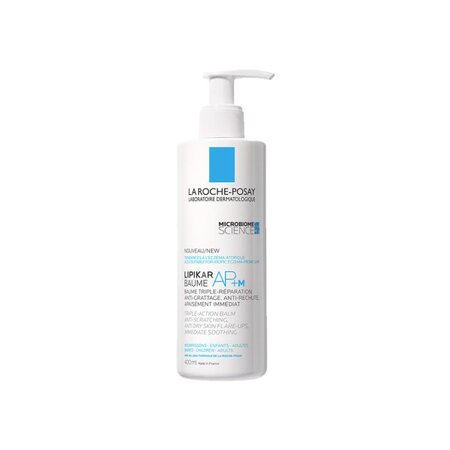 This gentle, fragrance-free body moisturiser is infused with prebiotics Aqua Posae Filiformis and Microresyl that work together to rebalance the skin's microbiome. It also contains shea butter and niacinamide which help improve one's complexion.
Another reason to love it: It's specially created for those with sensitive skin, even those prone to mild eczema.
Get it at Guardian for SGD57.90 per 400ML here.
More into body oils lately? Check out these hydrating yet non-greasy picks instead.
Comments, questions or feedback? Email us at [email protected].