Looking to get your ears pierced but don't know where to go? You should only go to a reputable ear piercing studio no matter the type of piercing you're getting, so there are fewer chances of your piercing getting infected by poorly sanitised tools. Here are some of the most trusted ear piercing studios in Singapore that you can consider visiting.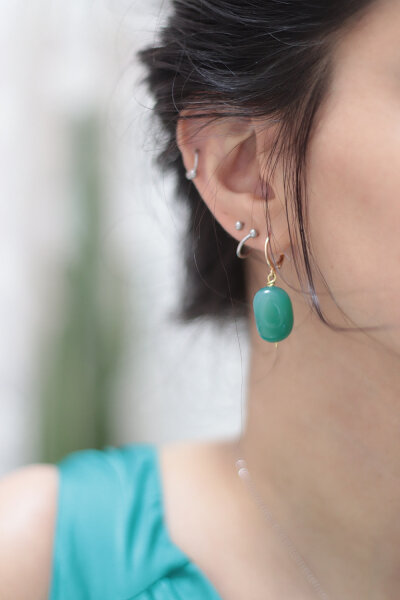 1. Primitive Art Piercing and Tattoo
This tattoo-slash-ear piercing studio has over 20 years of experience to its name. The staff uses individually sealed tools to lower any risks of infection. Its experts can also advise you on where to place your piercings for a fully customised ear stack.
Address: Far East Plaza #04-101/102, 14 Scotts Road, Singapore 228213
Book an appointment by giving them a call via 6735 3710.
2. B*Dazzle
B*Dazzle used to be known as Isabella a.k.a. the go-to place for little girls to get their first ear piercings. Though it has rebranded, it still takes its over 30 years of experience with it. It even has a rough estimate of piercing over a million ears over the years. Its experts use a disposable cartridge ear piercing system and a specially formulated Ear Care Solution to stimulate healing. It also offers a six-week aftercare service.
Address: Various locations
Make an appointment here.
3. Cherisheart
If you're looking for experienced hands to pierce your little tot's ears, Cherisheart offers a one-stop personalised ear piercing service. The studio specialises in piercing the ears of babes older than two months and children and uses single-use sterilised original USA Inverness or Studex earrings and a professional hand pressured system.
Address: 23 Teban Gardens Road, Teban Vista, Singapore 600023.
Make an appointment via WhatsApp at 8828 6099.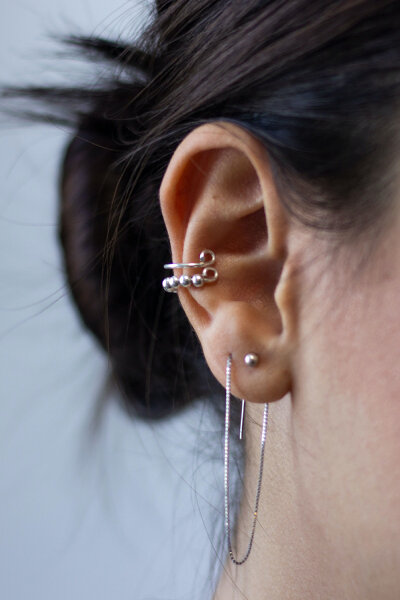 4. Ink By Finch
This tattoo studio also offers ear and body piercing services. Since it's a reputable tattoo studio, you can be at ease knowing that the staff will only use updated and clean tools. Sure enough, the studio's website states that it only uses surgical stainless steel or titanium in all its piercings since these are hypoallergenic and generally safe for those with sensitive skin. Its ear piercings range from SGD45 to SGD55.
Address: 3 Coleman Street, Peninsula Shopping Centre, #02-30, Singapore 179804.
Make an appointment via 9623 4477.
5. Stellar
Stellar prides itself on giving its customers the "best ear piercing experience" with how fast and easy its services are. The staff use an advanced piercing instrument that's gently operated by hand pressure and is almost silent when used. You will also get an aftercare lotion and a Certification of Bravery for the milestone. Do note that the studio only does earlobe and cartilage piercing and that the service is complimentary with any purchase of its piercing studs. Otherwise, you'll need to make an SGD30 deposit prior to your appointment.
Address: Various locations
Make an appointment here.
6. Mantra Collective Singapore
If you're looking for a more curated set of ear piercings, this studio is the place to go. Ear piercings start at SGD40 — excluding the use of jewellery and subject to service charge — and use gold and implant-grade titanium jewellery.
Address: 772 A North Bridge Road, Singapore 198740.
Make an appointment here.
7. Rise Above Tattoo & Piercing
This tattoo and piercing studio is all about expressing your individuality through your body art. It has over a decade's worth of experience tattooing and piercing folks, so you're in expert hands here. You can even give them a reference photo beforehand and the staff will let you know how you can achieve the same look.
Address: 14 Scotts Road, Far East Plaza #04-70, Singapore 228213.
Make an appointment here.
8. Piercing Clinic
Piercing Clinic was established in 1997 and was the first studio in Singapore to have the body jewellery it uses in piercings to be tested by the Chemist Elemental Analysis Testing Laboratories. Its staff is also trained and certified in first-aid and CPR. You know, just in case the nerves get to you.
Address: 6 Raffles Boulevard, Singapore 039594.
Book an appointment by emailing them via [email protected] or calling +65 8883 6188.
9. Healthsprings Medical Clinic
Not all medical clinics offer ear piercing services but this is one you can find in Singapore. It has a staff of cosmetic specialists who can expertly and safely pierce your ears, but this is limited to a traditional lobe piercing.
Address: Various locations
You can book a consultation here.
10. Lovisa
If you just happen to spontaneously want a new piercing, Lovisa doesn't require pre-booking for its services. Its staff uses the latest Studex System 75 piercing device and individually packaged sterile studs that are hypoallergenic, nickel compliant and made from surgical stainless steel. Prices start at SGD45.
Address: Various locations
11. Goldheart
If you're looking for a straightforward lobe piercing, then jewellery boutique chain Goldheart may be a good option. It offers ear piercing services for adults, children, and infants with prices starting at SGD35. However, the service is only available at select locations since not all of their staff are trained to do it. On the plus side, you can choose from their extensive range of genuine silver and gold earrings that you can wear once your piercing has healed.
Address: Various locations
12. Kids Clinic at Bishan
If you're a parent who wants to be more cautious about where your child will get their first piercing, the Kids Clinic at Bishan also offers ear piercings done by a doctor. Your kiddo will also get to choose from their stock of sterilised stud earrings made in the US.
Address: Blk 116, Bishan Street 12, #01-28, Singapore 570116
13. Gurkha Tattoo Family
If you're thinking of getting facial, oral, nasal, or other types of piercings aside from your ears, this tattoo and piercing studio is here to lend its expertise. The family-owned shop has been in business since the 1950s and has seen three generations of its family members delve into the art of tattooing and piercing.
Address: Far East Plaza, 14 Scotts Road #04-11 & #04-103, Singapore 228213
Book an appointment by calling +65 68340558 or sending an e-mail to [email protected].
Comments, questions or feedback? Email us at [email protected].