This article was first published on 17 February 2022.
Don't you love it when your face looks smooth, even, and bright? It should be the same for the rest of your body. Luckily, our skin naturally exfoliates itself. But sometimes it still needs a little help in removing the built-up layers of dead skin cells and clogged pores. This is when we turn to exfoliation.
Mechanical vs. chemical exfoliation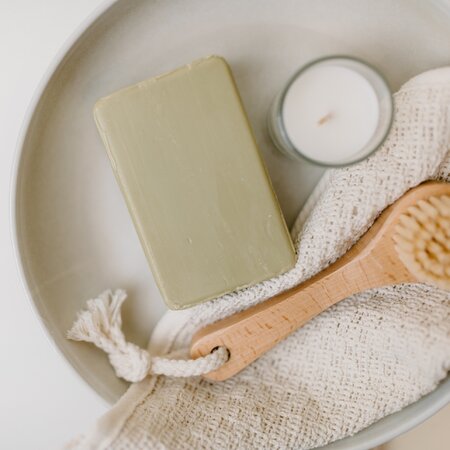 Exfoliation and exfoliants have two types: mechanical (also called physical) and chemical. Mechanical exfoliation refers to the act of physically scrubbing away dead skin with tools like a brush or sponge that create a slight abrasive movement to lift away dead skin. Chemical exfoliation, on the other hand, requires enzymes and acids — yes, your alpha and beta hydroxy acids (AHAs and BHAs) — to melt the chemical bonds of dead skin to make them easier to dissolve and wash away with water. Body exfoliators can be one or the other, or a combination of both.
How to choose depending on your skin type
Now that you know the types of exfoliation you can do, it's time to choose which one to use. According to the American Association of Dermatologists, you should choose your exfoliant depending on your skin type. Those with dry, sensitive, or acne-prone skin can use a mild chemical exfoliator and a washcloth instead of mechanical exfoliation, since your skin may be too tender. If you have oily skin, you can use slightly stronger chemical and mechanical exfoliators.
If you have a deep skin tone or it takes a while for very dark marks to disappear after experiencing a breakout, bug bites, or burns, you should avoid using strong exfoliants as this can make dark spots even darker.
Now that you know the basics of choosing the right body exfoliator, these are the best options you have in Singapore.
After exfoliating, don't forget to apply a body moisturiser to keep your skin hydrated and protected.
Comments, questions or feedback? Email us at [email protected].