Our Blues is the newest K-drama trending on Netflix. It has an amazing ensemble cast including Shin Min-Ah (Hometown Cha Cha Cha), Lee Byung-Hun (Squid Game), Cha Seung-Won (One Ordinary Day), and Han Ji-Min (One Spring Night). It also serves as Kim Woo-Bin's (Uncontrollably Fond, The Heirs) comeback to the silver screen after recovering from nasopharyngeal cancer, with which he was diagnosed in 2017.


The drama is slated for 20 episodes, with new instalments arriving every Saturday and Sunday.
Our Blues story
Our Blues
chronicles the lives of several people living on Jeju Island. There's Lee Dong-Seok (Lee Byung-Hun), a man who lives a simple and unsophisticated lifestyle. He meets Min Sun-A (Shin Min-Ah), a woman who just moved to Jeju. No one knows where Sun-A came from or why she chose to settle on the island.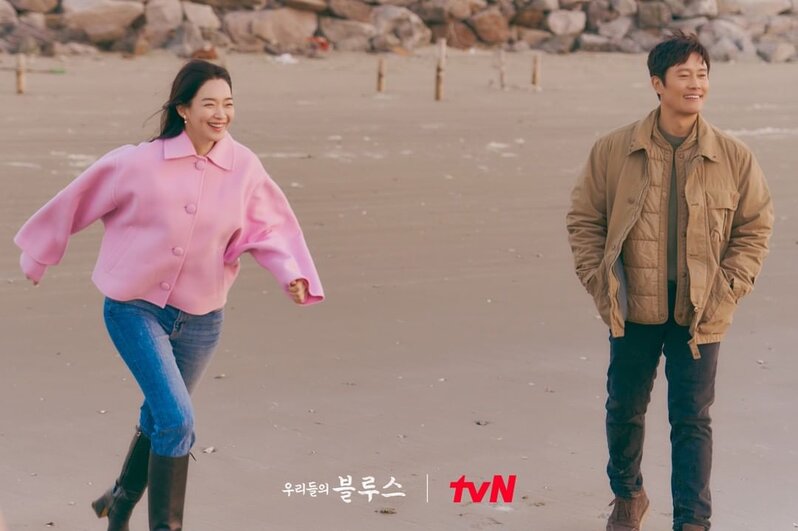 Meanwhile, Choi Han-Su (Cha Seong-Won) is a married man who comes back to his hometown in Jeju after making it big in the city. He reunites with his first love Jung Eun-Hui (Lee Jung-Eun).
There's also Lee Yeong-Ok (Han Ji-Min), a haenyeo (female diver) who moved to Jeju a year before the current setting of the series. She meets the warmhearted fishing boat captain Park Jeong-Jun (Kim Woo-Bin) who is looking for a woman who would settle in Jeju for good.



Reasons to watch Our Blues
1. The powerhouse cast
It's worth repeating: this drama's cast is really one of the reasons to check out it. Every actor joining the main lineup has dramas and films in their portfolio that are well-loved and highly rated. And of course, there's Kim Woo-Bin, who we're simply thrilled to see onscreen again after his long hiatus. His memorable performances in hits like The Heirs, Uncontrollably Fond, Gentleman's Dignity, and many iconic K-dramas undoubtedly guarantees that this comeback role will not fall short, too.
2. The prospect of seeing real-life couple Kim Woo-Bin and Shin Min-Ah together onscreen
Kim Woo-Bin and Shin Min-Ah are one of K-entertainment's most famous couples (they've been together since 2015). While it's not forbidden in the K-drama industry to co-star with your real-life partner, it's very rare that this happens; this is in contrast to Western entertainment culture (reel-to-real couples, on the other hand, are another story). That's why we were surprised when it was announced that Woo-Bin and Min-Ah would appear in the drama together. However, they're paired with other actors in the story.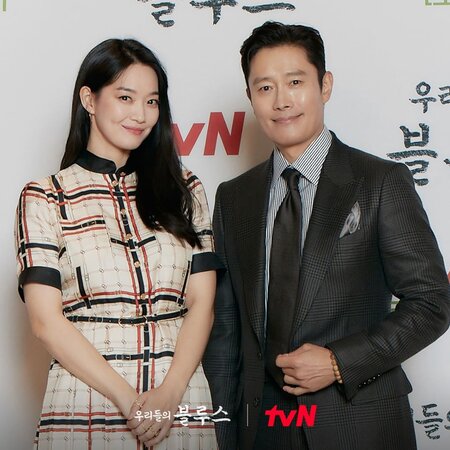 However, Our Blues writer Noh Hee Kyung revealed in a press conference that it was a deliberate choice to pitch the project to the couple without them playing lovers onscreen. Noh also stressed that casting Woo-Bin and Min-Ah was more of a professional choice more than any other reason because of their past work. The actors also sat far apart from each other during the press conference and focused more on highlighting the pairings in the drama.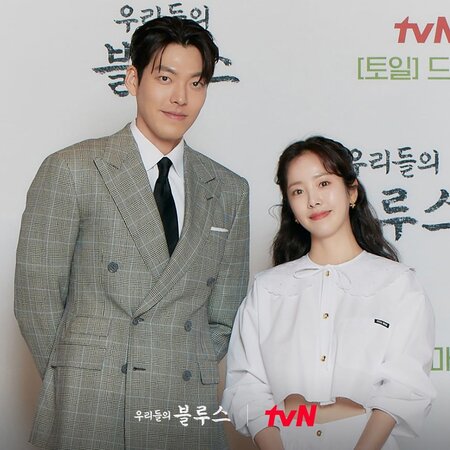 While it's still unclear whether Woo-Bin and Min-Ah's storylines will intersect in the drama, we can't help but hope they get to share a scene. We're sure that if this happens, their professionalism will shine through and we'll be more immersed in their characters and we'll momentarily forget they're a couple IRL.
3. The relatable plot
We're just a couple of episodes into the story as of writing, but we can already tell that this is a drama where we'll find a piece of ourselves in one or all of the characters. The plot centres around different kinds of romantic love, but just by the synopsis, we can already tell that it'll also tap into themes about family, careers, and recentering yourself after having gone through so much.
4. The soundtrack is great
Our Blues
' soundtrack is just as star-studded as its cast. BTS' Jimin, along with aespa's Winter and NingNing, will all lend their voices to tracks that will complete Our Blues' official soundtrack (OST). This will be these artists' drama OST debut as well. The tracks' titles have yet to be confirmed, but they, along with the rest of the songs, will be produced by Song Dong-Woon, who is best known for his work on
Descendants Of The Sun
and
Goblin
.
You can watch Our Blues on Netflix here.
Why will you watch 'Our Blues'?
(Cover photo from:
@tvn.drama
)
Next, we spill the details on South Korea's Jane The Virgin remake starring My ID Is Gangnam Beauty star Im Soo-Hyang here.
Comments, questions or feedback? Email us at [email protected].