After a two-year hiatus, Seo Ye-Ji is back with a new K-drama, Eve. The revenge plot narrative is captivating audiences left and right, citing the amazing performances not just of the lead actress but also everyone she's opposite onscreen. But, hype aside, we know that people might still be having second thoughts about watching the drama because of the controversies Seo Ye-Ji was involved in.


Why Seo Ye-Ji took a two-year hiatus
ICYMI, around mid-2021, Seo Ye-Ji was caught in a series of major scandals. The South Korean actress was revealed to be allegedly overly controlling of her then-boyfriend Kim Jung-Hyun. This reportedly caused the
Crash Landing On You
actor several projects.
Accusations of bullying during Seo Ye-Ji's school years also popped up around the same time, causing a halt to the actress' rising fame after her 2020 drama It's Okay To Not Be Okay.
When her comeback drama Eve was announced months after the issues were made public, K-drama fans' reception were divided.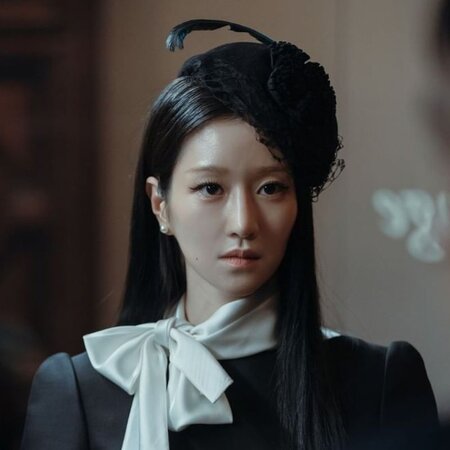 In February 2022, the actress' agency
issued a statement about all the issues
, reiterating that while several things about the Kim Jung-Hyun issue that were made public were true, some things were also misconstrued. They also clarified the issues surrounding the actress' education and stated that allegations of bullying were completely false. Seo Ye-Ji also issued a public apology regarding the issues.
Both Kim Jung-Hyun and Seo Ye-Ji received backlash after their respective statements. But since both parties already concluded the issue, the controversy slowly died down. Fast forward to today and it seems like Seo Ye-Ji's drama is performing well.
Not sure if you should tune in to the show? Whether you love Seo Ye-Ji, hate her, or not sure what to feel about her, here are reasons to convince you that Eve is worth the hype.
Eve plot
Back when Lee La-El (Seo Ye-Ji) was a kid, her father passed away unexpectedly. This destroyed her family. Learning that her father's death was caused by rich and powerful people, La-El spent the next 13 years plotting her revenge. Now an adult, La-El targets Kang Yoon-Kyum (Park Byung-Eun), the CEO of LY Group who took part in her father's death. La-El works together with Seo Eun-Pyeong (Lee Sang-Yeob), the current youngest member of the National Assembly. Seo Eun-Pyeong grew up in an orphanage and was a witness to La-El's tragic fate.
The drama started airing 1st June and runs every Wednesday and Thursday, 11:30PM KST on tVN. It's also available for streaming via Viki and Viu. The series will wrap up with 16 episodes.


Reasons to watch Seo Ye-Ji's comeback drama Eve
1. The cast is simply phenomenal
Previous allegations aside, Seo Ye-Ji's acting prowess is exceptional and the proof is her portfolio. She was amazing and spine-chillingly good in her role as the 'sacrificial lamb' figure Im Sang-Mi in
Save Me
. Meanwhile, her manic portrayal of Ko Mun-Yeong in
It's Okay To Not Be Okay
was equally terrifying and charming. She's meant to play roles that are meant to both allures and thrills the audience, making her the perfect lead for
Eve
.
That said, Park Byung-Eun perfectly matches Seo Ye-Ji's powerful onscreen presence. His versatility as Kang Yoon-Kyung makes the character equally agitating yet interesting. It comes to no surprise since he's a real scene-stealer in his performances in Assassination, Kingdom, and In Our Prime.


Lee Sang-Yeob, on the other hand, is perfect as Seo Eun-Pyeong. He delivers both righteousness and cunningness when need be, resulting in a well-rounded character that has impeccable chemistry with whoever he is with onscreen.
Lastly, Yoo Sun completes this powerhouse cast as Han So-Ra, Park Byung-Eun's obsessive wife. Yoo Sun's upfront and vicious portrayal of her character is a great parallel to Seo Ye-Ji's delivery of La-El, making their femme fatale appeal equally compelling.


2. The plot is mostly unpredictable
K-dramas tend to be formulaic no matter what the genre is. But while this tends to be tolerable when it comes to rom-coms and fantasy narratives, it's not exactly as fun if the show is a drama-thriller. Thankfully,
Eve
has managed to be mostly unpredictable.
We wouldn't want to spoil too much, but we'd like to commend the show for its smart pacing. This especially applies to delivering huge payoffs for subplots they build up on earlier into the story.


3. The cinematography is beautifully dramatic
The effectiveness of
Eve
's storytelling is also made possible through impeccable cinematography. Scenes are framed and filmed in a way that feels immersive to the audience and in most cases, it adds to the atmosphere of what emotions the scene is trying to evoke.
4. The scoring is well-executed
Eve uses sound wonderfully, complementing the outstanding cinematography. The drama knows how to use music to match the mood of the scenes without necessarily overtaking the entire atmosphere. Scoring is also used to further elaborate on the characters' emotions and thoughts even without dialogue.
Objectively speaking, Eve is without a doubt another K-drama masterpiece. And previous controversies aside, it's definitely worth the watch in our book.

(Cover photo from: @tvn_drama)
Comments, questions or feedback? Email us at [email protected].