Love workplace rom-coms like Business Proposal and What's Wrong Secretary Kim? Need to get over your heartbreak from Twenty Five Twenty One's sad finale? Then let us direct your attention to Crazy Love starring Kim Jae-Wook (Her Private Life) and Krystal Jung (Sweet & Sour). The drama started on 7 March on Disney+ and will wrap up on 26 April with 16 episodes.

Crazy Love plot
Crazy Love
is about GOTOP Education's CEO Noh Go Jin (Kim Jae-Wook) who is known for his looks, intelligence, and competence. However, he is narcissistic, cold, and strict, and none of his secretaries lasts for more than three months — except for Lee Shin-A (Krystal Jung), a timid yet responsible woman who leaves little to no impression in the workplace.
One day, Go Jin receives a death threat. Meanwhile, Shin-A learns that she has cancer and decides to spend her remaining months plotting revenge against Go Jin for how he treated her as his secretary.
Don't let the seemingly twisted plot overwhelm you though. Here are five spoiler-free reasons why you should check out Crazy Love.
1. It really puts the comedy in rom-com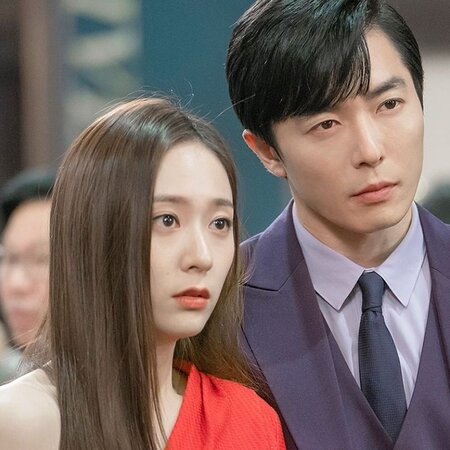 Many K-dramas thrive on the rom-com genre because, as much as it's a cliche, it's still fun and exciting to watch. However,
Crazy Love
takes the comedy aspect a notch higher, really bordering on suspension of belief and parody-like delivery. And sure, that kind of humour can get cringey sometimes, but this drama does it so well that it makes you anticipate how they'll execute the following 'punch line' scene next.
Warning though: this drama uses dark humour from time to time and we're aware that it's not for everyone. However, whether you choose to just watch the pilot and stop there, hit a random episode to see what the fuss is about, or binge it from start to finish, this is a drama that will make you have a good time for sure.


2. It's fresh and partially unpredictable
Many K-rom-coms follow a certain format. Boy-meets-girl, they fall in love, a conflict happens by episode X but gets resolved by episode XX — you get the idea. But because Crazy Love focuses more on Shin-A's attempts to get revenge than the actual falling-in-love narrative, it makes the story a bit more difficult to follow — in a good way. It allows more room for speculation and brings in a certain thrill to the viewing experience, which not a lot of rom-coms are able to do.
Each episode also tends to be better than the previous one. Once you get past the exposition in episodes 1 and 2, it suddenly launches into full-on romance 'weirdness' that even has a touch of action and suspense in between.



3. Recurring themes are executed subtly but effectively and delivers a fantastic payoff when the time is right
While we're keeping things spoiler-free, allow us to say this: watch out for even the subtlest details that linger on the screen a little too long since many of them mean something to the plot. We're talking chocolate boxes, fan signs, posters, and even the framing of some shots.
This drama brilliantly sprinkles some details subtly, which ends up paying off later in the story. This gives the audience that satisfying 'aha' moment if you catch the detail the first time or a 'wait, that's amazing' reaction after a rewatch. Either way, this drama knows how to use the Chehkov's gun method effectively and it's another reason why you're missing out if you don't watch it.


4. It has relatable (and cry-inducing) moments in between the exaggerated comedy
As with any other Asian drama,
Crazy Love
perfectly balances the hyperbolic humour with moments that hit your emotions to the core. The prime example is Shin-A's character having many realisations about her life after finding out she has little time left to live. Her thoughts about her dreams, aspirations, and relationship with herself and others are things everyone has also dealt with.
Meanwhile, Noh Go Jin's journey throughout this series is reflective of how we should treat people, no matter how big or small their roles are in our lives.
5. Kim Jae-Wook and Krystal Jung are amazing in their roles
Kim Jae-Wook's Noh Go Jin started quite similar to his
Her Private Life
character. But while the coldness and too-cool-for-you vibe started out familiar, Jae-Wook's portrayal of Noh Go Jin's development as the character started to get more and more involved with Krystal's Shin-A showed off the actor's range wonderfully. His comedic timing is also perfect, which we imagine is hard to do if you're meant to present a stoic character in the first place.
Krystal Jung, on the other hand, owned this drama and her portrayal of Lee Shin-A. It was hard to imagine the fashionable f(x) former member as a shy and introverted character, but Krystal embodied her role and made Shin-A grounded and relatable. She really went all out for laughs when it came to comedy and also delivered emotionally when it came to heartbreaking scenes. This drama proved that Krystal had so much more to offer.
Crazy Love may not suit everyone's tastes but we feel like it's truly underrated compared to dramas we've seen recently. Watch it on Disney+ here.
Comments, questions or feedback? Email us at [email protected].