This article was first published on 6 October 2022.
Easter egg finders, a.k.a Swifties, unite! Taylor Swift's Midnights album as well as an extended version, Midnights (3am Edition), are out on all official music streaming platforms.
The Midnights album has 13 brand-new tracks while its extended version has 20.
Midnights: title track: 'Anti-Hero'
'Anti-Hero' paints a vivid picture of Taylor's most vulnerable moments, self-reflections, nightmares, and more. Its music video was written and directed by Taylor Swift.
Midnights: our favourite picks
If you're looking for recommendations from the album, check out our team's picks.
Alyana: "Anti-Hero is certainly one of the best songs on the album. I'm one of the people singing 'It's me, hi / I'm the problem, it's me' over and over again since the album came out. I like how it's very introspective and even vulnerable, despite its upbeat tempo, since she's talking about her perception of herself. I think it's also a play on how most media make you feel like the protagonist/hero of your own story but, in this instance, as the anti-hero, Taylor shows a more realistic (pessimistic?) non-rosy side of being human — insecurities and self-doubt included."
Janne: "I have a thing for songs about past loves, freedom, and making sense of how a relationship ended. That's why 'Midnight Rain' resonated with me. It's a song that I could vibe to late at night, but it's also a 'power' song that could give me a boost while I go about my day."
Amanda: "While I also love this album's crowd favourites 'Anti-Hero' and 'Midnight Rain', the song that spoke to me the most is 'Bejeweled'. I've been told multiple times that I tend to overextend and 'dull' myself for people who don't return the same energy and that I don't know when to stop even if it burns me out. But this year, I've been trying to set better boundaries and re-embrace my own 'shine', which makes this song feel like a personal anthem."
Midnights: easter eggs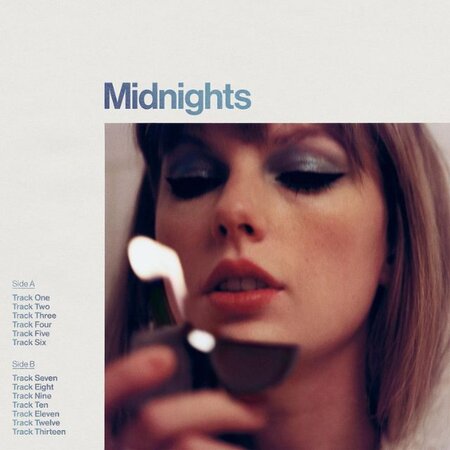 Taylor Swift is popularly known for dropping Easter eggs that get her fans all around the globe ecstatic and eager for more. She has a TikTok series dedicated to revealing the titles on her tracklist called 'Midnights Mayhem With Me.'
In each video, she spins a bingo cage, picks up the ball, and then picks up a red telephone before revealing the corresponding title. In one video, she revealed Track 11's title, 'Karma'. This takes us back to her video with Vogue back in 2016 in which she said, "Karma is real."
Last 29 August, the singer-songwriter announced her upcoming album, Midnights, and wore a crystal-embellished dress to the VMAs. Turns out, it was a clue all along, because one of her tracks is entitled 'Bejeweled' (Track Nine).
Aside from her series on TikTok, Taylor Swift has also released a new teaser trailer for the album.
Here's the teaser trailer for the videos I've made for Midnights 🌌 Thank you @amazonmusic for premiering this, the first video for Anti-Hero will be out tomorrow at 8am ET. And Midnights will be here SO SOON!!!https://t.co/jjqUNkpPke pic.twitter.com/xzmqXa5Cqy

— Taylor Swift (@taylorswift13) October 21, 2022
Taylor Swift's 'Midnights' Album: tracklist and where to buy
Here is the complete lineup of her brand new tracks.
'Lavender Haze
'Maroon'
'Anti-Hero'
'Snow On The Beach' ft. Lana Del Rey

'You're On Your Own, Kid'
'Midnight Rain'

'Question…?'
'Vigilante Sh*t'
'Bejeweled'
'Labyrinth'
'Karma'
'Sweet Nothing'

'Mastermind'
'The Great War'
'Bigger Than The Whole Sky'
'Paris'
'High Infidelity'
'Glitch'
'Would've, Could've, Should've'
'Dear Reader'
Fans can buy physical copies of the album on Taylor Swift's official website. It comes in four colours — Moonstone Blue Edition (the standard version), Jade Green Edition, Blood Moon Edition and Mahogany Edition. Each one has a unique front-and-back cover art, collectable disc artwork, a marbled-colour CD disc, and a collectable lyric booklet with never-seen-before photos.
You can also listen to the album on all music streaming platforms.
Comments, questions or feedback? Email us at [email protected].