Singer, actress, entrepreneur, super mama. Rihanna is adding to her long list of titles: the most followed woman on Twitter.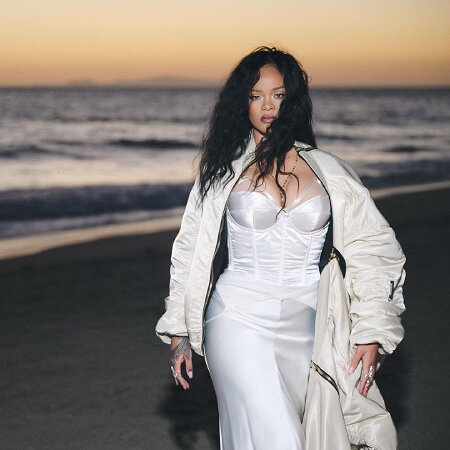 Now with an astronomical 108.2 million followers (and counting), the "Lift Me Up" singer has officially overtaken Katy Perry on the platform's list of the top-followed profiles. She's only behind Elon Musk, Barack Obama, and Justin Bieber.
But in case you're not on the social media platform, let us help you catch up on Rihanna's best zingers of all time. Read to discover some of the best Rihanna tweets that have graced the Twitter space — so far.
Best Rihanna tweets of all time
1. Her unique pregnancy announcement photos
how the gang pulled up to black history month pic.twitter.com/gprFgyP3Xm

— Rihanna (@rihanna) February 3, 2022
The internet shut down once word of Rihanna's pregnancy got out. So in order to make the moment more iconic, Rihanna shared some paparazzi-inspired photos that showed off her baby bump.
2. Her iconic Super Bowl announcement
September 25, 2022
After her hiatus from the performance scene, Rihanna came back with a bang by performing at the Super Bowl half-time show. Her announcement was simple: a photo of her hand holding a football, with a period for a caption. She definitely didn't need to say more.
3. A tribute to mothers everywhere
You deserve to be treated with the highest level of respect today and every day for your selfless thankless role in our lives. Here's to the women who raise us, teach us, feed us, nurture us, mold us, discipline us, and love us unconditionally!
Love you MOM and THANK YOU!!

— Rihanna (@rihanna) May 12, 2019
Prior to becoming a mum herself, Rihanna has always celebrated motherhood and honoured her mum Monica Braithewaite through a tweet.
4. Her tasteful thirst traps
Lavender leopard lace.
GET 👏 INTO 👏 IT. All new @savagexfenty hits https://t.co/cRui93Ojuu at Midnight EST 8/1 tonight!
Shot by #dennisleupold pic.twitter.com/hGjJFVwjsZ

— Rihanna (@rihanna) July 31, 2019
As the founder of SAVAGE x FENTY, one of the most inclusive lingerie brands on the planet, it's totally in character for Rihanna to post some thirst traps every now and then. They're always tastefully done and very empowering to see.
5. Her reminder that 2021 was a dumpster fire
just remember it's not you…it's 2021 pic.twitter.com/75BUSP3zn1

— Rihanna (@rihanna) August 10, 2021
The 2020s were a bad set of years for everyone, but Rihanna was quick to remind us all that it's not our fault. She even posted a video meme to drive the point home.
Which of these tweets is your personal fave?
(Photo from: @badgalriri)
The Barbie movie's posters are taking over social media. Here's a rundown of the film's details.
Comments, questions or feedback? Email us at [email protected].