Attention, K-pop fans: There's a new dance craze you'll want to learn! South Korean singer, songwriter and rapper PSY is making a comeback after a five-year hiatus from the spotlight — with a full album release, no less.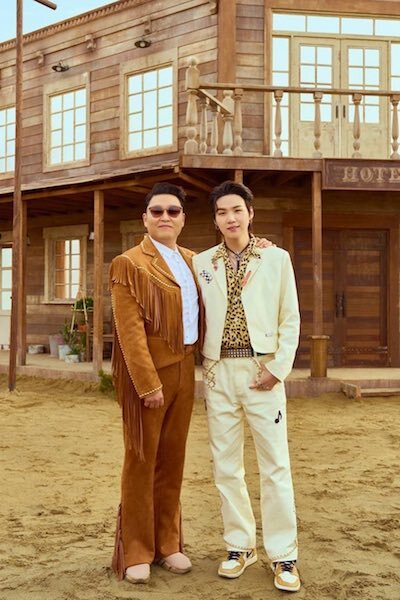 Psy 9th, which is the singer's first album to be launched after Psy 8th 4X2=8 in 2017, features future bops including the much-awaited That That, produced by BTS member Suga.
PSY and BTS' Suga join forces
The music video for the pop song features PSY and BTS' Suga dressed in modernised cowboy costumes while dancing outside a set made to look like a 19th century "Wild West" saloon. The unique choreography is very much viral dance-material and involves simultaneously bumping up your fist while kicking up one of your legs.
BTS' Suga shared in a promotional video for That That that he was just supposed to produce the track but ended up joining PSY and being featured in the song because of how well the two of them bonded. The 29-year-old pop star felt nervous about collaborating with an established artist at first, but it turned out that producing music with PSY felt like working with a childhood friend.
That That prod.&ft.
and Starring SUGA of BTS

2022.04.29 (Fri) 6PM KST#PSY #싸이 #ThatThat#싸다9 #PSY9th #220429_6pmKST#PNATION #피네이션 pic.twitter.com/mHgs37pqun

— PSY (@psy_oppa) April 28, 2022
44-year-old PSY also shared that he didn't feel any age gap between the two of them. "When meeting younger artists, I don't want to be someone who's hard to approach," PSY said.
More to come from PSY's comeback album in 2022
Aside from That That, PSY has also dropped a teaser for Celeb featuring Bae Suzy, a song that should have been launched in 2019 but was put on hold after PSY was questioned by the police and faced multiple allegations. PSY denied any knowledge of and involvement in any illegal activity. Another single with a released teaser is Happier featuring K-R&B singer Crush.
Are you ready to learn some new dance moves?
(Cover photo from: @42psy42)
Next, check out the signs that point to BLACKPINK making a comeback in 2022.

Comments, questions or feedback? Email us at [email protected].