This article was first published on 20 April 2022.
Beliebers, sad news! After almost a decade, Justin Bieber was supposed to come back to Singapore to perform at the National Stadium on 25 October. The official announcement came from live entertainment company AEG Presents via its Instagram account.
However, due to the pandemic, as well as Justin's mental health, the shows scheduled from September 2022 up to March 2023 are postposed indefinitely. Dates for the new show schedules will be announced in the near future, according to AEG Presents.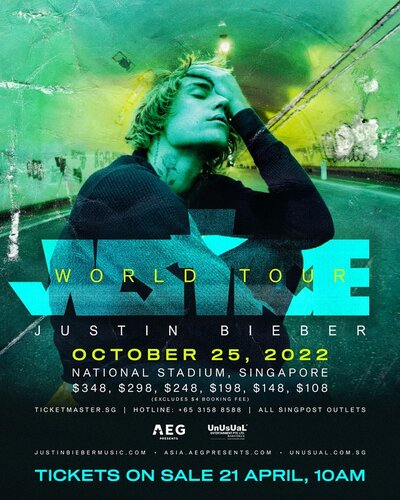 The Justice World Tour was originally set to start in 2020 but was postponed twice due to the COVID-19 pandemic. It finally commenced in February 2022 in San Diego and is expected to end in Krakow, Poland in March 2023. In between, the STAY singer will be visiting Tel Aviv, Kuala Lumpur, Jakarta, Nagoya, Osaka, Tokyo, and Singapore for the concert's fifth leg.
The concert will feature hits from Justin's studio albums Changes and Justice, which were both produced in the past two years.
Already excited about the Justice World Tour in Singapore? Here are essential details about the concert, including prices.

Prices for Justin Bieber concert tickets in Singapore and where to buy
The standard tickets will be priced at SGD108, SGD148, SGD198, SGD248, SGD298 and SGD348 depending on the seating location.
There are also special VIP packages that fans would definitely want to grab. The most premium one is the Ghost VIP Package (SGD688), which includes one reserved seated ticket in the first category seating (CAT 1), a limited-edition tour memorabilia exclusive set of tour posters, Justin Bieber VIP merchandise (VIP tour gift and commemorative VIP Tour laminate and matching lanyard).
Next are the Peaches VIP Package (SGD528) and Hold On VIP Package (SGD388), which have the same inclusions except the seating will be at the second tier (CAT 2) and third tier (CAT 3) respectively.
Take note that booking fees are not included in these ticket prices. You will need to pay an additional SGD4 booking fee per ticket for those priced SGD30 and above.
Want to get one? Tickets are currently soldout on Ticketmaster's website but no updates yet if more tickets will be sold once the tour relaunches.
What are the COVID-19 protocols for the concert?
The concert will be one of the major events held in Singapore since the pandemic started. Looser restrictions allowed for more seating capacity but safety protocols are still in place.
You will need to show valid proof of vaccination as the Justin Bieber concert in Singapore is a vaccinated-only event but guests will no longer be required to do Pre-Event Testing (PET). Anyone without proof of vaccination will be denied entry.
Attendees will also need the TraceTogether App to check in to Safe Entry. Once at the event, patrons are not allowed to intermingle. Finally, face masks are still required at all times.
This article will be updated with the official concert time, seating plan and other details as more information becomes available.
(Cover photo from: @justinbieber)
Comments, questions or feedback? Email us at [email protected].