This article was first published on 18 April 2022.
Blackjacks, it finally happened! K-pop girl group 2NE1 — who disbanded in 2016 — performed together again for the first time in six years on 17 April on the Coachella 2022 stage. All members of the group — CL, Dara, Bom, and Minzy — surprised the crowd by singing and dancing to one of their biggest hits I Am The Best during CL's slot in the music festival. They are the first-ever disbanded K-pop group to make a comeback through Coachella.


2NE1 reunion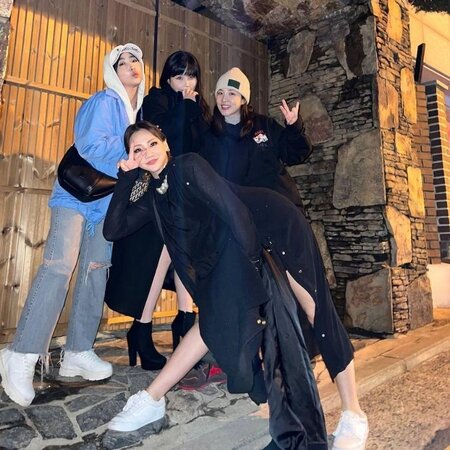 Ever since members of the group went their separate ways, fans have constantly hoped for a reunion project. This is because the members never fail to show that they're still on good terms, holding private get-togethers and showing support for one another's solo careers on their respective
social media platforms
. They even go as far as asking each other to
help write songs for their solo releases
and
guest in each other's shows
.
If you haven't kept tabs on them over the years but got your curiosity sparked because of the Coachella reunion, allow us to break down where the 2NE1 members are now in 2023.


CL (Lee Chae-rin)
Former 2NE1 leader CL continues to make waves as a solo artist even after the group's separation. Her 2016 single
Lifted
made the Billboard Hot 100 charts that year, making her the
first Korean female solo artist to achieve such a feat
. In 2018, she made her Hollywood acting debut in
Mile 22
, starring Mark Wahlberg, where she played the character Queen.
Two years later, Beyonce's fashion brand Ivy Park got CL as one of its South Korean brand ambassadors. In 2021, Taco Bell also named CL as one of its international ambassadors, even making her the first Korean female solo artist to have a TV commercial in the U.S.
CL dropped her latest album ALPHA in October 2021. Coachella was her stage comeback for 2022 and we're glad she made it extra special with this 2NE1 reunion. After Coachella, CL kept busy with her tour and various music performances in South Korea and around the world.
Dara (Sandara Park)
ICYDK, Dara had a career in the Philippines prior to debuting with 2NE1 in 2009. This is why after 2NE1's disbandment, Dara continued to pursue her career as a solo artist in Korea and as a TV personality and presenter in the Philippines. In 2017, she starred in the film One Step, the Korean remake of the movie Begin Again starring Keira Knightley and Mark Ruffalo. This stint led to a string of major and minor acting roles in both Korea and the Philippines.
In 2019, she featured in fellow ex-2NE1 member Bom's single Spring. Dara continues to appear in various Korean and Filipino variety shows and is the brand ambassador for several brands such as Baskin Robbins, Penshoppe, adidas, Nintendo Wii, and more.
At present, she just released her first solo album centred around the theme of "Sandara Park". This featured summer, tropical vibes, which showcased her own musical style and fun, lighthearted personality. The music video for one of her lead tracks, FESTIVAL, is now available for streaming too. We're also crossing our fingers for a tour soon!
Bom (Park Bom)
Compared to the other former 2NE1 members, Bom had a quieter solo career. Her releases post-disbandment were put off several times because she decided to take a hiatus and change agencies in the past years. However, in 2019, she finally made her comeback with Spring, which snagged the number two spot on Billboard's World Digital Song Sales chart. This made it the highest-selling K-pop song and highest-charting new entry in the week it was released. Bom took another hiatus after this release and came back with standalone releases Red Light in 2020 and Do Re Mi Fa Sol in 2021. In March 2022, Bom released her latest single titled Flower. In June 2023, Bom held her first-ever solo fan meeting and concert in the Philippines called You & I where she performed tracks such as Don't Cry, Lonely, and 4:44.
Minzy (Gong Min-Ji)
The group's youngest member Minzy released her first solo single I Wanted To Love in 2017; it was featured in the K-drama The Rebel starring Yoon Kyun-Sang and Chae Soo-Bin. Her solo EP Minzy Work 01. "Uno" released in the same year and debuted at number two on the Billboard World Albums Chart.
Minzy released her first full English solo single All Of You Say in 2018, but her music career became quiet after some legal disputes went on with her agency. She made her comeback as an independent artist in 2020 with the song Lovely. She also released a Tagalog version of the song under Viva Entertainment. In 2021, Minzy released two singles: Teamo and Fantabulous.
Now that we know a reunion performance is possible, can we have a 2NE1 reunion album soon too?

(Cover photo from: @chaelincl)
Comments, questions or feedback? Email us at [email protected].