It's long overdue but it's here — Singapore is getting its first locally produced BL (Boys' Love) series. The show is called Getaway and it's produced by Dear Straight People which claims to be Asia's leading LGBT media publication.
These romantic stories between young males have been enjoying popularity in the past few years, with stars of BL TV shows like 2gether, Love by Chance, and TharnType rising to international fame. Getaway, with its comedy, drama and romance plot, could very well be the next hit!
The show's existence is also considered a milestone for Singapore, a country that still has laws against sexual acts between men.
Getaway cast and plot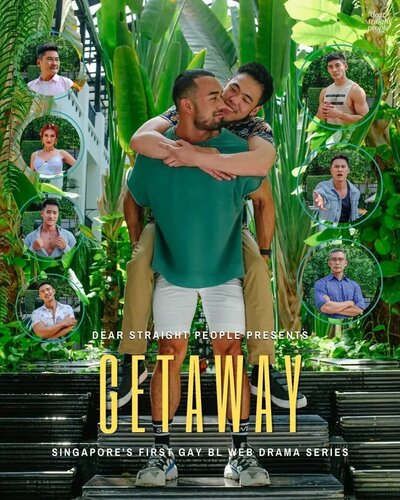 The five-episode series stars Dear Straight People founder Sean Foo as Sam, a gay man who just came out of the closet and was not accepted by his father (played by Steven David Lim). Sam goes on a "getaway" to Bangkok and meets fellow gay man Top (played Paween "Snooker" Nalieng) who tours him around the Thai capital. Top also introduces Sam to the local gay community.
Getaway release date and where to watch
Singapore's first BL series Getaway will be streaming on 23 May on Dear Straight People's YouTube channel — so yes, you enjoy this gem for free!
(Cover photo from: @dearstraightpeopleig)
Comments, questions or feedback? Email us at [email protected].