This article was first published on 11 August 2023.
The Uncanny Counter Season 2 is the top K-drama that has been charming Singaporean viewers this week. It's got fantasy, action, comedy, and a whole lot of heart. Come along with us as we help you get to know more about the talented actors who make up the show and the unique characters they portray. Spoilers ahead!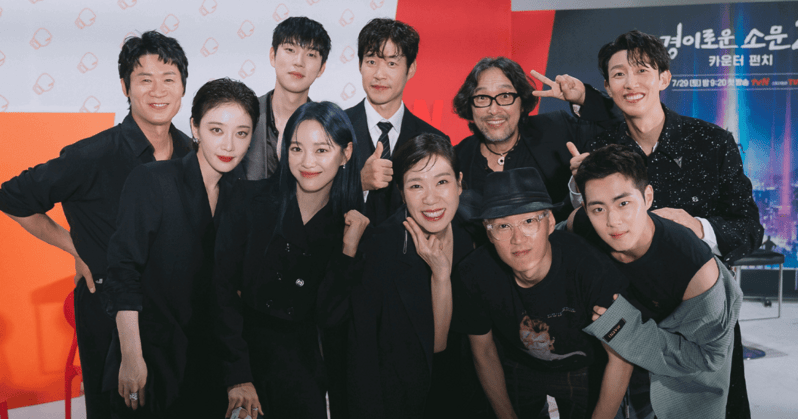 The Uncanny Counter: trailer and plot
But first, a quick background about the show.
The Uncanny Counter
revolves around noodle shop workers by day and "Counters" by night (or whenever there's an evil spirit nearby). The drama doesn't provide an explanation about why they're called "counters", but some believe that it's inspired by the phrase "uncanny encounters". With their powers, they fight against evil spirits seeking to feed off the souls of humans.
While it seems like a familiar superhero story, fans of the show are loving the different personalities and backstories of the squad and the bond they share. It's like you're getting the same crime-fighting family vibes as the K-drama Taxi Driver except supernatural elements have been sprinkled into the mix.
Ready to meet the team and their new opponents? We've rounded up seven Season 2 cast members who are making the series one fun and wild ride.


The Uncanny Counter Season 2 cast
1. Kim Sejeong as Do Ha-na
If you only knew Kim Sejeong as someone who played cheerful characters in K-dramas like
Business Proposal
and
Today's Webtoon
, this series will show you the tougher side of the K-pop idol slash actress.
Do Ha-na's character knows how to pack a punch (and take one too). Aside from this, she has the ability to see the memories of a person with a single touch. This also comes with the power to erase a person's memories.


2. Jo Byung-gyu as So Mun
If you've been around in the K-drama world for a while now, you might have seen Jo Byung-gyu in
Who Are You: School 2015
and in
Sky Castle.
But he became really popular after his role in the sports drama
Hot Stove League.
Jo Byung-gyu plays the role of So Mun who is the "maknae" (meaning youngest member) of the crew. He possesses super speed and telekinesis and has the ability to sense danger by summoning the "territory" or the vibrant, colourful energy field which helps make the Counters' powers stronger.


3. Yeom Hye-ran as Chu Mae-ok
Yeom Hye-ran is a veteran actress in the theatre and cinema industries.
The Uncanny Counter
Season 1 is like her big break in the K-drama world. This was followed by her role as the loyal character on Song Hye-kyo's side in
The Glory.
Yeom Hye-ran plays the role of Chu Mae-ok, a chef slash Counter with healing abilities. She's like the motherly figure of the group.


4. Kim Hieora as Gelly Choi
We thought that Yeom Hye-ran was done with
The Glory
but it's like there's a reunion going on with Kim Hieora.
She takes on another villainous character named Gelly Choi, an evil spirit who eats off the soul of a Counter. Her powers not only include super speed but she can now access and erase other people's memories (like Do Ha-na).


5. Kang Ki-young as Hwang Pil-gwang
This actor is well-known for being a supporting character in rom-com dramas like
Weightlifting Fairy Kim Bok Joo
,
What's Wrong with Secretary Kim
, and more. He also became popular for his mentor role in
Extraordinary Attorney Woo.
But in this series, Kang Ki-young plays the chilling character of Hwang Pil-gwang, a demon leader who fed from a Counter with telekinesis (same as So Mun).
It's always a thrilling showdown with these new evil spirits around, and you'll love tuning in to how the Counters will grow too.


6.

Yoo In-soo as Na Jeok-bong



This guy seems to be popping up everywhere lately. You might have seen him as the annoying bully in All of Us Are Dead, the troublemaker in The Good Bad Mother, or the loyal lover in Alchemy of Souls.
In the second season of The Uncanny Counter, he plays the role of Na Jeok-bong, a naive country boy who gets recruited into the squad. He's still adjusting to his newfound powers (he can sniff out evil spirits) so you can expect him to bring a lot of comedic moments to the show.
7. Yoo Jun-sang as Ga Mo-tak
Talk about a family reunion. Veteran actor Yoo Jun-sang played the role of Yoo In-soo's uncle in Alchemy of Souls and now they're back in action and fighting against the villains in The Uncanny Counter Season 2.
Yoo Jun-sang plays the role of Ga Mo-tak, a Counter who might look tough on the outside with his superhuman strength but is really a softie on the inside.
The Uncanny Counter Season 2: episode schedule and where to watch in Singapore

Excited to see how the characters' stories will unfold? Episode 7 of The Uncanny Counter Season 2 will be aired on 19 August. The next episodes will be aired every Saturday and Sunday on Netflix.
(Cover photo from: @clean_0828)

Comments, questions or feedback? Email us at [email protected].