This article was first published on 15 July 2022.
Alchemy Of Souls cast Lee Jae-Wook, Jung So-Min, Minhyun, and Ko Yoon-Jung have been making waves recently for their interesting performance in the historical fantasy series. The series has also been renewed for Season 2, confirmed to air on 10 December 2022.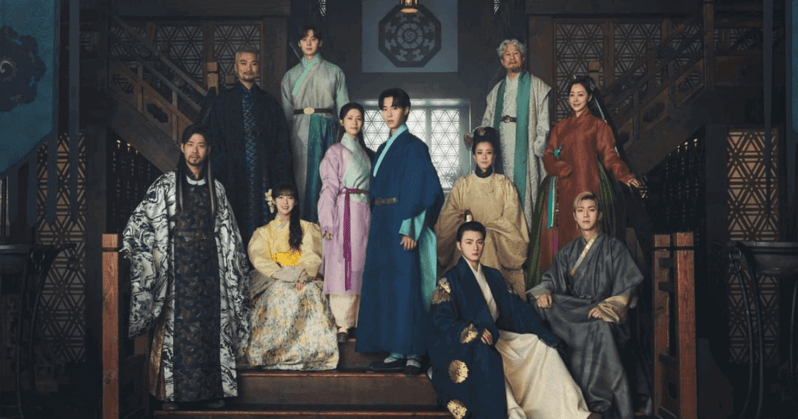 Alchemy Of Souls cast
Ko Yoon-Jung
plays Naksu, an elite and formidable warrior who had to find a new host for her soul to survive an unwinnable battle. She enters the body of Mu Deok played by
Jung So-Min
.
Mu Deok is a frail woman who becomes the servant of the noble Jang family. This is where Mu Deok meets the Jang Uk, played by Lee Jae-Wook.
Jang Uk is mischievous yet kind. He is talked about in the town because of a dark secret surrounding his birth.
Minhyun also joins the cast as Seo Yul from the scholarly Seo family. Seo Yul gets caught up in the Jang Uk and Mu Deok/Naksu's mess later in the story (but sorry, no spoilers here!).
The crown prince of Daeho, Go Won, will also get tangled up in their story. He is played by Shin Seung-Ho.


Alchemy of Souls plot
It's about several mages in the fictional country Daeho, who need to overcome many trials after being caught in the magic of the 'alchemy of souls', a spell that allows souls to switch bodies.
As much as we'd love to spoil Alchemy of Souls' plot, this K-drama tends to be confusing on paper given all the soul switching and body swapping. However, it is fun to watch unfold onscreen. What we can do is share other K-dramas and movies featuring the Alchemy of Souls' cast that you can watch in between episodes.
Drama: Lee Jae-Wook in Do Do Sol Sol La La Sol
Lee Jae-Wook appeared in other dramas including
When The Weather Is Fine
and
Extraordinary You
, but it's in
Do Do Sol Sol La La Sol
where we first noticed him being leading man material.
He played Sunwoon Joon, a free-spirited man who had no specific aspirations until he met the bright and charming pianist Goo Ra-Ra (Go Ara). Sunwoon Joon and Goo Ra-Ra both navigate the ups and downs of life's harsh realities and fall in love along the way.
Why you'll love it: Lee Jae-Wook and Go Ara's impressive acting and chemistry are the foundations of this drama. The themes of hope, self-contentment, and passion are also relatable and will definitely tug at your heartstrings.
Watch Do Do Sol Sol La La Sol here.


Drama: Jung So-Min in My Roommate Is A Gumiho
To avid K-drama fans, Jung So-Min might seem familiar because of her cameos in other big titles like
What's Wrong With Secretary Kim
and
Be Melodramatic
. But it's her quick yet memorable appearance in
My Roommate Is A Gumiho
that stood out to us. In episodes 6 and 7 of the drama, she played the past love of 999-year-old gumiho Shin Woo-Yeo (
Jang Ki-Yong
).
Why you'll love it: If you love fantasy rom-coms, My Roommate Is A Gumiho has the genre's formula to a T. It can be pretty predictable at times, but if you want an uncomplicated show that will keep you entertained, this is it.
Watch My Roommate Is A Gumiho here.
Drama: Ko Yoon-Jung in Sweet Home
Ko Yoon-Jung is reported to star in
Alchemy Of Souls
Part 2
, replacing Jung So-Min as the main female lead for the series (and yes, the rest of
Alchemy Of Souls
' cast are also said to reprise their roles for Part 2). But while we wait for confirmation, let's look back at her role as Park Yu-Ri in
Sweet Home
.
Park Yu-Ri, along with Cha Hyun-Su (Song Kang), are a couple of the residents in the Green Home Mansion Apartment. They, along with the other homeowners, get locked in the apartment complex. They fight for survival after a mysterious phenomenon turns humans into flesh-eating monsters.
While Park Yu-Ri is a supporting role, Jung So-Min's Park made it memorable thanks to her compelling and attention-grabbing performance.
Why you'll love it: Sweet Home is intense, intriguing, and every bit exciting. However, it still allows viewers to develop some emotional attachment to the characters with its more quiet moments. This perfect balance between thrill and melodrama delivers effective storytelling that will make you binge the series in one sitting.
Watch Sweet Home here.
Movie: Minhyun in Shiranai, Futari
Before joining the
Alchemy of Souls
' cast, former NU-EST member Minhyun doesn't have a lot of acting projects on his portfolio. However, one interesting role he's played in the past is in the 2016 Japanese indie film
Shiranai, Futari
(also known as
Two Strangers
or
Their Distance)
.
It's about different kinds of love that transcend generations, cultures, and other societal barriers=. Minhyun's acting debut character Nam Sang-Soo is a convenience store employee and college student who falls in love with the lead Akiko Kokaze (Fumiko Aoyage). However, Akiko is in love with someone else.
Why you'll love it: The film's premise is complex yet highly relatable. It focuses on characters that are lost in their own ideas of love. The beautiful, laid-back cinematography matches the atmosphere of the film completely, which helps the audience immerse into the story better. It's not exactly a feel-good film, but it is a great film to catch if you want something that will leave you wistful after watching.
Watch Shiranai, Futari here.


Drama: Shin Seung-Ho in D.P.
Just like Minhyun, Shin Seung-Ho's portfolio is still not as rich as the rest of the
Alchemy of Souls
cast. However, one drama of his that we absolutely adore is
D.P.
The story revolves around South Korea's Deserter Pursuit (D.P.) team. It focuses on themes like loyalty, brotherhood, and duty. Shin Seung-Ho plays Hwang Jang-Soo, one of the soldiers in the D.P. unit.
Why you'll love it: This series has a good mix of action, comedy, and drama, making it a great show to binge-watch with the rest of the family. Its second season is also on the way later this year (no official air date though) so now's the perfect time to stream Season 1.
Watch D.P. here.
The 20-episode drama is currently streaming on Netflix, with new episodes arriving every Saturday and Sunday.
Stream Alchemy of Souls here.

(Cover photo from: @tvn_drama)
Comments, questions or feedback? Email us at [email protected].