Ever wondered if you need a massage chair? Many things have changed over the past couple of years given the blurring of lines between our home space and our workspace. That's why reclaiming our homes as a relaxing haven is a necessity to retain their status as a sanctuary. One investment to make this happen? A massage chair. It's not exactly a home appliance that comes at the top of our minds when thinking of home must-haves, but if you think about what it'll do to your routine and your life, it'll be a worthy purchase.


Advantages of getting a massage chair at home
Having a massage chair at home means no more excuses to put off a pampering session due to a busy schedule. You just have to literally sit back and relax and let the chair do the work without the hassle of booking an actual massage session.
No need to worry about extra health protocols too since you'll be having your massage session at home and not elsewhere.
Ready to finally address your back pain, muscle pain, and overall exhaustion mentally and physically by having an everyday massage session at home? Check out these 11 massage chairs in Singapore to make it happen.
1. Sterra Air™ Premium Full-Body Massage Chair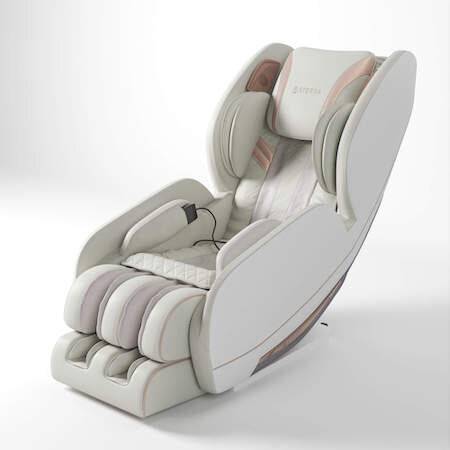 Sterra offers premium full-body massage chairs with high-end features at a price range that's more inexpensive than traditional brands. All of them are great for relieving your chronic pain, body aches (including neck pain, back pain, and leg pain), stress, inflammation, and muscle tension effectively.
These also help you sleep better, recover faster, and feel relaxed after a long day at work. The Air™ Premium Full-Body Massage Chair offers deep tissue and all-encompassing massage — from your neck, back, shoulders, arms, lumbar, glutes, and hamstrings, to thighs, calves, feet, and soles. You'll feel so refreshed after every use.
Key features:
S Track & Ultra Long SL Track
CompressPro™ Massage
Heat Therapy
Space-saving with Zero Space Technology – only needs to be 3 to 5 cm away from the wall
SpinSonic™ Sole Rotation Technology
NASA-Backed Zero Gravity
Real Human Hand-Like Massage with 3D & 4D Technology
Precision AI™ Body Scan Technology for massages personalised to your body
Play your favourite songs with Surround Sound Bluetooth Speaker
Prices start at SGD999.
Get it here.
2. Ogawa Genix Hybrid Massage Chair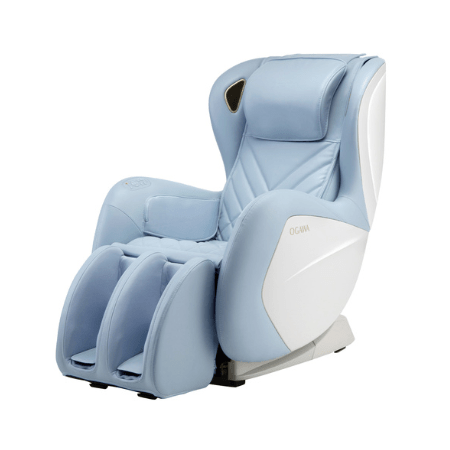 This massage chair has an extensive 1.26M massage L-Track designed to provide even massage coverage from your neck to lower hips. Its Zero Gravity feature gives you a sense of weightlessness for a more relaxed feel, while the Cradle Mode helps you get better sleep with its special swing mode function.
This machine also has five massage settings — Genix Specialty, Energize, Happy Hour, Vitality, and Dream Mode — which allow you to customise the massage experience. It also boasts a zero-wall technology that allows you to recline the chair all the way down without the need to move the chair away from the wall. The zero-wall technology, as well as the chair's naturally smaller frame, also makes it a space-saver compared to other massage chairs.
Key features:
1.26M massage L-track

Zero Gravity feature
Cradle Mode
Five massage settings
Zero-wall technology
Space-saving design
Get it at LAZADA for SGD3,080.


3. Benefit One Massage Chair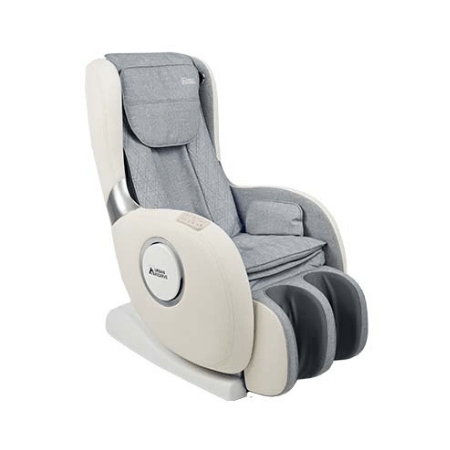 This massage chair gives you a good compression massage on your thighs, calves, and palms, which helps improve better blood circulation all over the body. Its lumbar heating feature addresses neck, shoulder, and back pain, delivering muscle relief, inflammation prevention, and alleviating overall body stiffness.
The machine can also be connected to your phone's Bluetooth so you can listen to your favourite sounds while you relax.
Key features:
Muscle compression massage
Lumbar heating feature
Surround sound Bluetooth feature
Space-saver
Get it at Urban Reserve for SGD1,899.
4. OTO Capsule CP-01 Massage Chair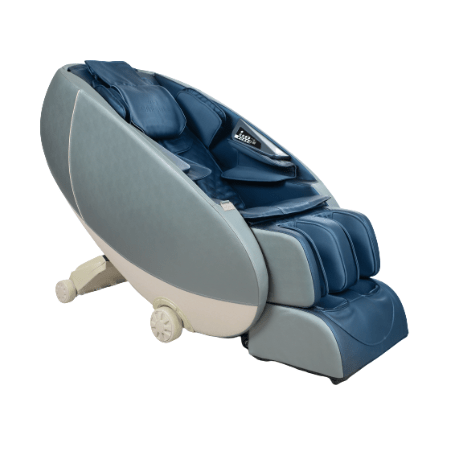 A massage chair that massages like human hands do? This OTO pick has five massage settings — Swedish massage, Thai massage, Chinese massage, stretch mode, and sleep mode — inspired by human-touch techniques meant to deliver the most soothing results. This also has a 3D Smart Chip that analyses your body shape to adjust the massage based on your body's natural contours and a 2D intelligent body scanner with G-sensor which helps with better precision in targeting the best massage points on your body.
It also features a 45℃ heat therapy for your soles and has a hidden built-in surround sound speaker you can connect to via Bluetooth for a customisable sensorial experience.
Key features:
Five human-touch inspired massage settings
3D Smart Chip and 2D intelligent body scanner with G-sensor for precision
Heat therapy feature
Built-in surround sound Bluetooth speaker
Low-noise operation
Get it at OTO for SGD5,980.


5. Iuiga Viva Recliner Massage Chair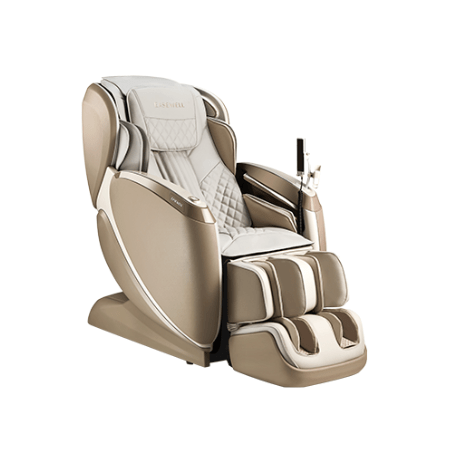 This massage chair boasts 4D Massage Technology features which allow the chair to adjust according to your height and size using sensors and deliver the most precise massage experience. It also adjusts its recline position based on the ideal posture to lessen the strain on the body. The chair is also developed using traditional Chinese medicine, analysing your body to target acupuncture points for effective muscle repair and other blood circulation-related benefits.
This machine also has built-in speakers and atmosphere lights, allowing you to really enjoy a spa-like experience at home. You can also choose between a heating function or the Air Massage Program to customise the overall feel of your massage session.
Key features:
4D Massage Technology for better massage precision
Built-in speakers and atmosphere lights
Heating function
Air Massage Program
Get it at Iuiga for SGD6,999.

6. MiuDelight V2 Massage Chair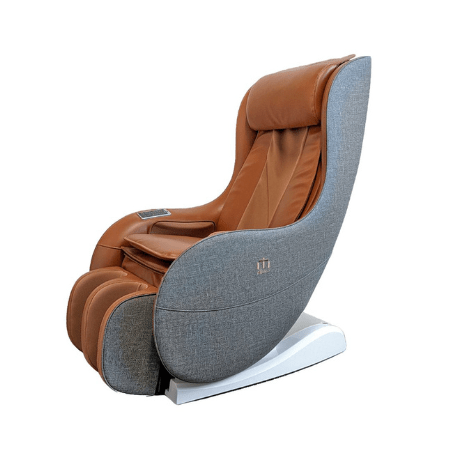 Dealing with tight knots, shoulder aches, or sore calves? This massage chair delivers shiatsu, tui-na and other spot massage features that allow for targeted massages all over your body. Its zero-gravity function also allows for a more weightless and relaxed feel all throughout your massage sesh.
The chair also has an easy to navigate controller for easy setup and overall use. The size is also nice and compact, making it perfect even for small rooms and households.
Key features:
Easy-to-use controller
Compact size
Zero-gravity function
Multiple settings for targetted muscle care
Get it at Shopee for SGD1,899.


7. OSIM uDivine V Massage Chair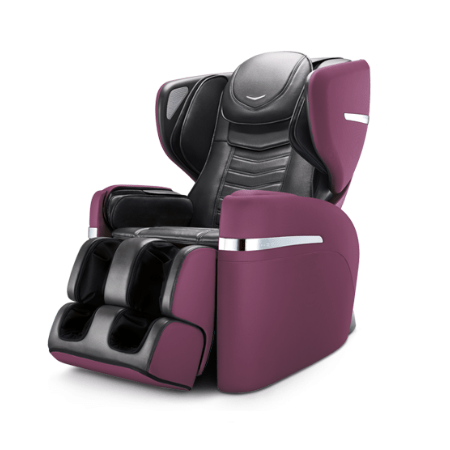 This massage chair looks like it's straight from a sci-fi movie and rightfully so considering its out-of-this-world massage functions. We're talking innovative 720-degree roller balls using V-Hand™ technology that simulate precise hand movements to get into the tightest knots and contours of the body; extensive lumbar and posture support; and upgradable and customisable massage functions that can easily be accessed through a corresponding app.
The machine also comes with a heating function, an immersive sound feature, and a complimentary uDivine V Eye Massager for a holistic relaxation session.
Key features:
720-degree V-Hand™ technology
Upgradable and customisable massage functions via the uDivine app
Sensorial heat and sound functions
Complimentary uDivine V Eye Massager
Get it Shopee for SGD5,199.
8. Aibi Vita Chair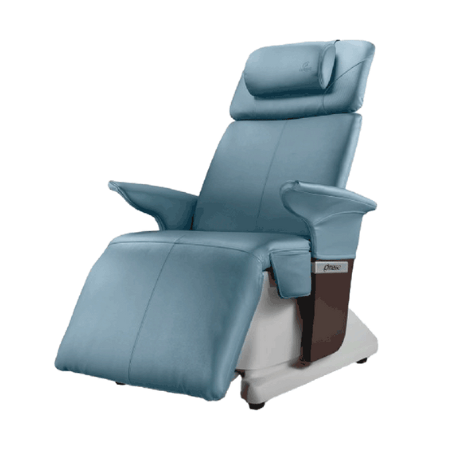 A massage chair and a workout machine in one? You looked at the right place. This chair has nine functions using Whole Body Vibration (WBV) technology which stimulates the body for increased strength, better bone density, joint flexibility, and other health and beauty benefits. It also has a Whole Body Periodic Acceleration (WBPA) function which helps improve cardio wellbeing and metabolism. It's like passive exercise achieved during your downtime.
Key features:
Compact design
Whole Body Vibration (WBV) technology
Whole Body Periodic Acceleration (WBPA) function
Music and zero-gravity functions
Get it at LAZADA for SGD5,680.


9. Gintell DéSpace Care Massage Chair
This massage chair uses X-3D Roller Balls technology that provides intensive and precision massages around the neck, waist, and shoulders and a Stretch 230-degree function for holistic body muscle relief. It also has a Sweet Dream program that uses strategic rocking movements to promote quality sleep.
Its 360-degree Reflex Guasa function follows acupuncture principles to stimulate the soles for better blood circulation all over the body, enhance natural internal detoxification, prevent sinus infections, and more.
The chair also has a remote which allows the user to save up to three of their favourite massage settings. It also has built-in speakers and a USB charging port for your smart devices.
Key features:
X-3D Roller Balls technology for intensive massages
Stretch 230-degree function
360-degree Reflex Guasa function
Allows saving up to three massage settings
Built-in speaker and USB charging port for smart devices
Get it at Gintell for SGD5,988.
10. Novita Massage Chair B11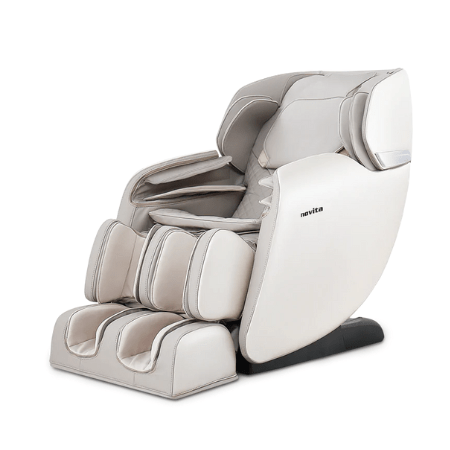 This massage chair's seven focus regions stretch from the neck to the soles of your feet, allowing for a hassle-free whole body massage with just at a click of a button. It offers a wide variety of classic massage techniques and auto programs to choose from; these can be further tailored depending on your needs. The device also has a smart body sensor that adjusts the massage intensity according to your size and posture. Plus, heat therapy for the back and scrapping reflexology for the soles of the feet, help with muscle repair, blood circulation, and overall relaxation.
Key features:
Easy setup
Seven focus regions that cover the whole body
Smart bod sensor
Heat therapy
Scrapping reflexology function
Get it at Novita for SGD3,688.


11. Ergoworks Zero Gravity Massage Recliner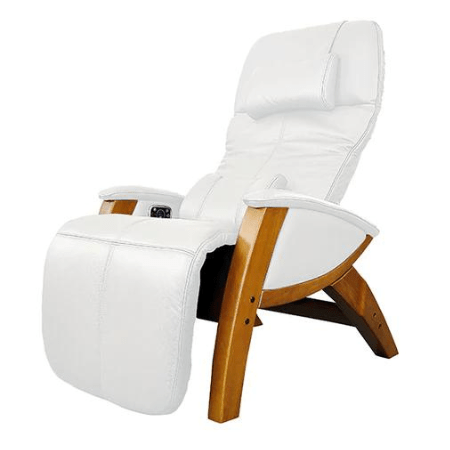 If you're very particular about aesthetics, this is a massage chair that looks like a chic piece of furniture. It has eight airbags that inflate and deflate depending on your chosen massage function. It has a Soothing Heat function which helps with muscle pain and strain. It also has a Power Nap and Smart Wake Up function to help improve sleep quality.
The chair is also made from memory foam cushion, providing head and lumbar support, and is covered with Top grade genuine leather upholstery shaped over 100% solid birchwood.
Key features:
Sleek design
Soothing Heat function
Power Nap and Smart Wake Up function
Made from quality materials to ensure maximum comfort and durability
Get it from Ergoworks for SGD4,999.

(Cover photo from: ergoworks.com.sg)
Comments, questions or feedback? Email us at [email protected].