Much like Cinderella with her glass slippers and Dorothy (from The Wizard of Oz) with her ruby red shoes, every woman has her own unique shoe story. It may not be as grand as these fairy tales, but it is without a doubt as sentimental. A trusty pair allows us to go places, helping us write chapter after chapter of our lives with every step we take.
So it got us thinking, what's the story behind some of our Clozetters' most favourite pairs? From flats and sneakers to luxury heels, these women from our Community share what their favourite pairs of shoes mean to them and what makes a great pair in their book (hint: comfort is key!).
on her Christian Louboutin Black Bianca Platform Pumps
With her internet pseudonym as
StilettoesDiva
, do we have any reason to doubt Yen's love for shoes? But even shoe-holics have their favourite pair and for Yen, her favourite is her
Christian Louboutin Black Bianca Platform Pumps
. It all began when she first visited the original Louboutin store in Paris on a "cold winter afternoon back in 2011". It was love at first sight, and "the rest was history," Yen recalled. "You never forget your firsts. Like your first kiss, first car or first boyfriend, you never forget your first pair of luxury heels."

She admitted, though, that it's been a while since she's worn these shoes — and generally, heeled shoes standing higher than four inches — for health reasons. Still, it doesn't discount her undying love for this particular pair.

What makes a good pair of shoes, according to Yen: "I would love to say comfort [is key] but I had come to realise that what makes you look stunning is never going to be comfortable. There are always sacrifices to be made, so let's focus on the 'cut' of the shoes. The disadvantage I have is my bunion, so if the shoes have a wider front, it's great in my book."

Clozette Ambassador Christabelle Chua
on her Bella Belle Frances Ivory Wedding Kitten Heels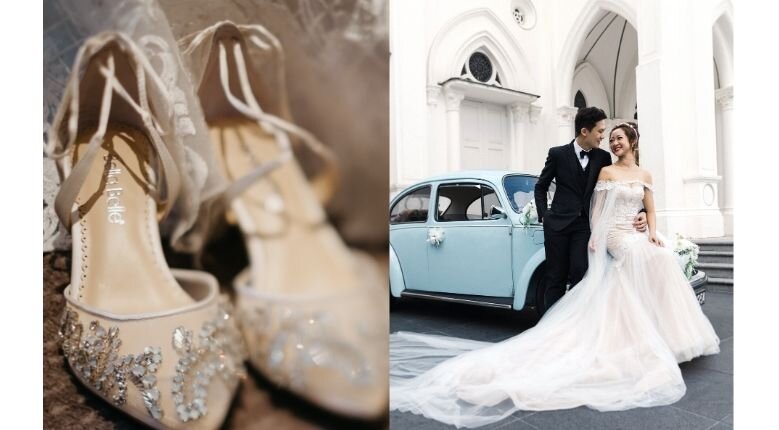 For Christabelle, it was the shoes that walked her down the wedding aisle. And why wouldn't it be, considering that those are the shoes you wear on your big day to dance and celebrate your life from one to two?
Christabelle described her Bella Belle Frances Ivory Crystal Embellished Wedding Kitten Heels as both practical and beautiful, complete with its gorgeous "details, crystals, and bling." She shared that she was initially gunning for the high-heeled version of this pair but settled for the kitten heels instead for its comfort that lasted her through an entire day of socialising and, of course, her romantic first dance with her husband. As a pair that carries such a precious memory, it's inevitable that these shoes hold a special place in her heart. "After my wedding, I've been wearing these to other events and functions as well," she said.
What makes a good pair of shoes, according to Christabelle: "Design, comfort, and quality."
on her Anothersole Paloma tennis sneakers
If a pair of shoes are versatile enough, it can accompany us through vastly different situations and locations from work and play. This is the case for
Laura
, whose
Anothersole Paloma Tennis Sneakers
play a part in the various facets of her daily life.
"This pair has seen me through my first job, working in the office over the weekends, joined me in my travels and basically everywhere," she said, sharing that every time she wears it, she gets reminded of how much she's grown and evolved as a person. She also noted that apart from being a comfortable pair that she can wear all day, it's also minimalist yet stylish, making it easy for her to wear anytime, anywhere. These shoes, much like a trustworthy friend, has not let her down.
What makes a good pair of shoes, according to Laura:
"A decent pair of shoes must be versatile and comfortable. It's all about getting good mileage — both literally and figuratively — out of your shoes, too!"
and her white sneakers
The brand often plays a role in how much we fare its value, but for
Evon
, a pair of
unbranded white sneakers
became her most valuable and reliable pair. She shared that she "hardly spends on white shoes" since "they get dirty really fast". But because she found these shoes for less than MYR100/~USD23, she decided they fit into her budget cost-wise. She surprised herself when she started reaching for those sneakers so often that they became her ultimate favourite.
"It's so comfy and easy to match that I even bring it to me on night stops both locally and overseas," the flight stewardess shared. The pair is now a regular in most of her travel snaps, outfit shots, and even a part of her Halloween costume, carrying memories worth way more than its price tag.
What makes a good pair of shoes, according to Evon:
"I walk a lot when I travel so it's important to have comfortable shoes. Trust me, you'd rather want a reliable pair than one that just 'looks nice' but hurts your legs and feet the longer you wear it."
and her Melissa Doll III flats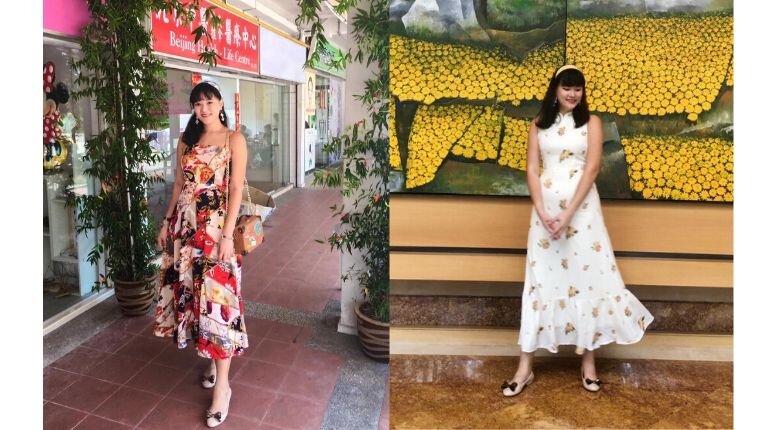 Danetelle's shoes are more than just for outfit matching. (Photos from: @danetelle)
For
Danetelle
, her nude pair of
Melissa Doll III
indicated her new status "in society as a graduate". She shared that it was her graduation gift to herself in replacement of an older Melissa pair that was gifted to her by her ex-boyfriend, which she wore all throughout her university life.
"The last pair was really worn-off by the time I finished school, so I finally got the time to choose another pair when I graduated. [This new pair] means so much to me. I wear it on so many occasions," she said. She added that the number of photos of her donning this pair "says more than a thousand words" as to how much it means to her. She also expressed that she chose this specific pair for various practical reasons. For one, nude is a very versatile colour that matches most outfits — even cheongsams. Also, the 1.75M-tall undergrad opted for flats instead of heels as she didn't need that extra boost in height.
What makes a good pair of shoes, according to Danetelle:
"Comfort is my top priority. Before [the pandemic], I think most Singaporeans spend more than half our days outside, either working or simply socialising. Given my height and that I'm a size 41 in shoe size, it's not easy to find shoes that fit me perfectly so comfort is definitely key. Next is versatility, simply because I like to dress up and I like my shoes to match almost all of the clothes I have."
Clozetter Ana Pulumbarit-Maquinay
and her Sam Edelman platform heels

When we see a beautiful pair of shoes, we often think luxury and affluence. But for Ana, her Sam Edelman Leigh Canvass Peacock Platform Heels serve as a time capsule, bringing her memories of humble beginnings and youthful aspirations.

"I saw it online about 10 years ago and it cost a whole lot then as a preschool teacher," she shared. "After half a year of salivating after its beauty, it went on sale at 70 per cent off, so I asked my sister — more like begged — to buy it for me. She gave them to me as a Christmas gift even after I insisted on paying her back."

Looking back at the decade she has spent with the pair, Ana added that every time she wears it, she is reminded of a time when she was "newly married and had no stable cash flow." The pair evolved along with her as a person, which she fondly described as "a dream waiting to happen".

What makes a good pair of shoes, according to Ana: "A good pair should be clean, durable, and have a well-thought-out design. It should be comfortable yet versatile — any pair of heels that fit this description is a GEM. I also value the design process that an artist puts into a pair because it means that they do not only wish to express themselves through the piece but also thinks of the wearer and how it will beautify them."
Did this story make you think about your favourite shoes? Let these inspiring stories on style risks challenge you to go bold with your fashion choices.
Comments, questions or feedback? Email us at [email protected].