It's no secret that living a sustainable lifestyle requires more effort. You have to be more discerning about the products you buy, research about brands and their supply chain, limit your consumption of cheap, trendy items or maybe give it up altogether and more. But even so, it doesn't have to be a burden. For example, there are simple ways you can take to create a more sustainable wardrobe. To help us with this endeavour, we talked to Chetna Bhatt, the founder of sustainable lifestyle brand Ashepa.
Known for their uniquely designed accessories and bags, Ashepa also offers homeware and other handmade home decors. They collaborate directly with artists in Africa to create beautiful items that are truly one-of-a-kind. Ahead, our interview with Chetna Bhatt about what it means to have a sustainable brand and her tips on how we can live a sustainable lifestyle.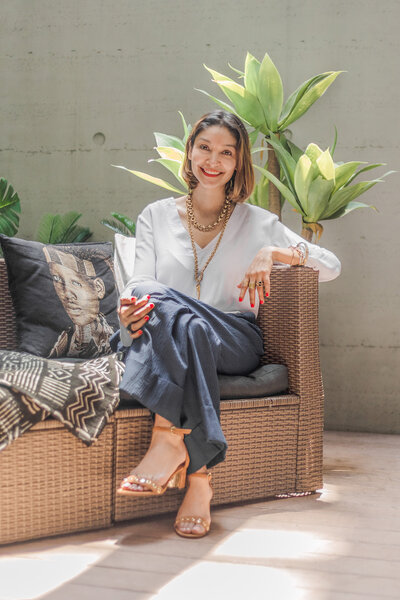 What made you decide to go the sustainable route?
I have always had a passion for beautiful artisan pieces but realised I didn't know anything about the products or the persons behind them. So when I started Ashepa, one of my goals was to let the consumer know about the person behind every item and know where it was made. I want them to know that there is a human behind every piece. It was also important to me that the people we worked with earned a fair wage to provide better livelihoods for their families and are able to pass on their craft to the next generation. To me, sustainability must also include economic and social equity objectives.
What does it mean to be a sustainable brand?
A sustainable brand sets out to have a meaning or purpose that goes beyond financial results and is constantly seeking to increase the well-being of humanity and all life on our planet. This includes everything from labour practices to the environmental impact of their production. It sees people as activists, not consumers. And it understands the lifecycle and environmental impact of all its activities so that it can seek to continuously innovate and reduce its impact.
How can consumers identify brands that are "greenwashing"?
The reality is that for some businesses it's all about numbers and money and people measure a successful business based on that rather than the impact it is having. To identify and avoid brands who do 'greenwashing', you can go to the company's website and see if the information on the product is thorough. If the information is vague or they are making huge claims that should ring alarm bells. Consumers should feel at liberty to ask where their product comes from. It is also the brand's responsibility to be more transparent about their supply chain so that the end-user feels they are well-informed about the product.
How does Ashepa ensure sustainable production and ethical sourcing?
As we are a small business, we are not officially Fair-trade-certified yet, but we practice the same values. Our artisans are paid a fair wage and that means they get paid over the local minimum wage which provides them with a higher income than what they would normally earn. We work directly with the artisans and there are no middle people.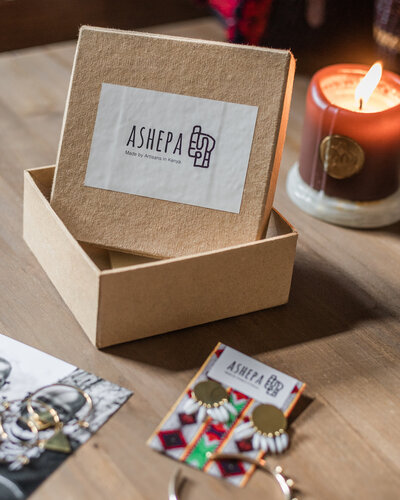 Secondly, all our pieces are made from locally sourced and eco-friendly materials. Our jewellery is made in Kenya from upcycled brass. The handbags and some baskets are made from a natural plant material called Raffia. We have recently introduced a range of baskets that are made from certified cotton, too. For me it wasn't a question about implementing ethical practices, it had to happen and that was one of our core beliefs.
What's your advice for people who want to live a more sustainable lifestyle?
It is virtually impossible to be 100 per cent sustainable but you can start by trying to be with what you buy. Ask yourself if you're going to use that piece to its full worth. Next, make the effort to look for brands that are environmentally, socially and economically responsible. Look for brands that are transparent in their production line. Always shop slow by shopping for high-quality and timeless designs that will last you a long time. You can also consider renting clothes, which allows you to still be trendy but lessen the impact on landfills. Lastly, be creative and repurpose pieces that you own!


In your opinion, what trends are sustainable? Which ones should we avoid?
Vintage fashion to me can be worn at anytime and passed onto generations because of the high-quality workmanship and materials used in it. As for trends to avoid, I'd say those that are using PVC and plastic. Some high-end designers have used these in their collections, but I'm not a big fan of the material as it has negative environmental impacts.
Do you think the future of fashion is sustainable?



I think a sustainable future for fashion is definitely possible. People craving sustainable clothing now than ever before. As mentioned, it is impossible to be 100 per cent sustainable but steps can be taken to get as close to it. Since consumers are the ones who power the fashion industry, the most effective way we can push for a more sustainable future is by transforming our consumption habits. This means adopting a mindful approach, that looks beyond instant gratification and towards long-term impact.
Do you have a piece of clothing or accessory that you've owned forever?
Yes, I definitely do. However, it isn't actually something I bought — it was my mum's. It's an electric blue pencil skirt that she wore in the 1980s that I absolutely fell in love with and a matching silver-plated earrings. The materials and finishing on these were perfect and timeless.
Comments, questions or feedback? Email us at [email protected].