Throughout Southeast Asia's millennia-long history, we've developed ingenious techniques and clothing traditions that reflected our rich and diverse cultures. Parts of the region crafted colourful textiles with techniques like batik and unique weaving ways. Our interactions with neighbouring and distant lands also led us to borrow and adapt their aesthetics and customs. Peranakans, drawing from a hybrid of Malay and Chinese cultures, crafted versions of local clothing laid with intricate embroidery and beading. Similarly, in the Philippines, there are also Filipiniana dresses, which evolved from a combination of native and Hispanic clothing influences during centuries of colonial rule.
Unfortunately, as time went, these became part of our past as we adopted clothing that is in-line with the ever-changing trends. Determined to bring these symbols of the old back into the fore, there rose a number of designers keen to reinvent these for the modern era.
Embracing identities
Noelle Kan, the woman behind KL-based brand KANOE, believes that traditional styles we once wore fell out of grasp in a period in time where we constantly looked at and emulated the West. During that time, traditional prints crafted with ancient techniques like batik "[were] probably seen as not cool" as what they would see in Western films, seeming like an article of clothing which only grandmas would wear.
But her love for the ancient arts pushed her to work together with local artisans and create everyday pieces from beautiful batik-laid textiles. Though digital printing now exists, Noelle believes batik techniques should be preserved and brought to the future because for her, "the slow and old process of batik-making brings a sense of warmth to this fast and digital age."
Like Noelle, because of his love and passion for Filipino Art, Marc Carcillar of MARCOPilipino strives to make the Philippine terno and indigenous weaves wearable today. For the Philippines, however, it isn't only the issue of Westernisation that has to be tackled, accessibility and practicality too. According to him, not many designers are aware of the wide array of local textiles communities in the country produces, plus, sourcing them is costlier than getting imported fabrics in the metro. As for Filipinianas like the terno, on the other hand, it had just become uncomfortable to wear for every day. "You can't wear an embellished terno in the streets in a humid environment like the Philippines," he commented. Still, he wanted to bring awareness that these are not just worn on special occasions. "It is a symbol, our identity as Filipinos — something we can be proud of," Marc stated.
But because there's now a desire for much of us to reconnect with our past, local creatives are empowered to bring their vision into life. Stephanie Choo of artisanal jewellery brand EDEN + ELIE said that this interest prompted them to find something meaningful in taking elements from the old and creating it anew. As such, her timeless creations draw largely from Peranakan culture, not just in terms of aesthetics, but also in the effort and soul she puts into her craft. "Whether it be beadwork, garment-making, or cooking, there is an incredible attention to detail and great effort, sometimes even painstaking effort, to create these exquisite pieces which express the maker's commitment to his or her craft," she pointed out.
Respectful revivals
In terms of visual style, Stephanie acknowledges that borrowing, adapting, and fusing naturally comes into it. "No one creates in a vacuum," she said, adding that "throughout history, artists from one part of the world would be swept up by trends from a different region." But paying homage to the past without stepping over the thin line between appreciation and appropriation needs careful understating of the stories and cultures you're drawing from. "Any revival in our shared culture and heritage should start from a deeper place of respecting and appreciating the intent, and not just a transference of style," Stephanie pointed out.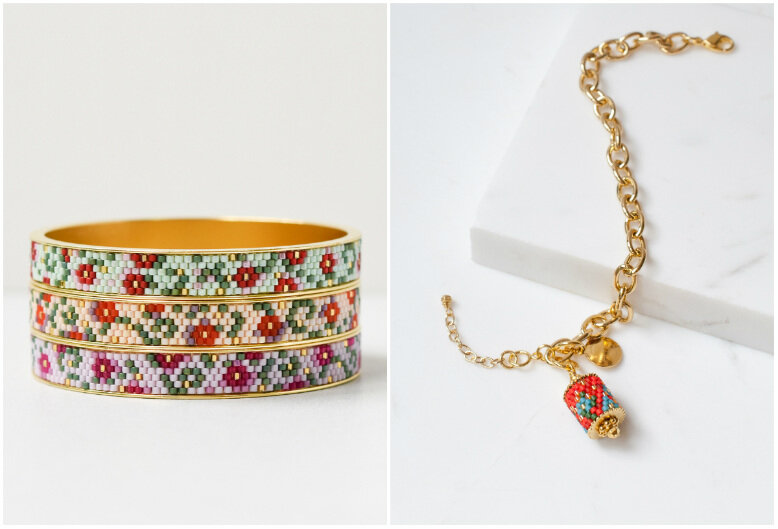 So, to create something that stays true to how people view and remember Peranakan arts, hours of researching and experimenting needed to be put in. For the beading patterns of EDEN + ELIE's Modern Peranakan collection, they studied countless kebaya designs and worked with popular floral motifs favoured by Nyonyas to create the right combination.
The research is one aspect of creation that Marc also takes seriously. As they use weaves from various cultural minorities in the Philippines, he highlighted, "I think it is equally important to know where these weaves came from through immersion, the story of the people who made it, how they come up with the design, and the meanings behind the patterns they created." That works, as is, of course, staying true to the signature element of the traditional clothing he recreates. When creating the modern ternos MARCOPilipino is known for, he doesn't change the signature element: the sleeves. "We don't change the rules in creating this important element. We still follow the standard while injecting our own brand identity."
Noelle goes about it the same way too with KANOE. Batik continues to evolve and progress, with various regions developing their own styles throughout the years. By sticking to the traditional method of using wax to create unique prints and by supporting the artisans in their work, she brings respect to the long-running history of the technique. Her intentions to champion their culture through her designs are recognised, and we see it in how varying generations receive her creations. According to her, "the older generation love the fact that we, the younger generation, are embracing their olden heritage [sic]," noting how comments like, "I used to wear something like that," or, "I like your batik," go around more from the older folks.
The past in the future
These three are just some of the countless creatives inspired to draw from almost-forgotten crafts to create something one-of-a-kind and new. All these three designers hope to link us back to our roots and support local communities. In their ingenuity, they serve as an inspiration for everyone to embrace their identities, sparking the renaissance of traditional fashion in the region. It's still a burgeoning trend, but seeing the appreciation these efforts are garnering from the local community signals that it will be a practice to last. Now that our distinct cultures and stories are sewn into the clothes and pieces we wear for every day, perhaps, a time will come that these elements no longer remain as mere remembrances of our past, but an identity we bring with us to the future.
(Cover photos from: @marcopilipino, @kanoewear, and edenandelie.com)
Next, go eco-conscious with your fashion by supporting these rising ethical labels.
Comments, questions or feedback? Email us at [email protected].