We always advocate for experimenting with various looks to create a style that's uniquely yours. But, in reality, we cannot deny the fact that doing away with style bibles takes guts. Stepping out clad in pieces you wouldn't think of wearing together is something the uninitiated might find uncomfortable. Still, some dare to go against the status quo, making a bold statement with their everyday wear. How do they let go of their inhibitions and truly express their individuality? Daringly creative, three women with stunning eclectic fashion share how they bend the rules of dressing.
Sifra Vania

As Sifra works in the fashion industry, one would expect that her everyday looks also slay. And, indeed, they do. The SG-based fashion stylist goes way beyond slaying — the style she curates for herself is one that's her own. Commonly seen donning bright, thrifted street style pieces complete with neon makeup, Sifra has found an affinity with the over-the-top E-girls aesthetic. How did her fashion evolve to that? Well, according to her, experimenting with colour all started when she bleached her hair and dyed it with different shades. "I need to dress the part, according to my hair colour while keeping it wearable for the weather," she said.
Sifra makes it effortless, but mixing together a bunch of different hues and prints can be tricky. But what exactly makes it work for her is the lack of rules when it comes to style. However, while she rebels against fashion conventions. "You do need to always educate yourself. Stay current with what's going on and be an open book to new things." Sifra usually gets her inspiration from social media, citing IG as her holy bible of inspiration, looking particularly at fashion week street style snaps. "I love to see how people dress to attend fashion week — fashionable while at the same time injecting [their] own style DNA to it."
Of course, her signature look that's an eclectic melting pot of fluorescent wear stands out in the crowd, attracting a lot of stares from people around her. However, she doesn't really take them in negatively, and instead, these sort of reactions become a form of flattery and empowerment for her. In fact, to her surprise, some people have actually stopped her along the way to compliment her. "The worst response has got to be from my husband," she jokingly shared. "He did ask me a couple of times not to be too eccentric with my hair, to keep it more 'normal.'" Because he dyes her hair pretty frequently, she usually has to bear it when he teasingly calls her a "Pokemon."
Jokes aside, as a visual being, Sifra finds that challenging herself with tricky ensembles gives her an insight as to why she's drawn into certain styles. "Your personal style is the sum of what you've seen, who you aspire to be, who you spend time with," she surmised. Ultimately, staying true to her rebellious soul, Sifra believes there's no right or wrong with experimenting in fashion. "You don't have to be too critical [because] you always evolve."
Meryl Bunyi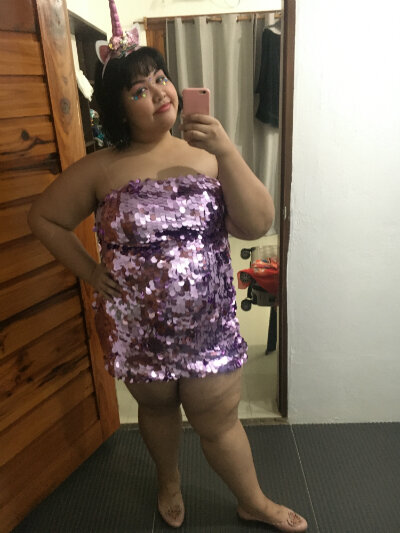 Another creative soul, Filipino TV writer and producer Meryl Bunyi has turned to fashion to express herself. Ever since she was a kid, she's always been experimental with her style, altering clothes and elements to fit her taste. "When I was in high school, it was a factor that I was plus-sized; there were limited options for me so I bought clothes I don't necessarily like but fit." That's when she started transitioning to wearing clothing that's more comfortable and functional but still curated based on a theme she sets for herself. "It's like dressing up for Ru Paul's Drag Race runway, there's a category," Meryl said about her current personal style that she calls "transitional and thematic."
A maximalist who's now learning to love minimalism, she has created her own styling rules. "I can't let go of some bold pieces so I still infuse them," she shared. You'll find her wearing minimalist silhouettes in vibrant colours, or in bold cuts dressed in minimal accessories. Aside from Dua Lipa's hip aesthetic, Meryl also takes inspiration from her travels, mood boards, and even interior design. She coordinates it all by opting to block and pair pieces of similar hues.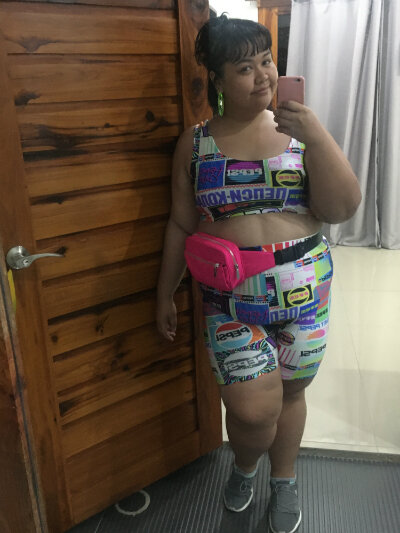 Though her set rules are there to ensure her statement-making outfits work, sometimes, she still breaks them and explores other ways of dressing. "The real key is to commit and walk the look," Meryl said, seeing confidence as essential to pulling it all off. Though she's been told by her mum to be responsible for what she wears to avoid getting a lot of stares in public, Meryl continues to stay true to the style that makes her happy. "Fashion becomes an expression for me of my mood, my story, my feelings, and my life," she explained.
Finally, she encourages everyone to embrace their unique self, "No matter what's your body type and shape, feel free to try your own style." She believes sticking to clothes that evoke joy also brings out the confidence in the wearer. In reality, the naysayers will always be there and not everyone will dig your one-of-a-kind fashion sense, but Meryl reminds us that "what matters is what you feel and that you own your look."
Dhan Illiani Yusof
KL-based indie pub Mulazine's art editor, Dhaniya Illiani Yusof, exhausts all avenues she could to create experimental art, dabbling in digital illustrations, photography, poetry, and of course, fashion. "I dress up because it's more of a direct form of art rather than a conscious attempt to look fashionable," the 23-year-old ice hockey player-slash-visual artist confessed. The result? A totally unexpected take on modest fashion comprised of an electric mix of clashing pieces, featuring her signature bucket hat and loose pinless shawl.
Dhan likens curating her ensembles to putting together collage art and sees no right or wrong way of doing it. "I emphasise on wearing what expresses me best, to treat myself as a walking canvas, regardless of whether it's a fashion do or don't so I don't worry about flopping," she said of her style philosophy. And, as one paints a masterpiece when styling her outfits, she follows her intuition and tries to express what she feels through the details she chooses to incorporate. "I just go with my mood — it can be as random as noticing a colour that I'd like to emphasise for the day or seeing certain patterns that look like they might not be the best of friends," she said, taking it as a challenge to make them work seamlessly together.
Embracing eclectic fashion like hers can initially be overwhelming, Dhan acknowledged, "It's either you own the style or it consumes you entirely." But as someone never afraid of pushing beyond the boundaries, she also notes that having confidence is a cherry on top when flaunting your look. Other than that, simply paying no attention helps keep you from being bothered by all these exaggerated reactions. "Since my head was always in the clouds, I wasn't at all tuned in or aware of my surroundings, so it was a blessing," she mused. Usually, she'd just find out all the remarks and stares her clothes incited through her friends who'd report back when hanging out with her. She'd find such stories funny, thus, over time, she even developed a saying because of it. "It's a good day to dress up and confuse people," she would say often.
Because her late mum loved dressing her up, Dhan grew to be naturally curious and playful with her style choices. But not everyone has the same courage to try unconventional styles. For those hesitant, Dhan recommends taking baby steps — confidence takes time to build, after all. Try including hints of details you love first, beginning with smaller pieces then gradually incorporating more. Many things are made better by more people involved, so she suggests roping in your friends by setting up an event where you can freely try outfits you're uncomfortable wearing in public. Dhan said, support always helps when starting out and finally, "Once you get used to the idea you're pretty much invincible."
(Cover photos from: @sifravania, @meryl_go_round, @dhanilliani)
Comments, questions or feedback? Email us at [email protected].