Singapore's very own godfather of fashion, Daniel Boey, is looking right ahead. Although the pandemic has posed the industry with many challenges, he remains optimistic about the possibilities and opportunities that fashion in the new normal can bring. "We want to show that, with the right partners and the right skill sets, we are versatile enough to adapt. And life can go on, and fashionably so, despite all the curveballs COVID-19 throws at us," he shared.
Speaking of opportunities in the new normal, the creative director and his team are busy gearing up for The Front Row 2021 (TFR2021), a virtual fashion festival in Singapore that will feature an exciting line-up of artists, curated podcasts and live stream collaborations — all housed within a free-to-view, 360-degree 3D platform. Read on as Daniel lets us in on the fashion lessons he's learnt from the pandemic, his honest thoughts on whether the industry is in dire need of a revamp (the answer's "yes"), and what to expect from The Front Row 2021, which kicks off this Friday, 27 August.
Hello, Daniel! How are preparations going for The Front Row 2021?
It's stressful, fun and exciting all rolled in one. Apart from adapting to the changing restrictions and making sure we maintain a safe, responsible environment when preparing for the festival, we are having a wonderful time chatting with our participants and conceptualising fashion runways and content for it.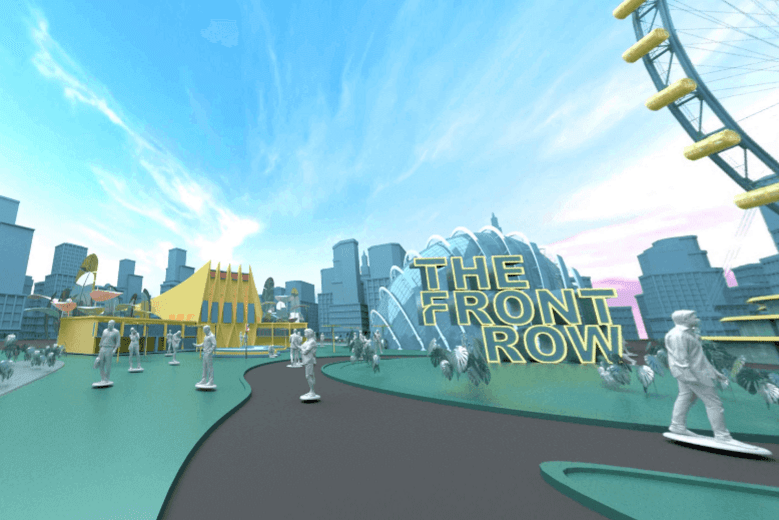 As a public, highly visible event, we have that responsibility to set a good example and to take care of all our partners and talents. It's the new normal, and we want to show that, with the right partners and the right skill sets, we are versatile enough to adapt. And life can go on, and fashionably so, despite all the curveballs COVID-19 throws at us.
Organising a fashion show — let alone a virtual one — is no mean feat! What inspired you to do so?
Organising a fashion show — physical or virtual — is creatively exciting. I love the opportunity to be able to tell the designers' stories through both mediums. A live show never fails to give me an adrenaline rush — cueing the models and tech in real-time and hearing the validation of the audience at the end of it. The anticipation that anything that can go wrong would go wrong keeps one on their toes every single time.
On the other hand, a virtual one allows me to take the show out of the constraints of a live show venue and experiment with out-of-the-ordinary places, giving it an added layer to more effectively tell the story without having to spend CHANEL-esque budgets to build fantastical sets. I'm extremely blessed to be able to continue doing what I love even in these difficult times and to be able to help fellow creatives whilst doing it.
This year's festival theme aims to build the future of fashion as responsible, inclusive and season-less. Why is this important to you?
This pandemic has made a lot of people sit up and realise the importance of caring for the earth. Labels are starting to realise that they have a very important part to play in the preservation of the earth, and it's heartening to see so many who have stepped up. And realising that being responsible is not just about recycling or up-cycling pieces.
We are also a firm believer in being inclusive. Fashion today does not condone racial or size discrimination and we are glad that it's reflected strongly in the content of The Front Row. Our campaign shoot features a racially diverse cast. Designer Max Tan is using models that span different age demographics, and Olive Ankara is using "real" people with real bodies in their show.
Tell us more about the participating partners, brands and guests that you're excited to showcase during the festival.
We're shining the spotlight on designers who have transformed their businesses in the wake of COVID, and this includes Coterie by Celest Thoi, who went from designing luxury bridal gowns to ready-to-wear pieces with a luxe sensibility. We are thrilled with our international content too, with the likes of Michael Cinco and Sebastian Gunawan and swimwear line Cover Me Not joining our line-up.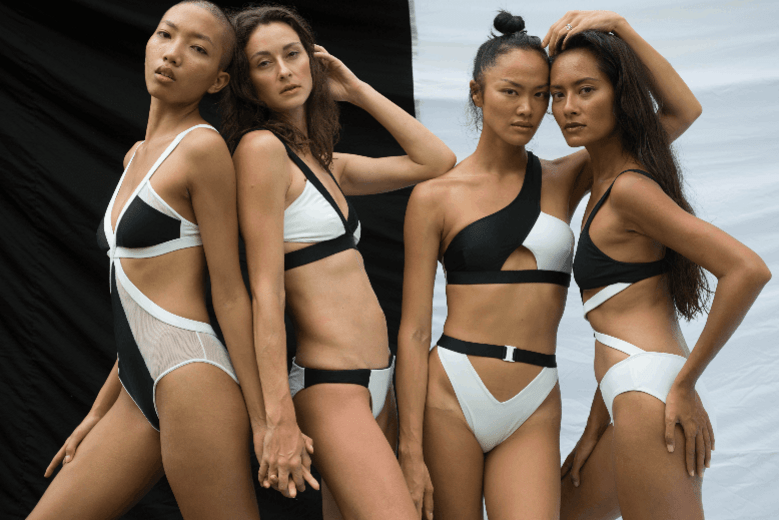 We've also tracked down Singapore-born creatives who have started successful fashion businesses overseas. We are showcasing three labels this year, all of which have embraced a responsible fashion business model. Collaborations are key in today's fashion world and we are proud to say we spawned a few that arose from designers' participation in TFR2020, such as between The Better Diamond and Marilyn Tan Jewellery, which pairs sustainability with heritage.
The Front Row is thrilled to join hands with Miss Universe Singapore too. (I am their new creative director.) It'll be wonderful to see this pageant finally including Singapore creatives into its fold, and shooting the finals in unexpected, spectacular Singapore locales. (It's the world's first hybrid-digital pageant and we are so excited!)
We will focus on the achievements of our local modelling agencies. Our curated exhibitions will showcase the work of international Filipino photographer Filbert Kung, French Paper sculptor Marianne Guély, Singapore's photography duo, Chuando & Frey.

What are some important lessons that you and the team have learnt since the festival's inaugural launch last year? How have they impacted your approach for this year's?
In 2020, when we were planning the festival, creatives, labels and tech companies were all reacting to the pandemic. Most of us were in the process of pivoting and there was lots of uncertainty.
For our sophomore effort, using all the lessons we have learned as well as the new skills that we have all picked up over the past year, you see a more confident programming for TFR2021 — labels that have used the past year to assess and have come up with strong, assured business plans and collections; new technologies that have been incorporated as the norm rather than as a novelty in digital fashion content; creatives who have adapted to a life online and dedicated to conceptualising immersive, interesting content.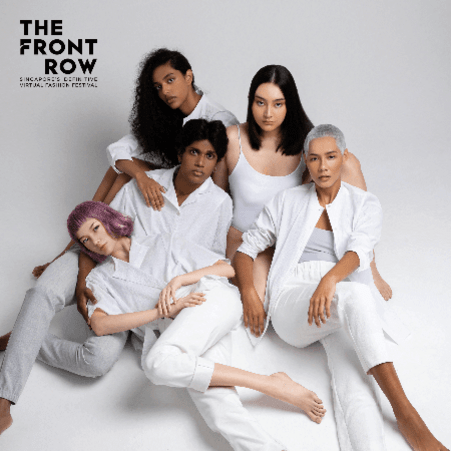 The Front Row is a highly adaptable event. It can take on a hybrid format with a select number of attendees watching a physical show, which will also be broadcasted virtually, or it can also go fully virtual. The final event execution depends on prevailing safe management measures during the event period. And this versatility stems from a new confidence and new skills acquired from organising the inaugural festival at the height of the pandemic last year.
I dare say TFR is shaping up to be one of the important collective sites to discover underground, cult, or exciting new Singapore designers and international designers of Asian descent. Most importantly, TFR aims to bring together like-minded fashion creatives and businesses. Now, more than ever, we need to be united. We are a resilient, intelligent lot, and we will survive.
What are the key similarities and differences between organising a real-life runway show and a virtual one?

The process of conceptualising a physical or digital show is the same. We sit with the designer and create a fantasy setting in which to tell the story of their collections.
Real-life runway shows play to an audience so you have to take into consideration the set, the choreography, the lighting as well as the placement of the guests. One has to plan a show from the perspective of the guests and be mindful of the fact that people seated in different areas will have different perspectives of the show. The choreography has to work for every single perspective.
A virtual one plays to the camera. We determine the perspective from which the story is told, and interpret that through the various camera angles. Essentially, the camera represents the audience's eyes.
Both lighting and choreography have to work not just for the physical space but also for the camera. I usually work closely with an art director and editor for digital runway shows to ensure the story is told correctly and in the most interesting way. My experience working with staging, multimedia, music, lighting and performers in live shows has held me in good stead and given me the knowledge to add a layer of aesthetics to the digital content.
Do you think the pandemic has changed the way we see fashion? If yes, how so? If no, why?
I do think there is a shift towards more practical, comfortable fashion and brands are adapting and adjusting their designs to accommodate this. Even luxury labels are creating more practical albeit beautiful collections. However, I realise also that there are labels that are creating statement-making collections because there is a desire for the fantastical to lift spirits in these dark times. This is especially reflected in the recent haute couture shows by the likes of Schiaparelli.
And then there are labels that are using this opportunity to put out collections that make a statement or are embracing inclusivity and responsible fashions through their runway shows, such as Virgil Abloh at Louis Vuitton, who has been showcasing the work of black creatives and putting out strong, statement-making menswear shows. Likewise, Nicholas Ghesquière has been including transgender models in his shows.
From fashion-focused NFTs marketplaces to AI influencers, it's clear that fashion and tech go hand in hand in shaping the way we consume fashion today. However, in your opinion, which aspects of fashion do you believe ought to retain their traditional "roots", and which ones are in dire need of digitalisation and revitalisation?
I think the fashion industry pre-pandemic was already in dire need of a revamp. People were clinging on to old, antiquated models. Fashion was also a very wasteful industry, not just the manufacturing of fabrics and garments but also all the supporting industries.
As a show producer, I was guilty of using large amounts of raw materials to build massive, temporary sets that were all torn down at the culmination of the show. Think also of the massive carbon footprint from flying media, influencers and guests around the world many times a year to attend fashion shows.
Tech shouldn't be perceived as a bad word. There are wonderful aspects of tech that allow labels with smaller budgets to reach out to a wider audience. It's more sustainable, eco-friendly and a more responsible way of creating fashion content and the potential to harness its capabilities is infinite.
Working on the content for TFR with our foreign contributors have also shown that we no longer need to travel in order to collaborate. And once we grasp the vast digital opportunities available to us, the sky really is the limit.
I think it'll be wonderful for us to be able to film fashion content in unexpected, off-the-beaten-track locations and allow people to see Singapore in a different light. I do, however, sometimes yearn for the adrenaline rush of a live show and the applause of an appreciative audience. I am a firm believer that a nice hybrid balance can be achieved, moving ahead.
How can fashion lovers be more involved in shaping the future of fashion?
The future of fashion is more conscious, circular, and responsible, with digital experiences becoming more important than ever before. If you want to keep up with where fashion is heading, keep sustainability and responsible consumption in mind, redefine the choices we make, and shop from labels and platforms that share the same outlook and are dedicated to transforming the future of fashion by driving positive change.
This interview has been edited for brevity and clarity.
(Cover photos from: The Front Row 2021 and Raymond Lee @rayleegoodpictures from Capsule Productions)
Next, check out our interview with the finalists of the Singapore Stories 2021 fashion design competition.

Comments, questions or feedback? Email us at [email protected].