Those who say that chores can't be fun have yet to meet Diptyque La Droguerie, a luxurious cleaning collection from the French fragrance brand that will make your home smell as good as a perfume boutique.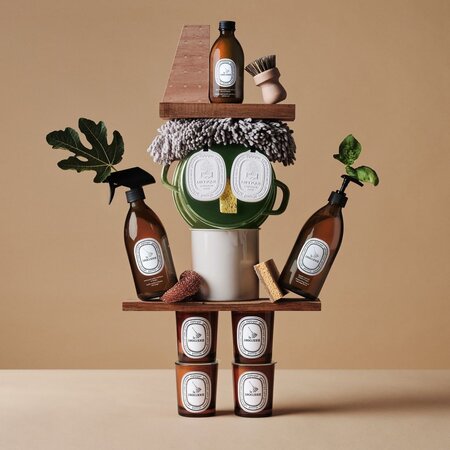 Diptyque La Droguerie Range: Products, price
The Diptyque La Droguerie collection features six products, each featuring a unique aroma. Ooh, lala!
The glass-bottled Dishwashing Liquid With Orange Blossom (SGD60 per 500ML) comes with the zesty notes of mandarin, basil, and, of course, orange blossom. You can buy the Dish Brush (EUR12/~SGD18) made from wood and plant fibre to complete the dishwashing set.
Meanwhile, the Multi-Surface Cleaner With Vinegar (SGD60 per 500ML) has a clean scent that features vinegar, lavender, cedar and fig tree notes.
There's also the Leather And Wood Care Lotion With Beeswax (SGD43 per 250ML), which can be used to shine and polish furniture and leather goods while also infusing them with notes of beeswax, cedar and patchouli.
Once you're done cleaning, you can finish up by lighting the Odor Removing Candle With Basil (SGD99 per 190G), which features a basil, mint and tomato leaf scent. It was created based on a technology that targets and eliminates foul odour-causing molecules. You can also put the Ceramic For Wool and Delicate Textiles With Cedarwood (SGD68) in nooks to prevent any mouldy scent; this also serves as a natural moth repellent.
All items from Diptyque La Droguerie are eco-friendly and have a refill option so you don't have to worry about polluting the environment while cleaning your home.
Diptyque La Droguerie Range: Where to buy
Diptyque La Droguerie products are available at Diptyque boutiques in Singapore and on Escentials' website except for the Dish Brush which is available at Diptyque's official website (can be delivered via third-party mail forwarding service).
(Cover photo from: @diptyque)
Next, find the best vacuum cleaner for your home here.

Comments, questions or feedback? Email us at [email protected].