The last couple of years ushered in a new appreciation for devices like diffusers. But Byredo's new collaboration with speaker brand OJAS aims to elevate your home life one step higher by introducing Olfactive Stéréophonique a.k.a. Scent Machine.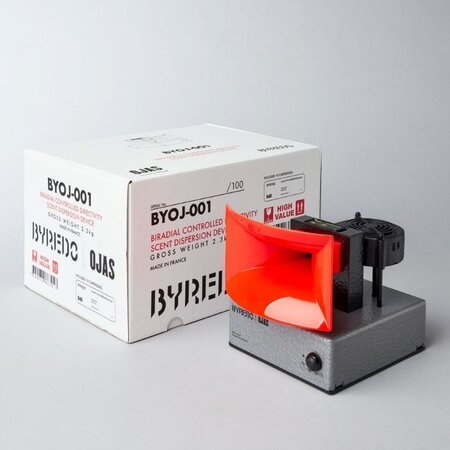 What is it?
The device brings sound and scent together by acting as a diffuser and sound machine in one through the use of an acoustic horn that strategically emits fragrance along with the sound for better smell distribution.
It comes with 10 capsules featuring an exclusive scent made by Byredo and OJAS for the collaboration. The fragrance is inspired by the soothing scent found in Hindu and Buddhist temples, carrying notes of papyrus, ylang-ylang, cloves, and incense. Each capsule lasts up to 50 days on average.
Does it work with your usual playlist?
Unfortunately not. The 'scent machine' doesn't work like your usual Bluetooth speaker, which means you can't just connect it to any device to play any song. However, it is designed to play ambient sounds that work well with the scent capsules it comes with.
Price and where to buy it
The Byredo x OJAS Olfactive Stéréophonique Scent Machine is sold around USD1,078 or roughly SGD1,452 (exclusive of shipping) but is currently sold out on Byredo's website. Watch this space for news if it will be available online again or you can head over any Byredo flagship store globally to check for stocks; the one in Singapore is in Ngee Ann City.
(Cover photo from: byredo.com)
Comments, questions or feedback? Email us at [email protected].