For the first time in Samsung Unpacked history, global media congregated in Seoul, South Korea for the unveiling of the brand's next-generation products. For the uninitiated, the much-anticipated tech event had mostly taken place in major cities on the other side of the globe since its inception in 2009 — think New York, London, Berlin and Barcelona — where they announced new product releases and the latest iterations and updates to their existing product lines.
This July, Unpacked makes its return home to South Korea, the home country of the South Korean multinational electronics corporation and the heart of the K-wave phenomenon. Whether you're a vibrant, trendsetting creative or wellness advocate, get ready to join the flip side with the latest from the Galaxy Z Fold and Flip phone series, the Watch series, and the Tab series. From launch dates to prices, here are the details.
Flex your versatility with the Galaxy Z Flip5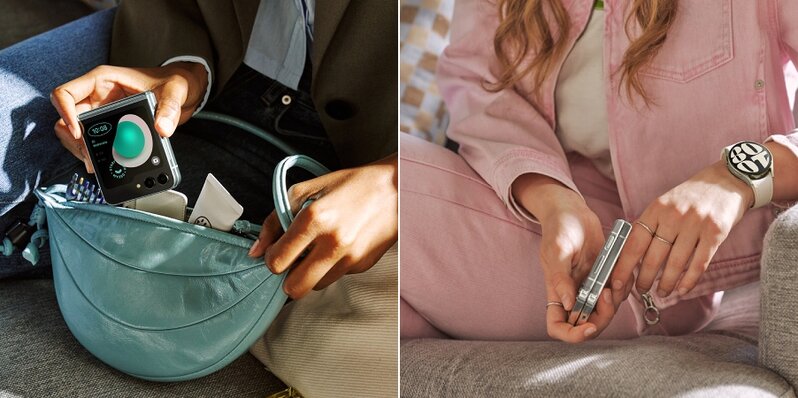 Are you a content creator or just an individual who values self-expression? Pick up the Galaxy Z Flip5 and slip it into your pocket (or pre-order it now). Its new 3.4-inch Flex Window is 3.78 times larger than that of the Flip 4, which means that you can now enjoy heightened customisation with Widgets and next-level convenience — from replying to texts using Quick Reply with a full QWERTY keyboard on display to making payments through Samsung Wallet without even opening your device.
Thanks to the new Flex Window, you also get to take high-quality selfies with the rear camera, go hands-free with FlexCam, or quickly view and edit shots in Flex Mode. Getting a friend to snap an OOTD for you? Dual Preview allows you to see yourself in the Flex Window so you can make adjustments in real-time to frame that Instagram-worthy shot.
Expect a range of accessories to complement your Flip5 including a Clear Gadget Case, Flap Eco-Leather Case, Flipsuit Case and easy-to-carry Silicone Case with Ring to create a more personalized look.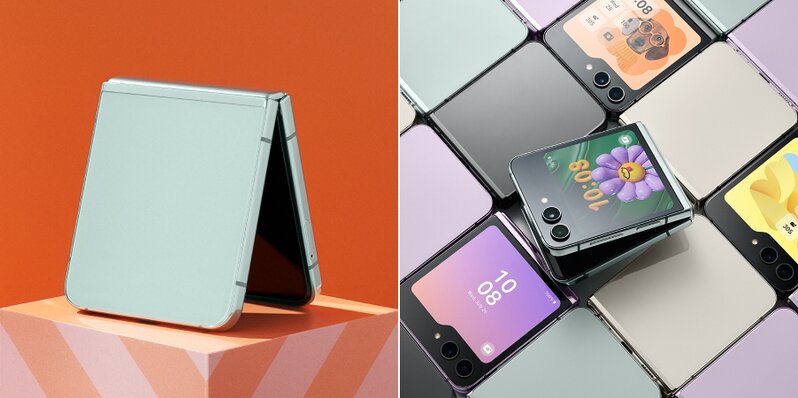 The Samsung Galaxy Z Flip5 is available in four colours: Mint, Graphite, Cream and Lavender. It is priced at SGD1,498 for 256GB, and SGD1,678 for 512GB. You can also find the online exclusive bespoke collection in Green, Blue, Yellow and Gray at the same retail prices.
Work hard, play hard with the Z Fold5
For the ones working on the go, the new Galaxy Z Fold5 is geared up to be a "powerful PC in your pocket", according to TM Roh, President and Head of Mobile eXperience at Samsung Electronics. Revolutionise your productivity with Fold5 features such as Taskbar, two-handed drag and drop, and third-party app optimisation. The S Pen Fold Edition has also been refined to be slimmer — 41% slimmer at 4.35mm to be exact — and more compact.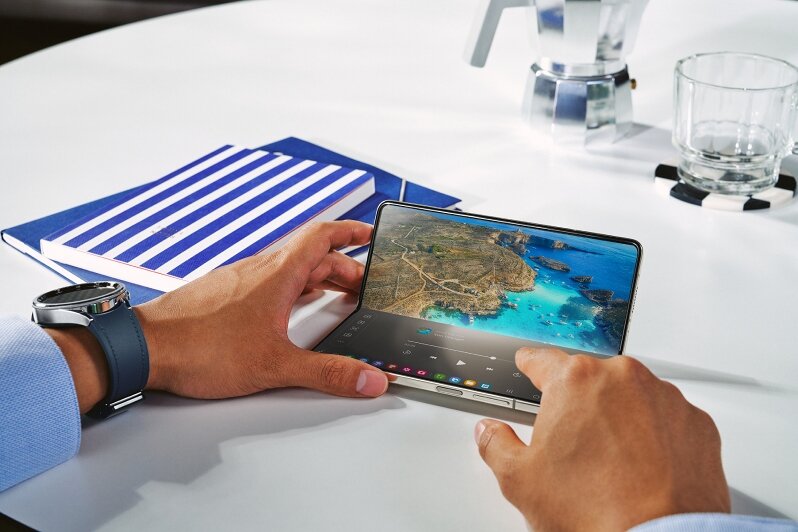 Go from work to play with the 7.6-inch Main Screen. Equipped with Snapdragon® 8 Gen 2 Mobile Platform for Galaxy, it delivers an immersive gaming experience with advanced cooling for uninterrupted performance.
Look forward to a range of accessories to complement your Fold5 including a Slim S Pen Case, Clear Gadget Case, Eco-Leather Case, and a Standing Case with Strap.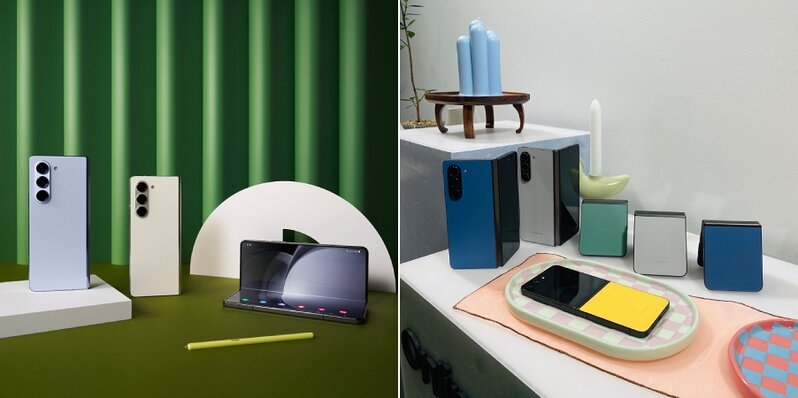 The Samsung Galaxy Z Fold5 is available in three colours: Icy Blue, Phantom Black, and Cream. It is priced at SGD2,398 for 256GB, and SGD2,578 for 512GB. You can also find the online exclusive bespoke collection in Blue and Gray at the same retail prices.
Flex your Samsung Galaxy Zs without the worry
Are foldable phones a good idea? It's true — foldables have gotten a bad rep in the past for their durability issue. But the new Galaxy Z Flip5 and Fold5 have been upgraded with this concern in mind.
Flex Hinge is a new integrated hinge module that features a dual rail structure to minimise external impacts, promising zero gap crease and less visible screen fold. It is also 2mm slimmer than its predecessor — how bout' that?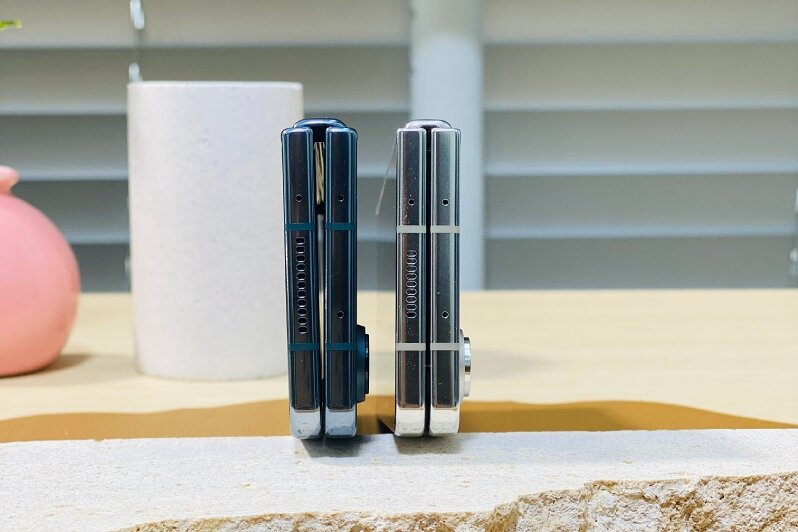 What's more, the main screen is enhanced with a shock dispersion layer and a rejuvenated back for a more solid display. Along with IPX83 support, armour Aluminium frames, and Corning® Gorilla® Glass Ictus®24 applied to both the Flex Window and back cover, the new Galaxy Z series has come a long way with its innovative enhancements to promise a foldable experience that is uncompromising and absolutely enjoyable.
But we get you. For peace of mind, consider opting for Samsung Care+ Screen Care, the brand's total care program for Samsung Galaxy Z users. Preorder now to enjoy complimentary one-year Samsung Care+ Screen Care. Plus, enjoy 50% savings on out-of-warranty repairs, extended warranty, and a free one-time screen replacement within the Samsung Care+ Screen Care policy period.
Crush your wellness goals with the Galaxy Watch6 and Watch6 Classic
Are you all about #wellness, #fitness, #healthylifestyle, and #selfcare? The Galaxy Watch6 and Watch6 Classic offer three exciting updates to have you subscribed to better sleep and fitness in no time. Advanced sleep management offers in-depth Sleep Score Factors and individualised Sleep Messages. This is made possible by the BioActive Sensor, which measures critical indicators of your health, to empower smart sleep and fitness coaching in a smartwatch. Five Personalised Heart Rate Zones — warm up, fat burn, cardio, hard training, and max effort — keep you focused on achieving your fitness goals based on your heart rate.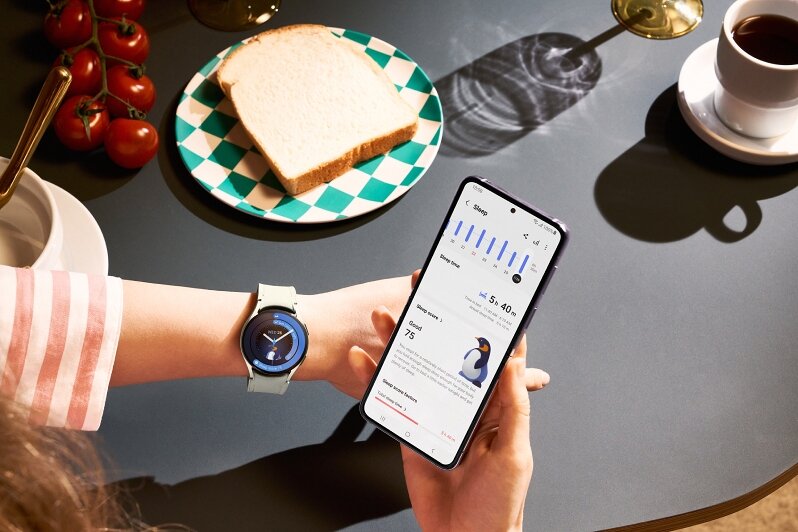 On the aesthetic side, the watch features an improved design with a larger display and slimmer bezels — Galaxy Watch6 and Watch6 Classic come with a 30% slimmer bezel and a 15% thinner rotating bezel respectively — for an enhanced user experience. The battery life is also optimised, and new apps are introduced for added functionality.
The Samsung Galaxy Watch6 comes in 44mm in Graphite and Silver, and in 40mm in Graphite and Gold. The Galaxy Watch6 Classic is available in Black and Silver in 43mm and 47mm. Prices range from SGD448 for a Galaxy Watch6 (Bluetooth ver.) in 40mm to SGD748 for a Galaxy Watch6 Classic (LTE ver.) in 47mm.
Be entertained on the Galaxy Tab S9 series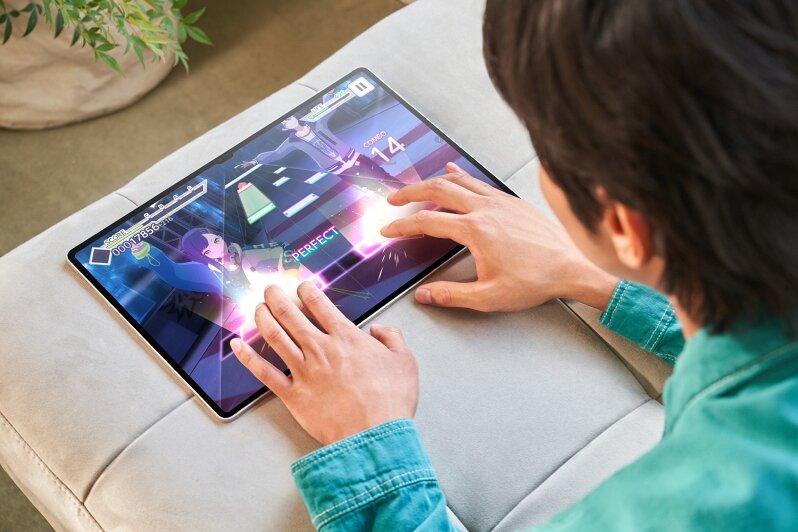 Calling all gaming enthusiasts and K-drama fans! Take your enjoyment to unprecedented heights with the new Galaxy Tab S9 series. It has a Dynamic AMOLED 2X display coupled with the power of Qualcomm Snapdragon® 8 Gen 2 for Galaxy — plus enhanced audio with sound by AKG speaker system and Dolby Atmos immersive sound — to ensure your entertainment is elevated to epic levels.
Dropped your tablet and your in-box S Pen into the bathtub? Venturing into the wild? No problem. It is dust- and water-resistant with a remarkable IP68 rating.
The Samsung Galaxy Tab S9 Series comes in two colours: Beige and Graphite, and three sizes: 14.6-inch on Tab S9 Ultra, 12.4-inch on Tab S9+, and 11-inch on Tab S9. Prices range from SGD1,128 for a Galaxy Tab S9 (128GB) to SGD1,888 for a Galaxy Tab S9 Ultra 5G (256GB).
Are you joining the flip side? The new Samsung Galaxy line-up is now available for pre-order, with general availability starting on 11 August 2023.
Check out our review of the Samsung Galaxy S21 FE.
Comments, questions or feedback? Email us at [email protected].