We don't exactly have spring in our region but that doesn't mean you're excused from spring cleaning. The new quarter is a great time to primp up your space and declutter. What better way to start than with a good ol' vacuuming session? Not only does this cleaning activity help deal with dust bunnies, but it also has its fair share of health benefits.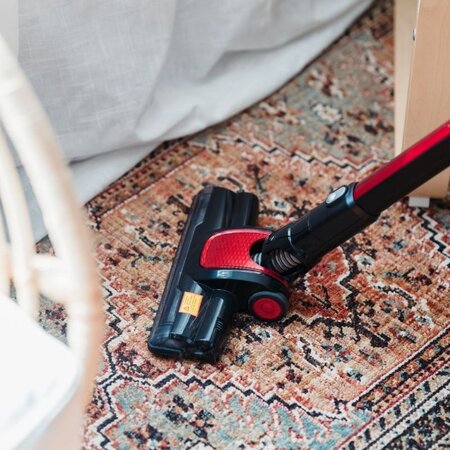 The health advantages of vacuuming
Apart from keeping your rooms visibly clean,
vacuuming
also helps remove pollen and other irritants and allergens that the naked eye can't see. It also prevents microscopic mite infestations on surfaces like your bed, your couch, and your carpet,which can contribute even more to allergies or skin issues without you realising it.
Vacuuming also gets you moving, which means you're working your muscles and putting in physical effort while getting some housework done. Who doesn't like hitting two birds with one stone?
Check out these 10 vacuums available in Singapore that will significantly upgrade your house cleaning.


1. Dyson Omni-glide™ +
Twist, turn, and get those nasty corners clean with Dyson's easy-to-manoeuvre vacuum. The device is not only omnidirectional on the main suction, but even the handle adjusts to a 180-degree angle to help you get under cabinets and tables with ease. It's also engineered for hard floors with brush bars covered in both soft nylon for large particles and black anti-static carbon fibre filaments for fine dust.
It also has a line pipe crevice tool with LED lights as it allows you to sweep any nook and cranny clean no matter how dark it is.
Why you should buy it:
Easy-to-manoeuvre
Soft nylon and anti-static carbon fibre filaments for big and small particles
Line pipe crevice tool with LED lights
Click here to get notified when this vacuum (priced at SGD699) goes back in stock on Dyson Singapore's website.


2. TOYOMI Handheld Stick Vacuum Cleaner 800W VC 341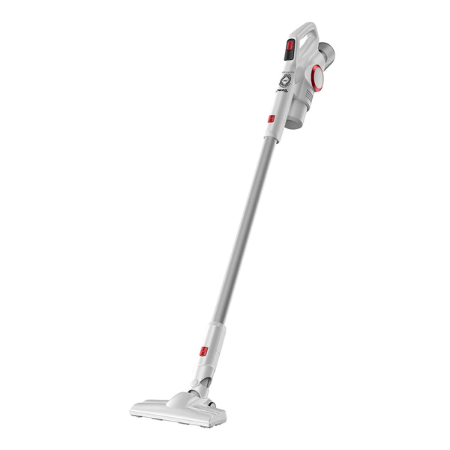 This vacuum has a mini cyclone design that helps clean exhaust air as you're dealing with dusting duties. It's also made from washable stainless steel and has an easy-to-clean filtration system, making it fully geared for all your heavy-duty cleaning needs. It's also lightweight and sleek, making storage no hassle at all.
It also transforms from a regular stick vacuum that's great for floors and rugs to a handheld vacuum for easy-to-reach surfaces. It even turns into an upholstery brush that collects crumbs and other dirt with ease.
Why you should buy it:
Lightweight and sleek
Cleans exhaust air with mini cyclone design
Washable stainless steel
Easy-to-clean filtration system
Transforms to regular stick vacuum
Get it on Toyomi.com.sg for SGD89.90.
3. Philips 4000 Series Cordless Stick Vacuum Cleaner
This slim-design vacuum cleaner allows you to clean even the most cramped spaces with its easy to swivel and carry body. It has a motorised brush nozzle with an anti-hair tangle function that allows you to seamlessly deal with hair fallout or pet shedding. It also has a convenient LED monitor that gives you a quick view of your settings and battery status so you can keep track of your cleaning progress easily.
It also has a high-capacity 2500mAh Li-ion batteries can provide up to 18 minutes of runtime in Turbo mode and 30 minutes in Regular mode for convenient cordless cleaning.
Why you should buy it:
Slim design
Anti-tangle function
Easy to view LED monitor
High-capacity 2500mAh Li-ion batteries
Get it on Philips.com.sg for SGD397.99.


4. Grunn Wireless Handheld Vacuum V8 Turbobac
This device has a Brushless DC Motor that has a powerful suction technology. This helps eliminate both visible and minuscule particles from even the thickest carpets and fabrics in your home. It's also wireless and rechargeable, which means you can take it anywhere in the house without the hassle of tangled-up cords.
It also has a cone-shaped design specifically created to lessen unnecessary suction noise as you clean.
Why you should buy it:
Brushless DC Motor
Wireless and rechargeable
Cone shape design prevents unnecessary noise
Get it on Grunn.sg for SG269.
5. Dibea F20 Max Cordless Vacuum Cleaner
This vacuum has an amazing 25,000 PA suction power that leaves no debris or mites behind. Its roller design with LED lights also helps you sift through even the darkest corners without missing any dirt residue. It's also designed to keep the noise on the down-low, making sure your cleaning routine can be as zen as possible.
It also has a large-capacity dust canister that has many compatible accessories to help you customise your device further depending on your needs.
Why you should buy it:
25,000 PA suction power

Rollers with LED lights
High capacity dust canister
Get it at Shopee for SGD209.


6. Ecovacs Deebot U2 Pro Robot Vacuum Cleaner
Don't let its size fool you — this trusty vacuum robot available in Singapore has a 400ML dustbin and 300ML reservoir that allows it to sweep and mop in one effectively. It also has a pet care kit which is specifically designed for fur mums and dads who need extra help to clean after their fur babies day in and day out.
It also has a remote setup function which allows you to control the U2's settings wherever you are in the house using its designated smartphone app.
Why you should buy it:
400ML dustbin and 300ML reservoir

Pet care kit for your fur babies
Smartphone app to control your device
Get it on Qoo10.sg for SGD279.


7. Bosch Rechargeable Vacuum Cleaner BHN20L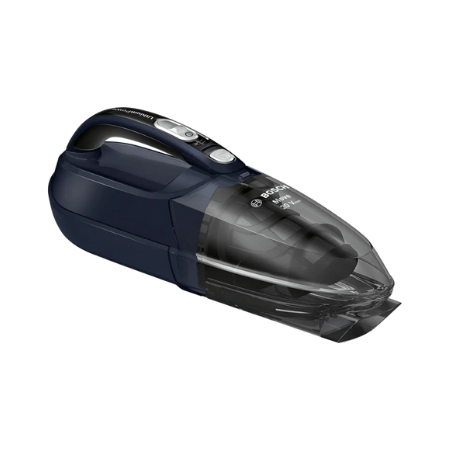 This rechargeable vacuum cleaner is perfect for quick but thorough cleaning sessions given its compact size and powerful suction power. It's run by Bosch's Lithium-Ion Technology which ensures powerful, durable, and long-lasting batteries that deliver the bang for your buck.
It also has a High Airflow System that provides efficient and top-notch dust separation for easy discarding of even the finest residue once you're done using it.
Why you should buy it:
Durable Lithium-Ion Technology batteries

High Airflow System for dust separation
Rechargeable and compact
Get it at LAZADA for SGD129.


8. Shark Wandvac System WS632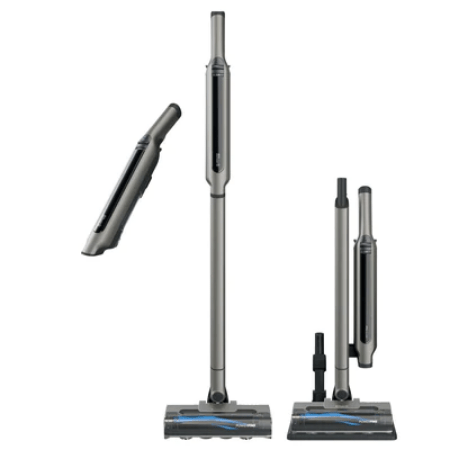 Powered with HyperVelocity® accelerated suction power, this device has multiple one-touch functions that allow you to switch between settings with ease. Its slim and lightweight design also provides a comfortable experience as you clean, while still doing its deep-cleaning magic efficiently. It can even transform from a stick vacuum to a crevice device in a jiffy.
It also has a portable charging base that allows you to get the device pumped and ready after use for your next cleaning session anywhere and anytime around the house.
Why you should buy it:
Has HyperVelocity® accelerated suction power

Slim and lightweight design
Has portable charging
Get it on Ninjakitchen.sg for SGD399.99.
9. Leifeit Nemo Window Vacuum Cleaner L51030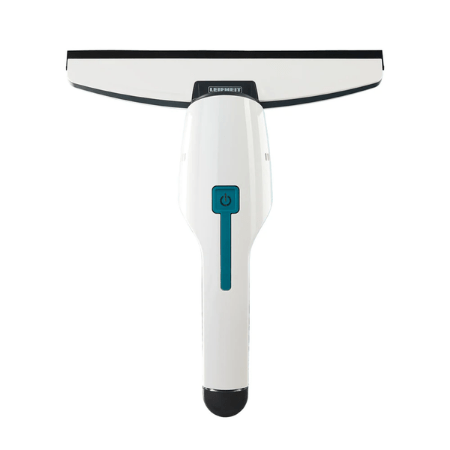 This vacuum is specifically created to deal with wet surfaces like your windows, mirrors, and yes, even tabletops. Its IPX7 water protection keeps the motor durable and protected even in long-time exposure to moisture. Its automatic function also allows for a no-drip swipe, making sure that you don't have to deal with water streaks after.
It also has a smart design that separates the vacuum from the surface with a thin rubber lip. This ensures that your surfaces won't get scratched no matter how thorough you go about your cleaning.
Why you should buy it:
IPX7 Water Protection

Compact and lightweight
Smart design that prevents streaks and scratches
Get it on Leifheit.sg for SGD198.


10. Proscenic P8 Plus
Packed with a brushless motor that runs at an 8000RPM speed and 180W power, this vacuum has low energy consumption but a high-level cleaning performance. It's also lightweight and has various attachments that can easily be attached or detached for a seamless cleaning experience.
It also has HEPA Filtration technology that firmly locks the dust in place using a stainless steel mesh, allowing for cleaner and more thorough disposal that doesn't cause the dust to disperse as you clean your filter post-vacuuming.
Why you should buy it:
Has 8000RPM speed and 180W power

Low energy consumption, high performance
Stainless steel mesh for thorough disposal

Get it on Proscenic.com.sg for SGD393.
Comments, questions or feedback? Email us at [email protected].