2021 is all about emerging stronger and more resilient with the help of all the lessons that 2020 taught us, hence it's time for us to put away our "rose-tinted" (or should we say, pastel-coloured?) glasses and gain honest perspectives on how we can adapt and live life to the best of our abilities during this new normal.
As we continue to spend most of our time indoors, many of us will place an even bigger emphasis on building living spaces that we can thrive yet relax in. Now, before you create your comforting cocoon or vibrant home hub, check out our round-up of the top five colours for 2021, according to global design marketplace 1stdibs' annual survey of interior designers. And of course, shop our curation of stylish lifestyle picks too in time for your next home makeover.
Emerald city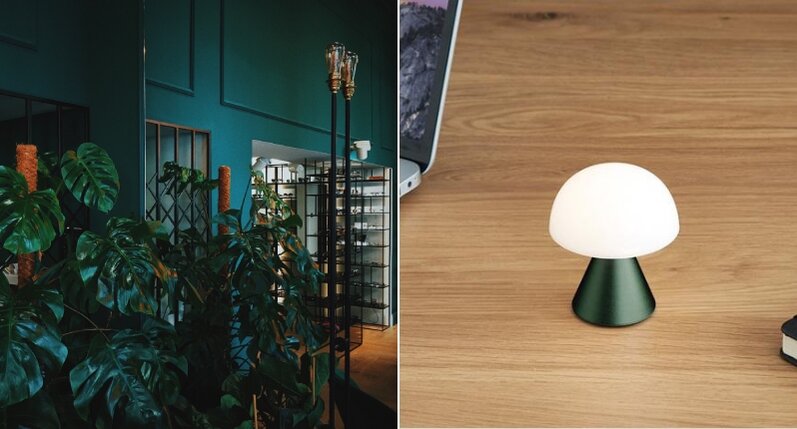 Embark on a journey to Emerald City as this vivid green hue is predicted to be the top colour choice in 2021. This jewel tone is reminiscent of the '70s and goes exceptionally well with your plant babies and home accessories that feature metallic finishes, such as the LEXON Mina LED Lamp above. Brighten your surroundings with this designed-in-France lamp, which lasts up to six hours with every charge. Switch between two of its light modes — warm or cool — and adjust its brightness according to your preference too.

Join the navy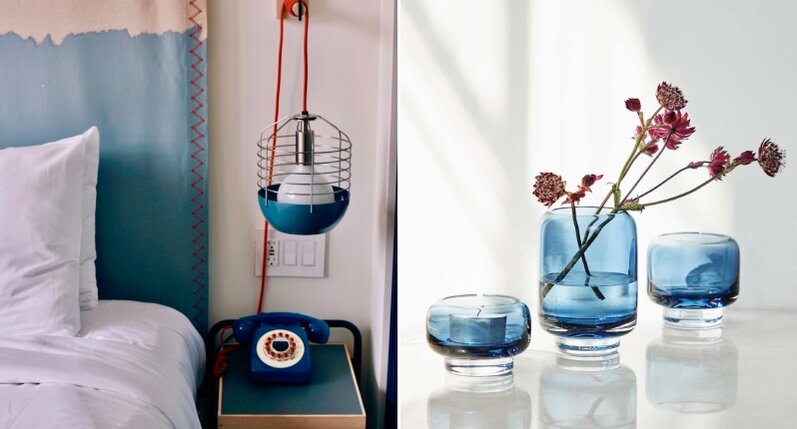 Second on the list is the ever-versatile navy hue, which adds a dash of luxury to your surroundings. If you're concerned that too much of this rich colour will significantly darken your living environment, you can try applying this in small doses instead, via your dinnerware and decor pieces. Join the navy with this mouth-blown glass tealight set by Studio Føy from Warm Nordic, which comprises an elegant vase and tealights in two sizes. Stack the tealights if you wish or arrange them separately with your favourite blooms or candles placed within.
White this way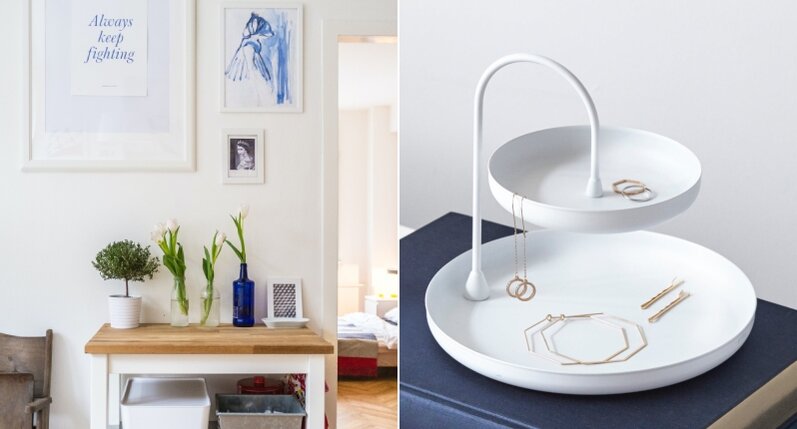 The enduring popularity of this universal hue comes as no surprise, given how it's the perfect canvas for self-expression. However, too much of it may make your home appear overtly stark and cold. As such, consider painting your walls in a softer cream or ecru shade before complementing it with all-white accents, such as the Umbra Poise 2-Tiered Tray above. This chic holder provides just enough storage for your go-to accessories and jewellery and looks beautiful in a variety of settings, be it by your bedside table or at a vanity.

Big on burnt orange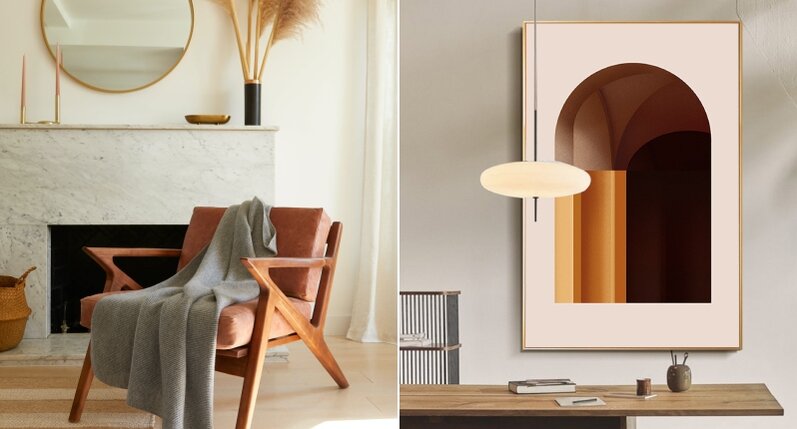 According to 1stdibs, burnt orange, along with mustard, have "made significant gains" in their 2021 survey, as they induce a rich sense of nostalgia. '70s-inspired trends will continue to reign supreme in the year ahead, with consumers expected to embrace groovy-looking lighting fixtures, shaggy rugs and rattan furniture. Bring a touch of burnt orange into your home without looking dated by picking up the Iuiga Twilight Art Painting above, which is made of aluminium alloy and canvas. Measuring 60CM by 90CM, this art piece exudes a more minimalistic feel, and pairs well with earthy elements such as a wooden dining table and dried floral bouquets.
Keen as mustard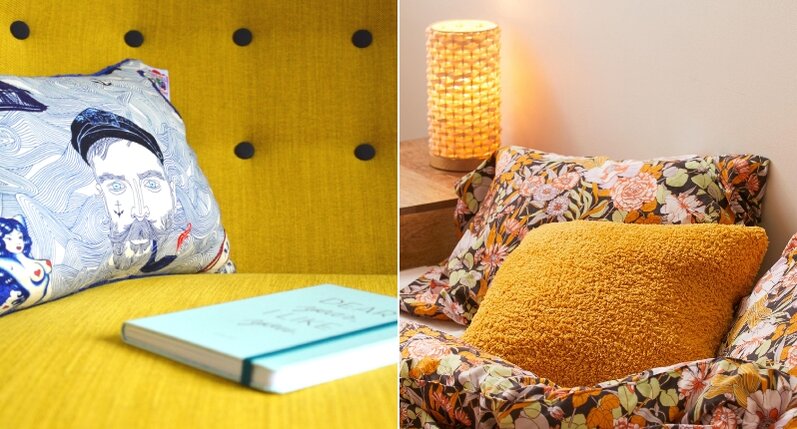 Last but not least, we have the deliciously distinct mustard yellow, which by no means is an easy colour to pull off. However, if you're determined to introduce mustard into your home, consider painting your accent wall or have your key furniture pieces (such as your sofa) in this colour while keeping the rest of your room as neutral as possible. Not quite ready for a full sauce-y situation yet? Start small by adding the Stargazer Plush Throw Pillow to cart, which boasts a snuggly, fleece texture.
Which of these top interior designs colours did you like best?
(Cover photos from: Italic via Unsplash, hipvan.com and sg.urbanoutfitters.com)
Comments, questions or feedback? Email us at [email protected].