World Emoji Day is just around the corner! The quirky holiday is held every 17 July and as part of the celebration this year, we get to have a sneak peek at upcoming emojis.
New Emoji 15.0 In 2022
The Unicode Consortium, a non-profit organisation that is dedicated to upholding the standard for international software data, only has 31 candidate emojis in 2022. This includes several quirky symbols such as a shaking head with a graphic that simulates vibration and hands pushing to the right and left in different skin tones, which can be used to do a digital high-five or as a way to refuse something.
Heart emoji fans will be delighted with the new teal, grey and plain pink versions. New animals and plants emojis are also added such as ones for moose, donkey, goose, jellyfish, hyacinth, ginger, a pea pod and more.
Other noteworthy additions are the Khanda, which is a Sikh symbol; a disembodied wing that will remind one of Greek mythology visuals; a pair of fun maracas and a wifi symbol that can be useful for businesses.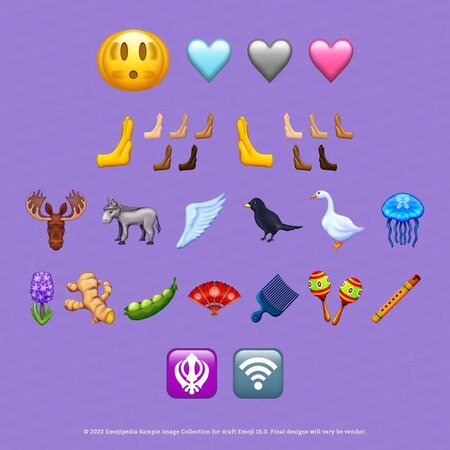 Emoji reference website Emojipedia made sample images that depict how the upcoming new emojis may look like. Once approved, these drafts will be adapted for different applications. Based on previous releases, draft emojis are usually considered approved.
When will the new Emoji 15.0 will be released?
When will these new emojis come out? Here's our estimation #WorldEmojiDay https://t.co/WfC0WuyJ81 pic.twitter.com/ADt5pc7EkK

— Emojipedia 📆🏆 (@Emojipedia) July 13, 2022
The new emojis are estimated to be released between October and December 2022. However, wide support across platforms for these emojis may not happen until January to October 2023. Yes, it's gonna be quite a while! In the meantime, you can vote for your favourite emoji from this fresh roster here for the World Emoji Awards.
(Cover photo from: @emojipedia)
Comments, questions or feedback? Email us at [email protected].