The wait is over! The iPhone 14 Pro and iPhone 14 Pro Max have finally been unveiled in the most recent Apple Event. It's just in time following the growing hype for the Airpods Pro 2 in Singapore.

Airpods Pro 2 specs
Apple Airpods are known for their unrivaled audio and mic quality, but it seems like they're taking things one step further with the Airpods Pro 2.
The upcoming release will feature advanced Active Noise Cancellation and Transparency Mode technology. The Spatial Audio upgrade also promises a more immersive listening experience. The Airpods Pro 2 also gives users better Touch control from the stem of the earbud, as well as longer battery life, new charging case, and additional ear tips for a better fit.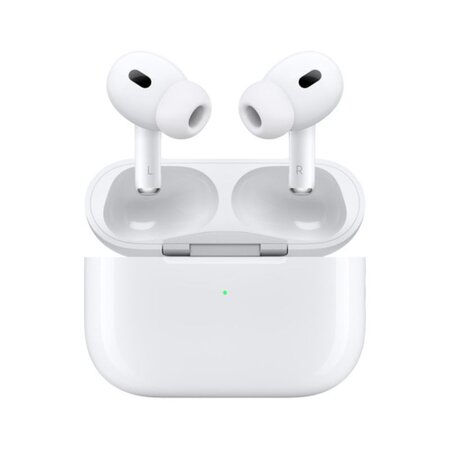 iPhone 14, iPhone 14 Pro, and iPhone 14 Pro Max specs
The iPhone 14 and iPhone 14 Pro come with a standard 6.1-inch display while the iPhone 14 Pro Max comes with a 6.7-inch display.
Both the iPhone 14 Pro and iPhone 14 Pro Max have a 48MP camera — Apple's biggest camera sensor yet — that supports UltraWide, Telephoto, and TrueDepth front camera autofocus features. Meanwhile, the iPhone 14 has the usual 12MP camera with UltraWide TrueDepth front camera autofocus.
The iPhone 14 Pro and iPhone 14 Pro Max also have an A16 Bionic Chip, which has small processor nodes but is still capable of maximising the phone's functions, including battery life. In simpler terms, it makes the phone perform smoothly while still keeping it lightweight.


All iPhone 14 variants are 5G-ready and support Fast Charging using USB-C ports. The phones come in four colours (
Deep Purple, Silver, Gold, and Space Black
), with the iPhone 14 having a special "
(Product)RED
" version in which part of the proceeds go to the Global Fund versus COVID-19.
Price, release date, and where to buy in Singapore
The Airpods Pro 2 is priced at SGD359 and will be available for pre-order starting 19 September and will be available in stores starting 23 September.
The iPhone 14 price starts at SGD1,299 while the iPhone 14 Pro starts at SGD1,649. The iPhone 14 Max is the most expensive, with prices starting at SGD1,799. Pre-orders start worldwide on 9 Septemper, 8PM (SGT). These will be available in stores starting 16 September.
The Airpods Pro 2 and iPhone 14 variants can be purchased in Singapore via Apple's official website as well as Apple stores and affiliated tech hubs islandwide.
(Cover photo from: apple.com)
Speaking of gadgets, check out our review of the Huawei Watch Fit 2 here.
Comments, questions or feedback? Email us at [email protected].